Rex Tillerson revealed as former director of US-Russian oil company in Bahamas
Leaked documents cast shadows over the suitability of Donald Trump's incoming secretary of state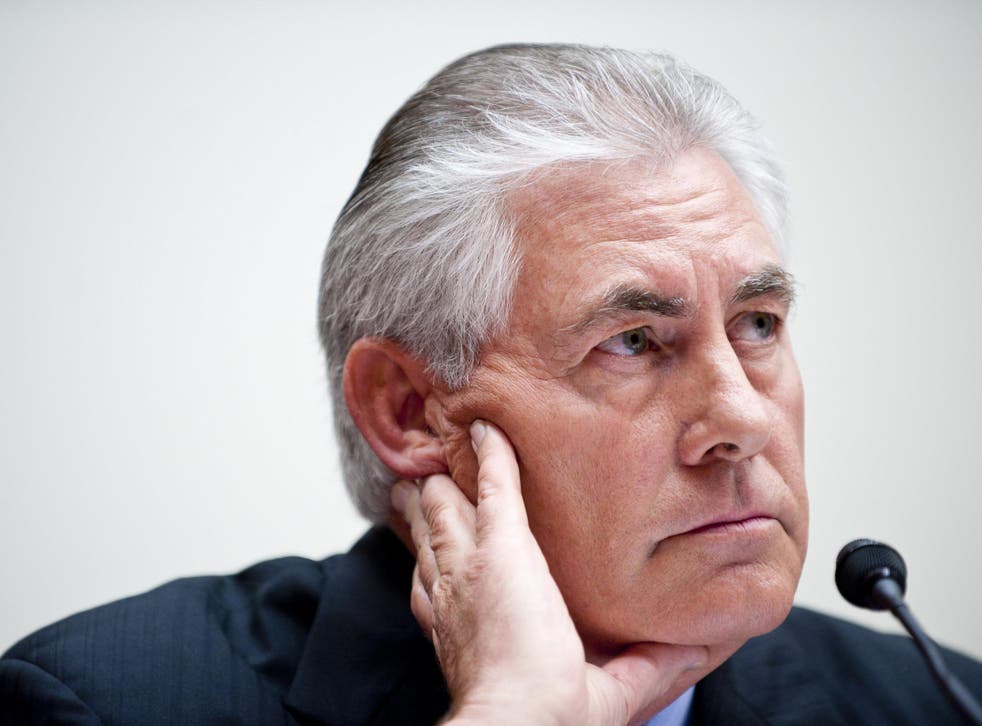 Leaked documents show Donald Trump's appointed secretary of state was a director of a Bahamas-based US-Russian oil company.
Rex Tillerson, whose suitability for the top government position was already under question due to his potential conflicts of interest with the energy industry and his ties to Russia, is now revealed to have been the former director of ExxonMobil's Russian subsidiary.
Mr Tillerson was named director of Exxon Neftegas in 1998. His name on company filings – RW Tillerson – appears next to other directors based in Texas, Moscow and in far eastern Russia. The company is incorporated in the Bahamas, thousands of miles away from their most important Russian Arctic exploration projects and where the corporation tax rate is zero.
As reported by Süddeutsche Zeitung, the 2001 leaked document – a public registry - was part of 1.3 million files given to the German newspaper by an anonymous source.
The incoming secretary of state is head of ExxonMobil, the largest oil company in the world, and Mr Tillerson owns company shares that are worth more than $200 million.
He was awarded the Russian Order of Friendship in 2013 by president Vladamir Putin, two years after he struck a deal with another oil giant to explore the Russia's Arctic. The deal was delayed when president Barack Obama imposed sanctions on Russia, which Mr Tillerson said he was against and which are widely expected to be lifted once Mr Trump enters the White House.
Donald Trump's controversial cabinet
The oil chief is firm friends with Igor Sechin, the head of Russian oil company Rosneft, who is ex-KGB and the second in command inside the Kremlin. Mr Sechin is banned from entering the US under current sanctions.
Mr Tillerson's appointment must be approved at a senate hearing, which is dominated by Republicans. Two Republicans in the 19-strong committee – Marco Rubio and John McCain – have cast doubt, however, over whether he is the right person for the job.
According to filings, Exxon has registered more than 67 companies in the Bahamas, which cover subsidiaries in Russia, Venezuela and Azerbaijan.
In a statement to The Guardian, Exxon said: "It is not done to reduce tax in the country where the company operates. Incorporation of a company in the Bahamas does not decrease ExxonMobil's tax liability in the country where the entity generates its income."
In 2015, Exxon paid 43 per cent income tax, the statement added.
Join our new commenting forum
Join thought-provoking conversations, follow other Independent readers and see their replies