Rio Dog Carnival: Brazil sees 100 pets and their owners turn out for the cameras at the Copacabana's annual 'Blocao' pet party
Organiser Marco Antonio Toto said 'animal excitement is taking over'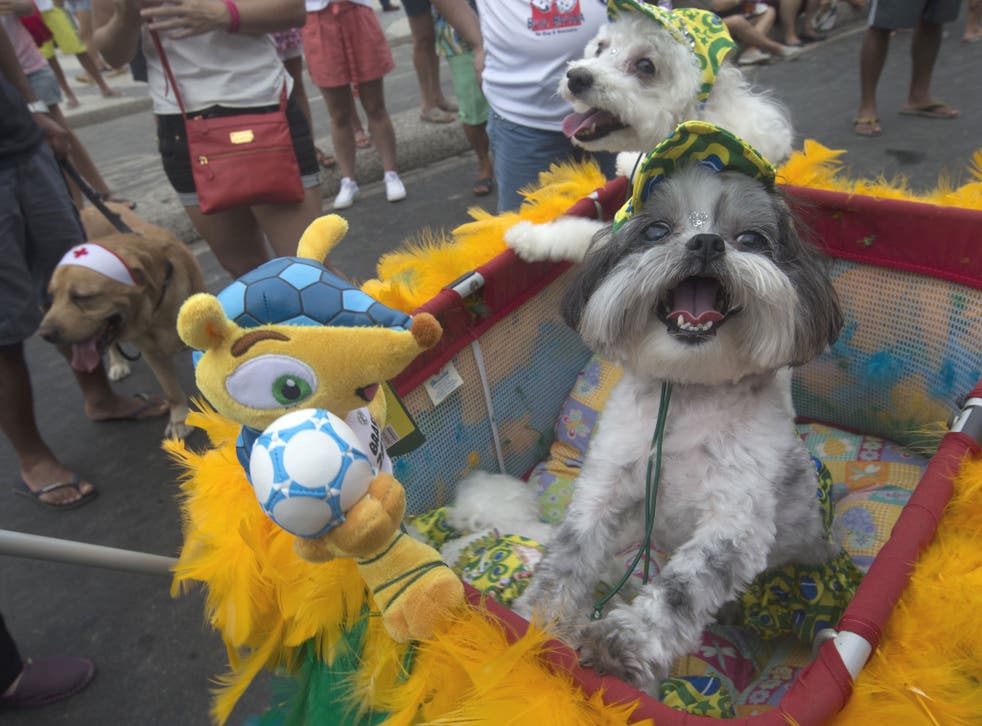 When asked why around 100 dogs had been dressed to the ears in elaborate, colourful clothing and encouraged to "dance" along the Copacabana, one enthusiastic owner cheered: "Dogs love Carnival, too!"
It may have been one of the more bizarre street parties in the build-up to Brazil's biggest celebration of the year, but Rio de Janeiro's dog-owners (and one or two brave cat-owners) put on an extraordinary show on the city's streets yesterday.
Known locally as the Blocao – a play on the words "bloco", meaning street party, and "cao", meaning dog – the Rio Dog Carnival provided owners and pets alike with the chance to let their hair down.
"The animal excitement is taking over Copacabana," said Blocao organiser Marco Antonio Toto. "The neighbourhood of Copacabana has currently the most dog owners per square metre. It deserves this prestigious party. Our animals deserve this celebration."
A brass band and a singer started the festival off with a performance of Rio's anthem Cidade Maravilhosa, which translates as "Marvellous City", as owners gathered together on the city's famous beach.
In pictures: 'Blocao' - dog carnival in Rio de Janeiro

Show all 20
Several canines wore tiny tutus, a few were dolled up like Snow White and one had a forehead full of Indian bindis.
Rio is in the process of holding hundreds of street parties in the weeks leading up to the world-famous Carnival, which opens on 28 February.
The annual celebrations have drawn some of the heat from street protests which continue to make headlines ahead of this year's World Cup and the 2016 Olympics, though they have diminished in size.
Last week a Brazilian TV station said one of its cameramen was declared brain-dead after he was injured during violent clashes between protesters and police in Rio.
Join our new commenting forum
Join thought-provoking conversations, follow other Independent readers and see their replies