The truth about Spring Break: Good times, self-discovery and lots of booze
Each year, around this time, US students descend in hordes on chosen sunspots, seeking good times and self-discovery. This year, David Usborne went along, too, to see what Spring Break actually entails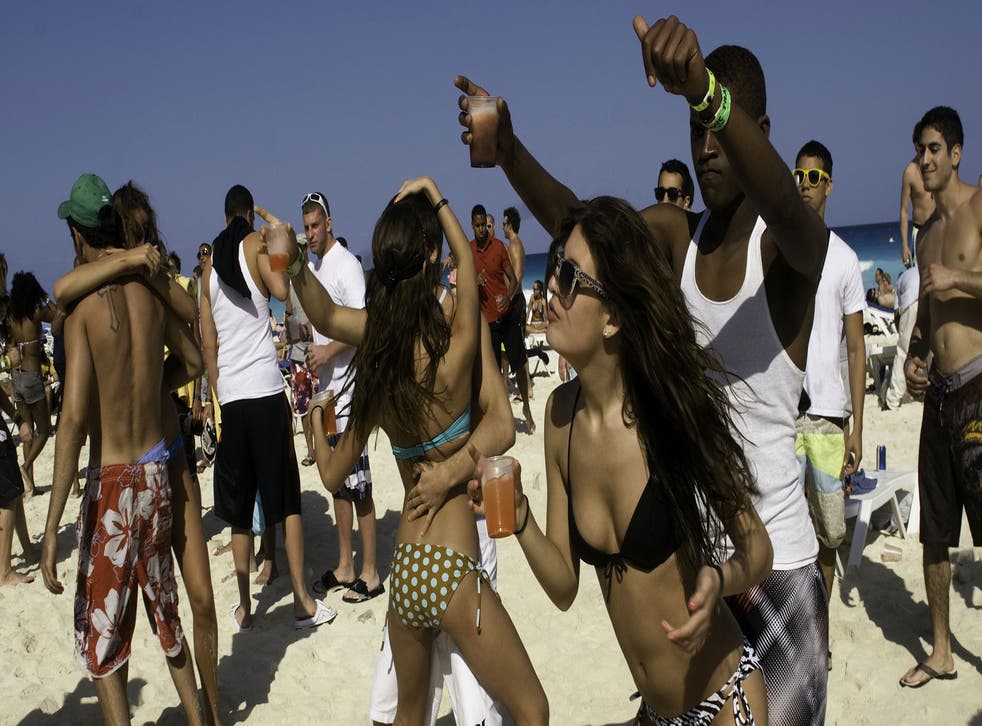 This is the Nirvana moment: the precise picture they envisioned when they boarded their planes back in still-frigid Boston, Chicago or New York.
As Dutch DJ Afrojack raises a fist and the first beats pulse through their bones they too let fly, barefoot on the sand, pressed together in a miasma of sun-pinked flesh and swim-suits. Above, against a postcard Caribbean sky, black MTV cameras swoop and curve, a passing parasail adds a dash of yellow.
Call it their right, or their rite of passage, the special – and occasionally perilous – week called Spring Break when tens of thousands of young Americans flee university campuses to shed the usual rules, parental expectations and inhibitions and go a bit bonkers in the sun. It is a time for a different kind of learning, pushing the limits of their livers, testing the looser sides of their young libidos and navigating the unfamiliar far from home.
Not a national holiday as such and certainly not a religious one, the annual student migration south is in fact a rolling affair that runs from late February to early April. Different colleges and universities pick different weeks in the late-winter calendar when teaching stops and their wards are released. Some may just linger, others will seek virtue, perhaps building houses for the poor. But this is what they are meant to do: get drunk, laid and sunburned.
It is a mission more easily accomplished if they travel in herds. Florida's Panama City long ago became the favoured Florida destination after Fort Lauderdale decided that news clips of broken balconies and barf didn't fit with the image it wanted. Another popular spot is South Padre Island on the Gulf of Mexico in Texas.
But, for sheer Spring Break cliché, nothing can compete with this afternoon's beach party at the Grand Oasis Hotel in Cancun. It has all the ingredients. The footage being captured by MTV might one day run perfectly with the opening credits of whatever Spring Break sequel Hollywood dreams up next. At the bar, the most boisterous suck from floppy green hoses attached to funnels filled with Mexican beer. Others clasp plastic cups, or foot-long, test-tube beakers, spilling over with garishly hued cocktails.
Some came to Cancun with admonitions of danger still ringing from parents, concerned tutors and even the US State Department, which this year not only maintained a general travel advisory about drug violence in Mexico but also issued an unusual Spring Break warning to young Americans headed anywhere abroad. "Avoid underage and excessive alcohol consumption," it offered. "'Overdoing it' can lead to an arrest, accident, violent crime, or death."
For Michael Gee, 21, staying at the Krystal, one of eight Cancun hotels that cater specifically to Spring Breakers, it meant taking a formal vow of good behaviour. In his third year at the Army's West Point, he and roughly 40 other cadets here had to sign an overseas travel clearance form promising not to dishonour their country while away. Among its requirements: keep alcohol consumption to a minimum and never be alone. "We have to make sure we have a buddy with us wherever we go and if we are separated, we have a pre-agreed place where we are going to meet," he explains, perched at one of the Krystal's pool-side bars. (Some drinking is allowed.)
Mostly that has meant staying close to Buddy Wendel, 20, in training to become an under-water diving combat specialist. It can be tricky. If one of the pair meets a girl and needs privacy, the other will take care of the other girl who may be with her. "He's my wingman," Mr Wendel says. "Actually, he's a good wingman!"
This year, Spring Break here has been marred by one death. Last month, a young Florida student was found strangled on a dirt road north of the city of Cancun itself – far from the intensely patrolled hotel zone – apparently after getting into an altercation in a local gay bar about his drinks bill. For his part, Mr Gee, originally from Texas, admits that wrong-turns have presented themselves this week, but none he couldn't easily avoid. "I got offered to do cocaine and I said 'No.' We get piss tested at West Point. I got offered sex too and I said 'No.'"
That the US persists in warning potential tourists off Mexico angers Lupita Garcia, the local manager for Go Blue, a Boston-based travel company that specialises in student travel and particularly Spring Break. "A lot of people have the wrong idea about this," she insists, referring to the ongoing drug war. "We have never had any incidents related to that, ever." Her role is part travel agent, part mother hen. Every student is given a pep-talk on arrival on do's and don'ts. The latter, of course, includes not buying drugs. She also has a team of eight who spend every night monitoring the nightclubs on Cancun's main strip to make sure that no one gets into trouble. And mostly they don't, she says. If they do, it's usually drunken male students getting into fights with each other in their rooms.
"Most of my problems are with the parents, not with the kids," she reveals. "They are always so concerned, so anxious. We have calls from parents every day, like, 'My son was meant to have arrived three hours ago and he hasn't called me yet. What's happened to him?'" Every time she gets ones of those, she heads directly to the errant student's room and gives them her personal phone to make that call while she's watching.
Mishaps do happen but they are usually minor. Stephen Game, 27, from Glasgow, who belongs to what Ms Garcia says is a growing contingent of Britons coming to Cancun to join the fun, was disappointed to discover that he'd picked a hotel not catering to Spring Breakers. Even more surprising, the place, called Temptations, is for swingers only. That part, he has grown quite to like, though. "There are boys and girls, everything you want," he says, putting the emphasis firmly on girls.
The misfortunes of Zach Raker, 21, an engineering student at the University of Maryland, have been slightly worse. Taking a smoke break from the crush at Coco Bongo nightclub on Wednesday night, he explains how a taxi driver swapped credit cards on him and when his father back home got a replacement one sent to him a cash machine promptly swallowed it. "It was my fault, I was really drunk," he concedes. Both times. He hopes he has enough cash to last him the week, but he doesn't seem quite sure.
In the morning, heads will hurt and many an eye will squint when exposed to the Mexican sun finally at around noon. But in the end, few human rituals offer a more complete picture of sheer, heedless, carefree fun than Spring Break. Take it from Mr Game, who for a moment has stepped out from the throng on the beach madly bouncing to the beat of Afrojack. "It's bloody amazing. Amazing. I mean look at that!"
Join our new commenting forum
Join thought-provoking conversations, follow other Independent readers and see their replies