Roc Nation Sports agency: 99 problems but business ain't one for Jay-Z
Hip-hop mogul widens his portfolio with venture into sports management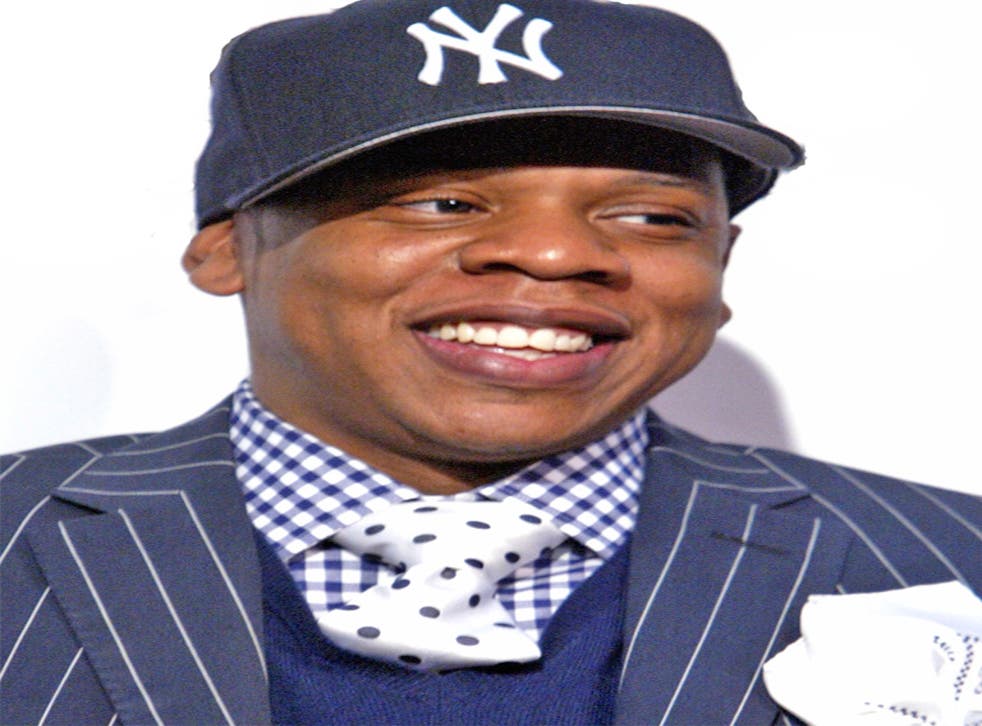 In a lyric from his 2009 ode to New York, "Empire State of Mind", Jay-Z claimed he "made the Yankee hat more famous than a Yankee can."
That may yet be the case, now that the hip-hop legend, business mogul and perennial New York Yankees cap-wearer has announced he is establishing a sports-management agency. His first client is Yankees second baseman Robinson Cano, whom he has poached from the most powerful agent in baseball.
The Roc Nation Sports agency, unveiled on Tuesday, comes under the umbrella of Roc Nation, the entertainment firm founded by Jay-Z – real name Shawn Carter – in 2008. Formed in a $150m deal with Live Nation, Roc Nation's roster includes Carter protégées Rihanna and MIA. Its new sports division was created in partnership with the leading Hollywood talent agency Creative Artists Agency (CAA), which already represents more than 800 athletes including David Beckham and Cristiano Ronaldo, alongside a roll-call of screen stars such as Tom Cruise and Jennifer Aniston.
Carter, 43, is said to be planning to represent players across the US sports spectrum, in baseball, basketball and American football. He said in a statement: "Because of my love of sports, it was a natural progression to form a company where we can help top athletes in various sports the same way we have been helping artists in the music industry for years."
Enterprising entertainment agents have begun to branch into territory traditionally controlled by sports specialists. Baseball agents typically earn 5 per cent of the deals they negotiate. The New York Times estimated that Roc Nation and CAA stand to earn as much as $10m between them when Cano signs his next contract – with the Yankees or another team – at the end of the current season.
Cano was previously represented by baseball super-agent Scott Boras, known for negotiating a $275m contract for the Yankees' Alex "A-Rod" Rodriguez in 2007, the biggest in baseball history. Carter will not be directly involved in any contract negotiations with Yankees ownership; instead, Cano will be represented in baseball matters by Brodie Van Wagenen, a seasoned CAA sports agent. The player said his defection was motivated by a desire to "take a more active role in my endeavours both on and off the field".
Fortune magazine named Carter one of its 50 "Businesspersons of the Year" in 2012. His interests already stretch well beyond music into the Rocawear fashion label, the 40/40 nightclub group, cosmetics and video games. In 2005, it was rumoured he was considering an investment in Arsenal FC.
He is also a Yankees fan of long standing, and performed at Yankee Stadium before a 2009 World Series game. In his 2008 track "Put On", he suggested his support would be lifelong, rapping: "When I'm dead and gone, I got one last wish: put my Yankee hat on."
Business interests
Fashion
Shawn "Jay-Z" Carter sold Rocawear – the clothing brand he co-launched in 1999 – to Iconix Brand Group for $204m in 2007. The rapper retained the role of chief creative officer as part of the deal.
Music
In 2008, Jay-Z signed a $150m deal with music promoter Live Nation. As part of the deal, he was expected to receive $10m per album, for a minimum of three, until 2018.
Beauty
Jay-Z joined a team that included Will Smith and his wife, Jada Pinkett Smith, to buy a $10m stake in a beauty range for black women called Carol's Daughter in 2002. Sales are believed to have topped $50m in 2011.
Basketball
The rapper is reported to have bought a 0.07 per cent stake in the New Jersey Nets basketball team, which has since become the Brooklyn Nets, for $1m in 2004, and has become the unofficial face of the brand.
Advertising
He joined forces with African-American entrepreneur Steve Stoute to open the Translation Advertising agency in New York, which now counts the Brooklyn Nets as a client. The pair share the majority stake in the company.
Entertainment
Not all of the rapper's ventures succeed. The $4m club 40/40 in Atlantic City, which opened in 2005 as a sports bar and lounge and which he co-owned – quietly closed its doors last October when its lease expired.
Join our new commenting forum
Join thought-provoking conversations, follow other Independent readers and see their replies