Roy Moore: Trump-endorsed Senate nominee says US was last 'great' during period of slavery
Comments resurface amid accusations former judge sexually abused teenage girls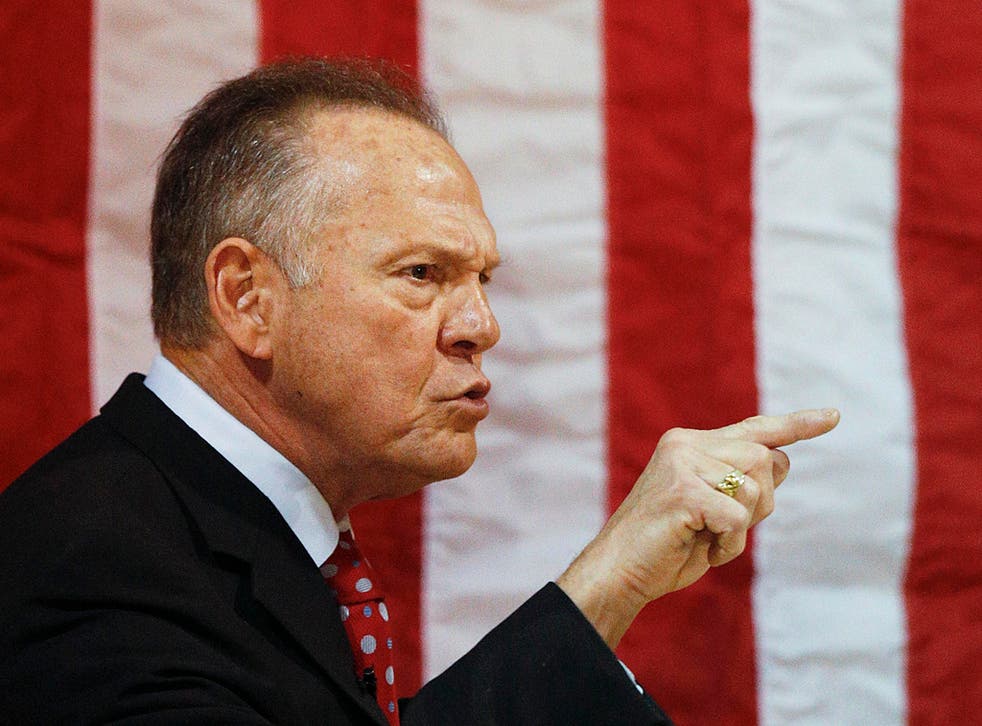 Roy Moore, the Republican Senate nominee for Alabama, believes the last time America was "great" was at a time when slavery was legal.
The 70-year-old made the comment at a campaign rally in September after being asked by one of the few African-Americans in the room when the US was last great.
"I think it was great at the time when families were united — even though we had slavery — they cared for one another," Mr Moore said, according to the LA Times.
"Our families were strong, our country had a direction."
At the same event, Mr Moore claimed "the awful calamity of abortion and sodomy" was a "punishment inflicted upon us for our presumptuous sins". He also referred to Native Americans and Asian-Americans as "reds and yellows".
The comments have since resurfaced after Eric Columbus, a former Obama administration official, shared the quote on social media.
Roy Moore blames his sexual misconduct allegations on LGBT people
Donald Trump campaigned on the slogan "Make America Great Again" during his rise to the presidency, which some critics have interpreted as a rallying cry to white nationalists.
Mr Moore has been controversially endorsed by Donald Trump in his race to succeed US attorney general Jeff Sessions as Alabama's senator, despite accusations the former judge sexually assaulted two teenagers.
Mr Moore has denied the claims.
The White House said Mr Trump had called Mr Moore to give him his support. In a tweet that acknowledged the President's endorsement, Mr Moore quoted Mr Trump as saying: "Go get 'em, Roy!"
Protests erupt after Trump recognises Jerusalem as Israel's capital

Show all 22
The Republican embrace of the right-wing firebrand has attracted condemnation from Democrats and some mainstream Republicans, who abhor his anti-Islam and anti-LGBT views.
Former Republican presidential candidate Mitt Romney said Mr Moore would be a "stain" on the party.
"No vote, no majority is worth losing our honor, our integrity," he added.
Alabama's special election is on 12 December.
Register for free to continue reading
Registration is a free and easy way to support our truly independent journalism
By registering, you will also enjoy limited access to Premium articles, exclusive newsletters, commenting, and virtual events with our leading journalists
Already have an account? sign in
Register for free to continue reading
Registration is a free and easy way to support our truly independent journalism
By registering, you will also enjoy limited access to Premium articles, exclusive newsletters, commenting, and virtual events with our leading journalists
Already have an account? sign in