Sam Kass: Obamas' chef leaves White House to be with his wife
Mr Kass has taken on a policy role, serving as executive director of Mrs Obama's anti-childhood obesity initiative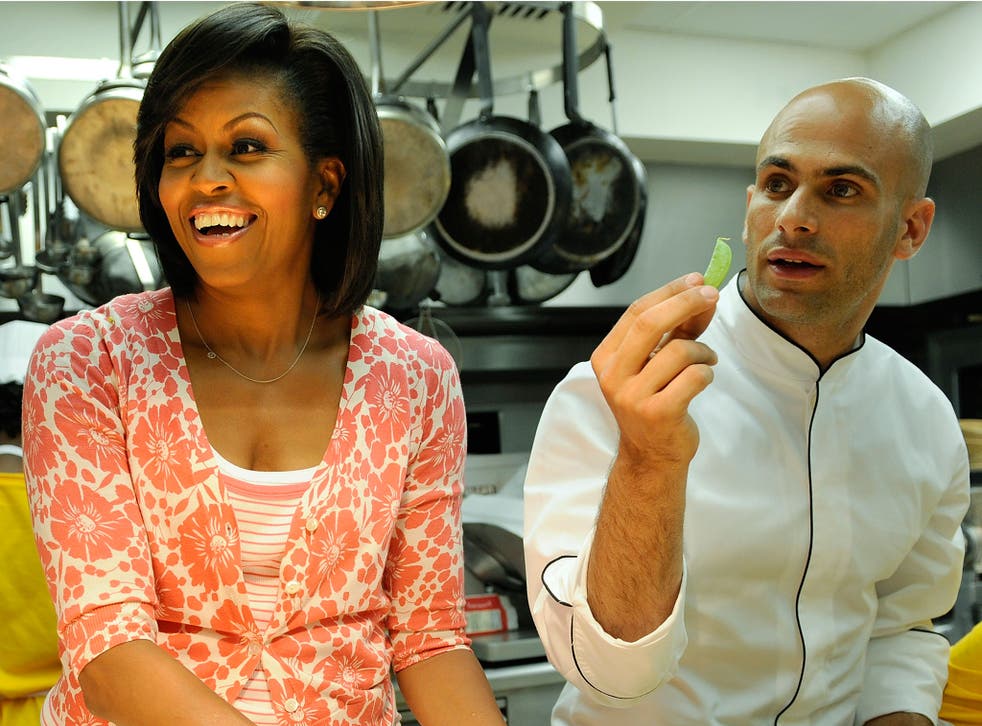 Food is a touchy business for America's first family. In Idaho they might profess a love of potatoes, in Texas their favourite food would, of course, be beef. And in Iowa, where corn is king, most politicians will say they adore it.
But if Barack and Michelle Obama chose to vary their professed love of a certain food for particular crowds, at home one constant has remained since Mr Obama was a senator in Chicago. That was, until yesterday, chef Sam Kass. The first family's chosen flipper of burgers and boiler of eggs – their personal, not executive, chef – will leave Washington for New York, where his wife, the MSNBC political analyst Alex Wagner, lives.
Mr Kass, who helped Mr Obama build the White House kitchen garden and brew its "Honey Brown Ale", is no ordinary chef. He has also taken on a policy role, serving as executive director of Mrs Obama's anti-childhood obesity initiative and becoming the White House's first senior adviser on nutrition. Mr Obama said his chef had "made a real difference for our next generation".
Mrs Obama's campaign to introduce healthier eating sparked a backlash last month when schoolchildren across America took photos of unpalatable lunches, accompanying them with the hashtag "#ThanksMichelleObama".
"Sam leaves an extraordinary legacy of progress, including healthier food options in grocery store aisles, more nutritious school lunches, and new efforts that have improved how healthy food is marketed to our kids," Mrs Obama said.
A glimpse into the lives of the Obamas... via the White House Flickr account

Show all 10
Mr Obama's favourite foods include hot dogs, burgers and broccoli. He has been described as a politician who has "literally eaten his way across the country". George H W Bush expressed his dislike for broccoli, saying while in the White House in 1990: "And I haven't liked it since I was a little kid and my mother made me eat it. And I'm President of the United States, and I'm not going to eat any more broccoli." Proof that food is eminently political followed, with steamed broccoli growers shipping thousands of pounds of it to the White House in protest.
Mrs Obama has said her favourite meals include vegetable pizza, rocket salads and steak. Her junk food of choice is French fries. According to Walter Scheib and Andrew Friedman's 2007 book White House Chef, food "wasn't much of a priority" for George W Bush. "There were a handful of things that the President wanted for lunch, and he almost never deviated from that list. There was a BLT... He liked his grilled cheese sandwiches made with Kraft Singles and white bread... He also enjoyed peanut butter and honey sandwiches."
Join our new commenting forum
Join thought-provoking conversations, follow other Independent readers and see their replies