San Francisco homeless crisis sparks bitter debate over the tents lining its streets
'The tents must go. Period,' said a government official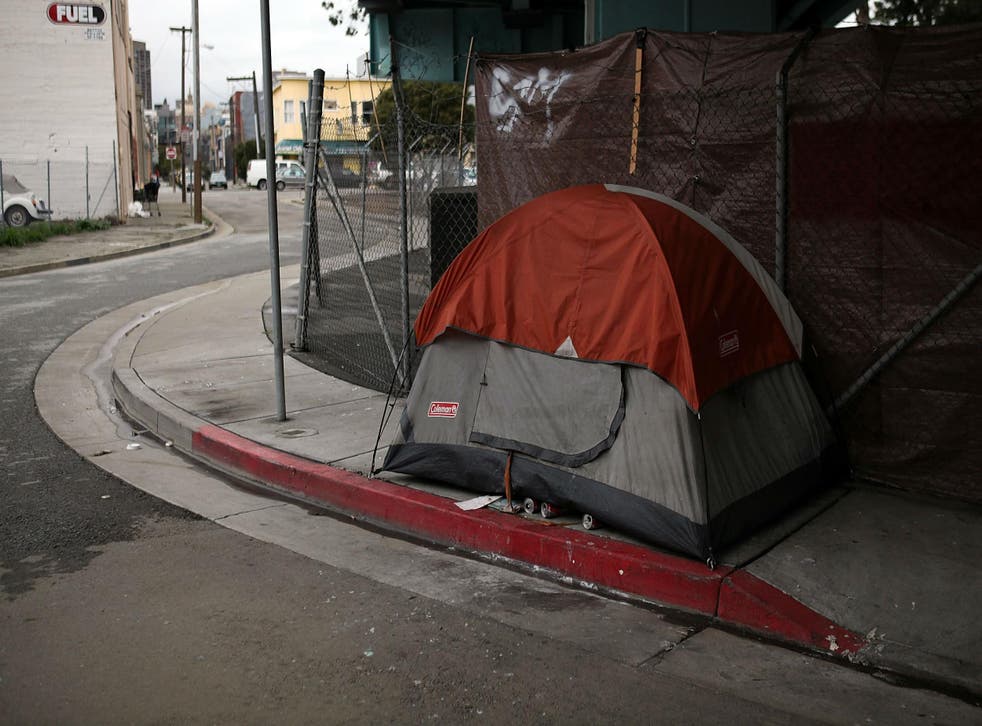 "A city of tents" - that is how a local government official chose to describe San Francisco, fuelling a bitter divide in a city that is dealing with a mounting number of homeless people.
Scott Wiener, who is on the San Francisco Board of Supervisors, is determined to close down the tents for homeless people on the city pavements. Homeless charities, however, say these inhabitants have nowhere else to go.
In a Medium blog, Mr Wiener said: "Permitting these encampments is neither humane nor progressive."
He said the tents are a sign of the city's failure to deal with homelessness, mental illness and drug addiction and as a result San Francisco is facing from "bizarre and aggressive behaviour, syringes and feces strewn all over, and other behaviors that degrade our community's quality of life."
Mr Wiener elaborated that the tents might provide government with less motivation to provide an permanent housing. The occupants must be moved into shelters now, he said.
"Occupants of the tents have been assaulted in the tents. Predatory drug dealers are drawn to the tents and victimize the occupants," he added in the Medium post.
His letter to authorities on the subject in January prompted a negative response from homeless charities, who called his opinions "cruel" and "mean".
"What's cruel and inhumane is to allow people to remain in these tents. What's cruel is to continue to allow people to deteriorate and die on our streets," said Mr Wiener.
An editorial addressed to Mayor Ed Lee in the San Francisco Chronicle said that the "majority" of citizens want the tents to go.
However the city appears divided. An appeal on GoFundMe called "Tents for San Francisco" has raised over $16,800 in less than a month from over 500 donations.
Shaun Osburn, a local graphic designer who started the appeal, wrote on the fund's website page that he will not disclose when and where his group are distributing the tents.
"We've encountered a great deal of hostility from people, and we'd rather not find out if their violence transfers over from online to real-time," he said.
Local residents have taken to social media to either share their frustration about the tents or their support for its occupants.
The number of tents is disputed, but Michael Russo from the Coalition on Homelessness San Francisco said told The Independent that there are probably about 20 to 40 tents in the city, which is starting to resemble "Calcutta, India".
"Obviously these people are in tents because there is no alternative - they have nowhere else to go," he said. "They are not there because they want to be."
On 19 February the Mayor announced he was looking for partners to provide 290 affordable rental units at the site of the former Candlestick stadium in the Bayview area, citing $500 million worth of funding.
San Francisco housed almost 12,000 people in permanent housing between 2004 and 2014, according to Mr Wiener. He said a recently opened shelter in the city at Pier 80 is not yet full.
Officials recognise that they need to provide more homeless services which include mental health facilities and drug rehabilitation services, as well as housing.
The Mayor and Board of Supervisors have increased funding for homeless services by around 50 per cent to $250 million per year, added Mr Wiener.
Join our new commenting forum
Join thought-provoking conversations, follow other Independent readers and see their replies