Sandra Bland: Video shows arrest of young black woman found dead in a police cell three days later
Her family has demanded an investigation and rejected police's claim that she killed herself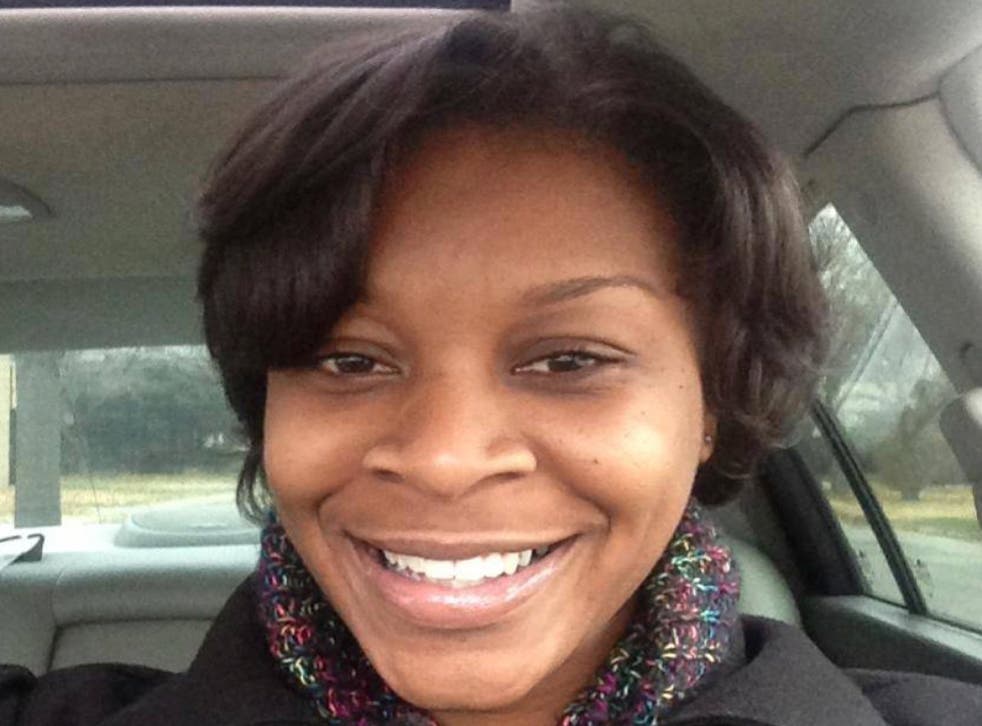 Friends and relatives of a young woman who died in police custody after being detained during a traffic stop, have demanded an investigation into the circumstances of her death.
Video has emerged showing the arrest of 28-year-old Sandra Bland, who was found dead in a cell in Waller County, Texas, on Monday morning. Authorities say it appeared she had taken her own life.
But the young women's friends and relatives say they do not believe the official version and they have seized on a video that shows the arrest of Ms Bland. A petition has been started to have an inquiry into the woman's death by the US Department Justice.
Her friend Cheryl Nanton told The Independent that she feared foul play was involved.
"I don't think she killed herself," she said. "It is very sad...We look out for our young men because there are so many incidents, but we don't expect this to happen to our daughters. People want to know what happened."
Ms Bland filled her Facebook page with videos in which she made observations about the issue of race in America under the title "Sandy Speaks".
"Being a black person in America is very, very hard," she wrote in a recent post. "Show me in American history where all lives matter."
Video footage taken by a bystander at the scene of Ms Bland's arrest close to the city of Prairie View shows police officers on top her. She questions why they are being so rough. The video was shot last Friday morning, three days before she died in police custody.
Ms Bland was pulled over Friday for allegedly improper signalling a lane change, according to Waller County Sheriff's Department officials. They say she was charged with assaulting public servant and taken into custody.
It is unclear which officers detained Ms Bland. Waller County Sheriff's Office said she had been arrested officers from the Texas Department of Public Safety. The department did not immediately respond to questions.
"With regards to the video, its authenticity has not been confirmed and we have no comment at this time," said spokesperson Jaime Madison Burnside.
Ms Bland's friends say she had been with her family in Chicago over the July 4th holiday, and drove to Texas where she had recently secured a job at her alma mater, Texas Prairie View A & M. Family members said she was to begin working in student outreach.
In the video he shot, Ms Bland is heard saying: "You just slammed my head into the ground. Do you not even care about that? I can't even hear!"
She adds: "You slammed me into the ground and everything."
Waller County Sheriff Glenn Smith said Ms Bland "had been combative on the side of the road".
Officials said in a statement that jailers saw Ms Bland at 7am on Monday when they gave her breakfast and again at 8 am when they spoke with her over the jail intercom. She was found dead an hour later.
In a press release issued by the sheriff's department, authorities say they applied CPR, but that Ms Bland was pronounced dead shortly after she was found.
"I do not have any information that would make me think it was anything other than just a suicide," said Waller County District Attorney Elton Mathis.
Yolanda Bevill, a spokeswoman for Prairie View A&M University, said Ms Bland was due to take up a position on August 3 as a summer programme associate. She said she was unclear why she was in Prairie View.
"We are a very close-knit family," she said. "We are saddened by this tragedy and the loss of a young vibrant life."
Join our new commenting forum
Join thought-provoking conversations, follow other Independent readers and see their replies