Selma anniversary: Thoughts turn to Ferguson as Obama marks civil rights landmark
Barack Obama, America's first black president, was in Selma, Alabama, to lead 40,000 people to mark the country's  civil rights 'Bloody Sunday' 50 years ago. But, says Rupert Cornwell, thoughts turned to Ferguson, Missouri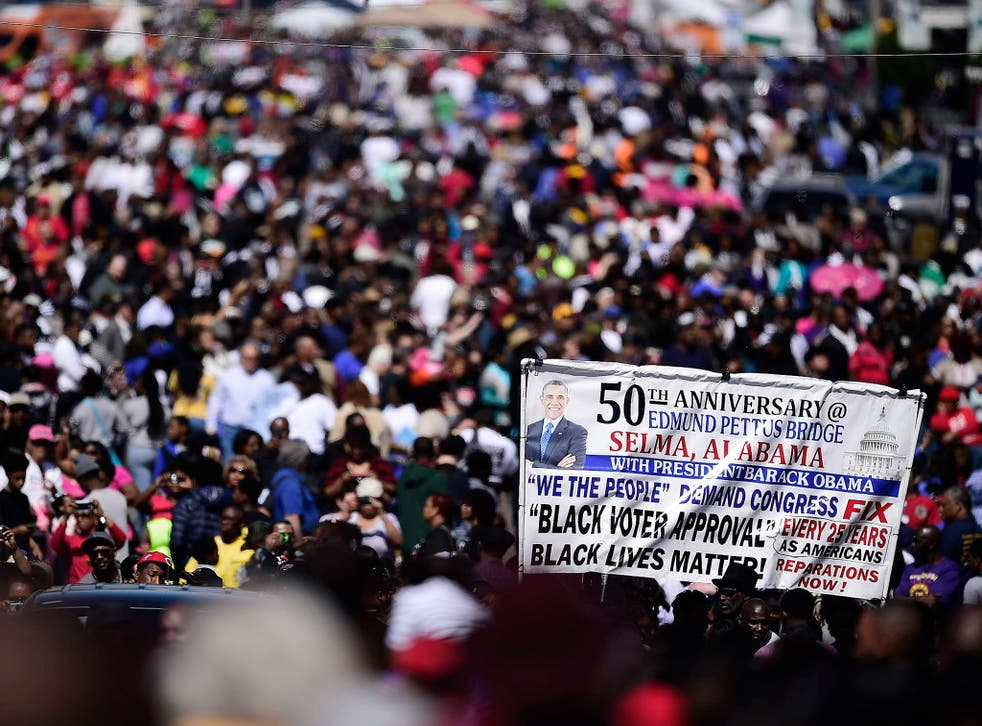 An elected black president at the very spot in America's deepest south where, only half a century ago, peaceful black marchers in pursuit of their constitutional right to vote were clubbed and tear-gassed by Alabama state police?
Back in 1965, as newsreel images of the institutionalised violence in Selma appalled the world, the notion would have been inconceivable.
But this weekend it happened, as Barack Obama led 40,000 people who gathered in warm sunshine at the Edmund Pettus bridge, to commemorate what happened on that "Bloody Sunday" 50 years ago – perhaps the most-important, single landmark of the civil-rights struggle.
Saturday's ceremonies however were far more than a showcase of the progress the US has made to get to grips with the issue of race, the country's original sin.
For the predominantly black crowd, any feeling of self-congratulation was overshadowed by a sense of what remained to be done, and of how, six years into his presidency, Mr Obama's own patriotism is still questioned by some.
Dan Budnik's images of the Selma march

Show all 7
"That's what it means to love America," the President declared as he praised the courage of the marchers, who "despite the gush of blood and splintered bone would keep marching towards justice."
That, he said, "is what it means when we say America is exceptional".
Not for the first time, with the bluntness that enrages many of his Republican foes, he refused to sugar-coat US history. What happened at Selma was "what America is – not airbrushed history or attempts to define some of us as more American than others".
That lingering divide was evident among the dignitaries in attendance. Republicans control both houses of Congress, but of the 100 senators and representatives present, only a quarter were Republicans. George W Bush, the last Republican president, was there, but John Boehner, the Speaker, and Mitch McConnell, the Senate majority leader, conspicuously were not.
Events meanwhile have ensured that Selma this weekend was about America's present at least as much as its past.
Thoughts inevitably turned to another small town – this one on the fringes of the south, where in Ferguson, Missouri, rioting swept the streets last summer after an unarmed black teenager was shot dead by a white police officer.
The officer has been cleared of wrongdoing, but a blistering, Justice Department report last week laid bare the racial bias of Ferguson's justice system and police, both white-run and both harrassing and disproportionately punishing poor blacks who constitute the majority of residents.
Ferguson is not Selma, as Mr Obama was at pains to point out, as he rejected the idea that the shooting proved that over half a century nothing had really changed.
"What happened in Ferguson," he said, "may not be unique, but it's no longer endemic, it's no longer sanctioned by law and custom – and before the civil-rights movement it surely was."
Ferguson too offers a cameo of a national justice system that despite efforts at reform is still tilted against blacks and minorities, not least in the severity of sentencing, especially for drug offences. Mr Obama once again called for criminal-justice reform.
An equal worry for civil-rights activists however is the very cause for which the 1965 marchers risked all in Selma. Outrage at the brutal tactics of the Alabama state troopers and police spurred President Lyndon Johnson to send Congress the Voting Rights Act for which Dr Martin Luther had long been pressing, just a week after "Bloody Sunday".
Today, however, the Act is being chipped away, most notably its provision for federal government review of changes in voting laws in a number of states, mostly in the South. In 2013, the Supreme Court struck down part of the Act, arguing that such safeguards were no longer required, and urging Congress to come up with a new version, more suited to the times.
The Republican-controlled House, predictably, has failed to do so, leaving Republican-run state legislatures to bring in laws imposing tougher voter-ID requirements, and restricting early voting. Both provisions hit blacks and other minorities – who vote overwhelmingly Democratic – especially hard.
"Right now, 50 years after Selma, there are laws across this country designed to make it harder for people to vote," Mr Obama said. "The Voting Rights Act… the product of so much sacrifice in the face of wanton violence, stands weakened, its future subject to partisan rancour. How can that be?"
Racism, in other words, persists, and much better, the President urged, that America acknowledges that fact.
"We just need to open our eyes and our ears and our hearts to know that this nation's long, racial history still casts its long shadow upon us," he said.
"We know that reaching that blessed destination where we are judged by the content of our character requires admitting as much."
And in Selma, that shadow is ever present. The Edmund Pettus whose name adorns the bridge was a Confederate general in the Civil War, and later a Grand Dragon of the Ku Klux Klan.
Yesterday's annual re-enactment of "Bloody Sunday" was, as always, a predominantly black event.
Whites instead tend to focus on the annual re-staging of an earlier Battle of Selma, a Confederate defeat in the final days of the Civil War, on 2 April 1865.
Since the historic march Selma's fortunes have scarcely improved. The population has shrunk by 40 per cent to 20,000, while the local jobless rate is currently double Alabama's average.
The state may have ended its fight against racial equality, but is now a leader of opposition to gay marriage, for many the new frontier of the civil-rights movement.
Even so, times have changed. Half a century ago, George Wallace, Alabama's then governor, was thundering about "segregation for ever". Notable in Saturday's crowd was his daughter, Peggy Wallace Kennedy, a long-time supporter of Barack Obama.
Join our new commenting forum
Join thought-provoking conversations, follow other Independent readers and see their replies