Shoe firm Zappos gets a reboot - with no managers and no job titles
The online retailer Zappos is the largest company yet to adopt "holacracy", a new business approach in which bosses are banished and workers choose their tasks. But who makes the tea?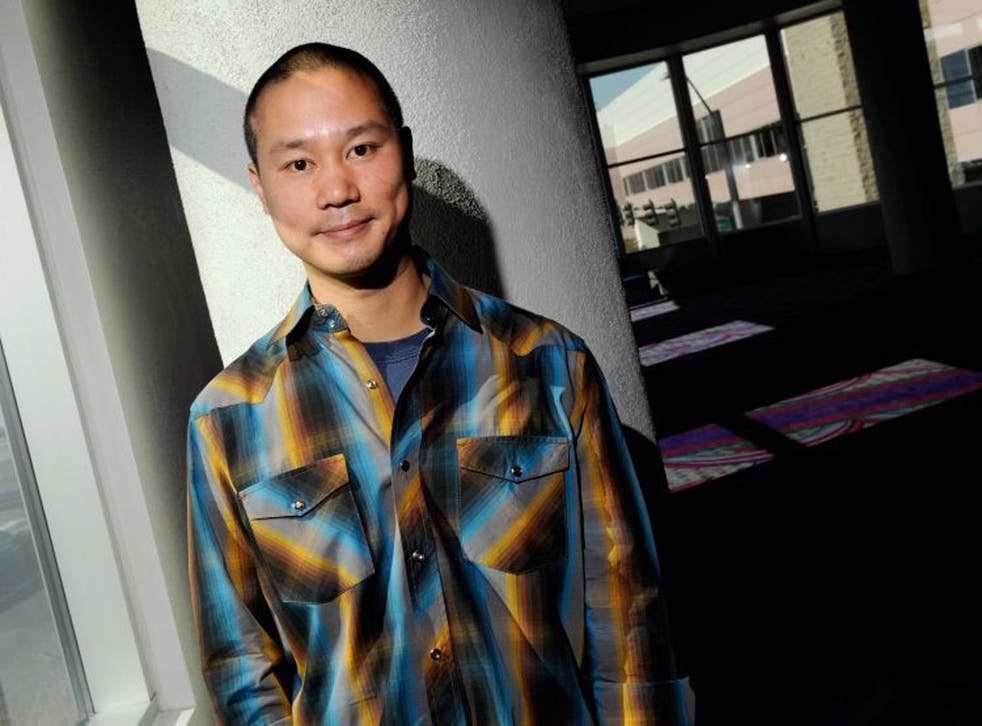 Ever since its founding in 1999, Zappos, the world's biggest online shoe retailer, has been known for its worker-friendly culture. And now the company is pioneering a new approach to business, with no managers and no job titles.
In September 2013, it moved its headquarters from suburban Henderson, Nevada, to the former City Hall in the heart of old downtown Las Vegas. Besides spending $48m (£29m) on the building, the firm's 40-year-old CEO, Tony Hsieh, is investing some $350m to speed the redevelopment of the neglected neighbourhood, so that his 1,500 employees will have desirable places to live, eat and play.
Bought by Amazon for about $1.2bn a decade after it was created, though allowed to remain largely autonomous, the company has consistently been in the top tier of Fortune magazine's list of "best companies to work for", and regularly posts YouTube clips of its employees being cheerful. In an illustration of its approach to bonding, at its fourth-quarter company meeting in November, an employee clambered through a case of tarantulas to win a $250 gift card.
Little wonder, then, that Zappos should be the most high-profile firm to date to embrace a radical management system, which all but does away with management itself. According to a report from the news website Quartz, at that same fourth-quarter meeting, Hsieh announced that the firm would replace its traditional structure with "holacracy", in which there are no managers or job titles, and employees are grouped in self-governing "circles" where they choose and perform their own tasks. The company reportedly began rolling out the system last April, but so far only 10 per cent of Zappos employees are affected. By the end of 2014, Hsieh and his colleagues hope to have the whole company structured as a series of approximately 400 circles.
In an email interview, Zappos executive Alexis Gonzales-Black, who is leading the roll-out, said the structure "will be organised around the work and not the people (or their titles) … If anything, this will be more clear, since traditional titles often obfuscate the real work that an employee is doing. Consider the title 'director'. What does that mean? How do they spend their time? This is an opportunity to get explicit about what decisions you have the authority to make." Hsieh apparently hit upon the idea in autumn 2012. As his company grew, he was concerned that it might become stifled by bureaucracy. So he met Brian Robertson, an entrepreneur and founder of management consultancy HolacracyOne, who says he invented the system as the boss of a start-up software firm in the early 2000s. The idea is to base a company around the tasks it must accomplish, rather than around a hierarchy. The term comes from the Greek "holon", meaning a whole that is also part of a larger whole.
Though each circle operates semi-autonomously, and those within the circles hold no explicit rank, under a holacracy employees work according to detailed guidelines laid out in Robertson's 20-page "Holacracy Constitution". In a recent blog post, Alexia Bowers of HolacracyOne explained, "Holacracy isn't a thing, like a democracy, but a practice, like yoga ... Companies don't become holacracies, they follow its teachings."
"The easiest way to explain it is in the context of a city," said Gonzales-Black. "Research shows that every time the size of a city doubles, innovation or productivity per resident increases by 15 per cent. But when companies get bigger, innovation or productivity per employee generally goes down. So we're trying to figure out how to structure Zappos more like a city, and less like a bureaucratic corporation. In a city, people and businesses are self-organising. We're trying to do the same thing by switching… to holacracy, which enables employees to act more like entrepreneurs and self-direct their work instead of reporting to a manager who tells them what to do."
Evan Williams, co-founder of Twitter, introduced the system to his blogging platform Medium, which has 50 or so employees. Gonzales-Black also pointed to the management consultancy David Allen Company and the games development firm Valve Entertainment as successful holacracy examples.
Yet sceptics are unconvinced, especially for a firm of Zappos' size. How will those accustomed to responsibility adapt to being equals with their former underlings? Without job titles, can employees still be rewarded with promotion? "There will certainly still be opportunities to increase your scope of responsibility," said Gonzales-Black, without elaborating. And, she admitted, the company will maintain a semblance of its old hierarchy in its dealings with more traditionally minded firms – though, if Zappos thrives, those traditional minds may yet be changed.
Join our new commenting forum
Join thought-provoking conversations, follow other Independent readers and see their replies