St Louis protesters in violent clashes over police shooting of black teenager
As many as 400 demonstrators spread out across several city blocks in St Louis
Carey Gilliam
Friday 10 October 2014 19:47 Comments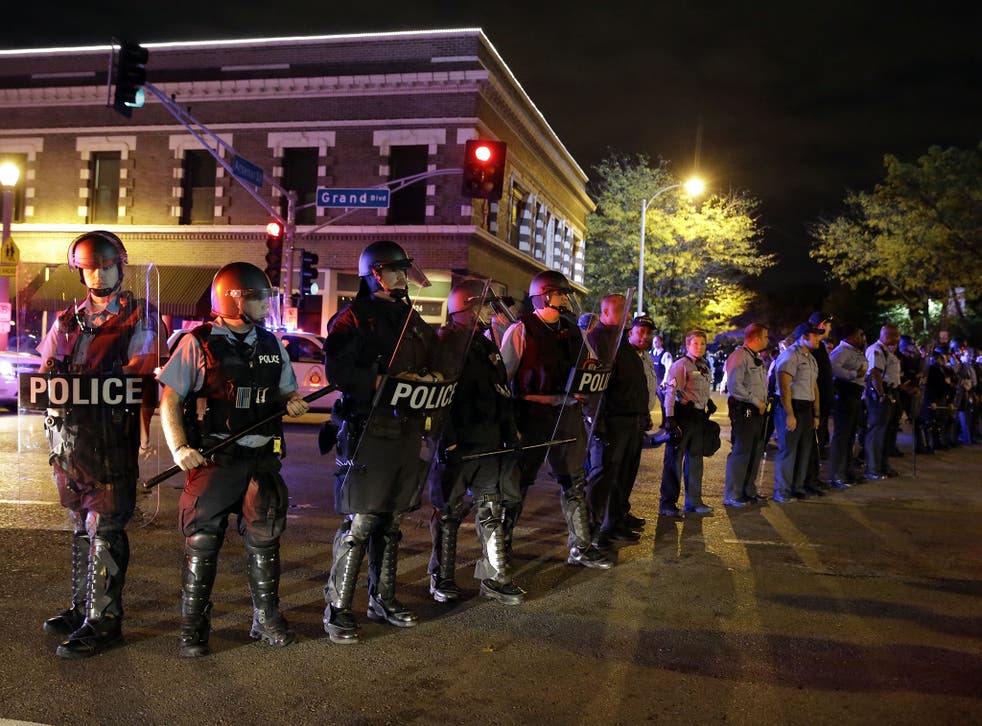 Police clashed with protesters in St Louis for a second night after an officer killed a black teenager, ahead of a weekend of planned rallies in the area over another fatal shooting, of the unarmed black man Michael Brown in August.
Throughout Thursday night and into the early hours of yesterday as many as 400 demonstrators spread out across several city blocks in south St Louis, shouting and chanting at police officers, many of whom were clad in riot gear.
Dozens of protesters had met earlier at the site in the Shaw neighbourhood where Vonderrit Myers, 18, was shot dead on Wednesday by an off-duty white officer working for a security firm, in what police described as a firefight.
The demonstrations grew increasingly chaotic. At one point yesterday morning a line of officers pushed towards several dozen protesters who jeered and swore at them. Those who refused to disperse were pepper-sprayed. Police Chief Sam Dotson told Fox 2 that during the protest someone threw a knife that struck an officer's body armour. The St Louis area is bracing itself for further unrest over the killing of Mr Brown, with Mr Myers' death expected to add fuel to the fire. Civil rights organisations and protest groups planned to hold rallies in the Missouri city.
Reuters
Register for free to continue reading
Registration is a free and easy way to support our truly independent journalism
By registering, you will also enjoy limited access to Premium articles, exclusive newsletters, commenting, and virtual events with our leading journalists
Already have an account? sign in
Join our new commenting forum
Join thought-provoking conversations, follow other Independent readers and see their replies