Stephen Paddock set up cameras around his hotel room before carrying out Las Vegas massacre, say police
Police say the cameras may have been used to watch for anyone approaching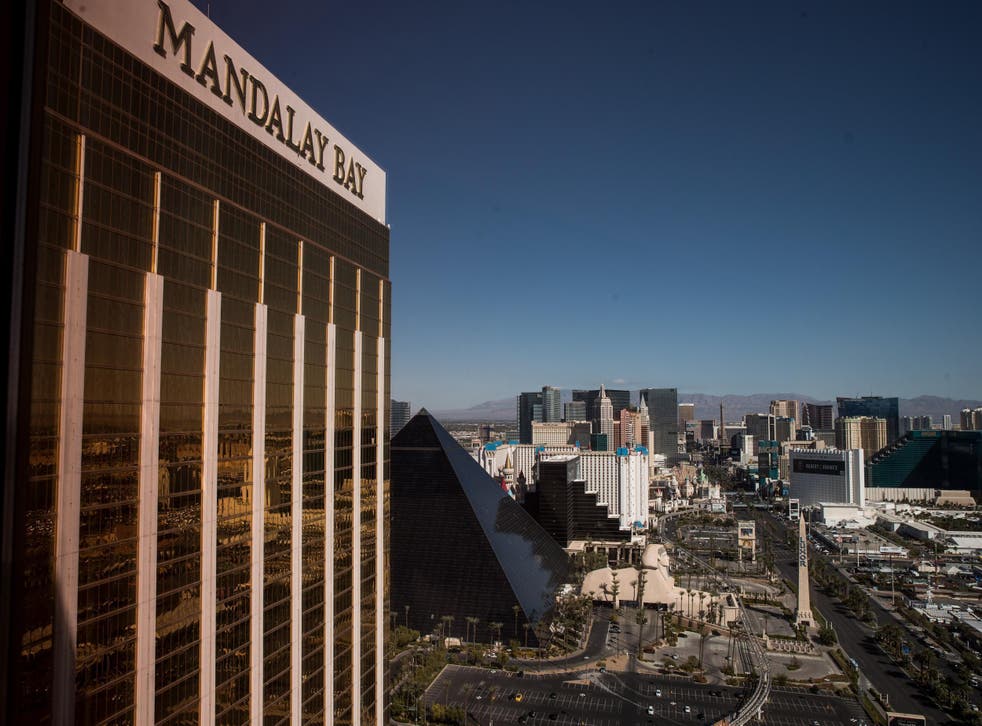 The Las Vegas mass shooter set up cameras around the hotel room used in his deadly attack, police have said.
Clark County Sheriff Joseph Lombardo told reporters that the shooter installed the cameras both inside and outside his room at Mandalay Bay Resort and Casino, before opening fire on a country music concert below. At least one camera was installed on the service cart in the hallway.
The shooter may have installed cameras to watch for anyone approaching, Mr Lombardo said. All digital and electronic evidence has been taken into custody.
The shooter, identified by police as Stephen Paddock, was able to fire on the crowd for nine minutes before a SWAT team blasted through his door, Mr Lombardo said. The 64-year-old killed himself before officers could reach him.
Paddock's attack injured more than 500 people, and killed at least 59, making it the deadliest mass shooting in US history.
Authorities later found 23 weapons in Paddock's hotel room; 19 in his home in Mesquite, Nevada, and seven in his home in Reno. Explosive substances were also discovered in his home and car.
Las Vegas shooting – in pictures

Show all 15
The amount and type of weaponry found in the hotel room suggest the attack was "pre-planned extensively," Mr Lombardo said.
"The world has changed. And, you know, who would have ever imagine this situation," the sheriff added. "I couldn't imagine it. And for this individual to take it upon himself to create this chaos and harm is unspeakable."
Police have yet to determine a motive in the shooting.
Las Vegas shooting: What we know so far
Investigators are still hoping to interview Paddock's girlfriend, Marilou Danley, who remains a person of interest in the attack. Ms Danley was in her home country of the Philippines on the day of the shooting.
Paddock wired $100,000 to an account in the Philippines prior to shooting, according to NBC News, but it is unclear whether the money was meant for Ms Danley's use.
Employees at the Starbucks near Paddock's Mesquite home said he used to berate his girlfriend in front of them.
"He would glare down at her and say – with a mean attitude – 'You don't need my casino card for this. I'm paying for your drink, just like I'm paying for you'," a Starbucks supervisor told the Los Angeles Times.
Mr Lombardo said on Monday that police were "continuing the investigation," into Ms Danley.
"There are several questions that need to be answered … but she is currently out of the country," he said. "We are making arrangements to contact her upon her return."
Join our new commenting forum
Join thought-provoking conversations, follow other Independent readers and see their replies