Strangers who shared Thanksgiving meal after accidental text plan to stay friends
Wanda Dench invited Jamal Hinton to lunch because 'that's what grandmas do... feed everyone!'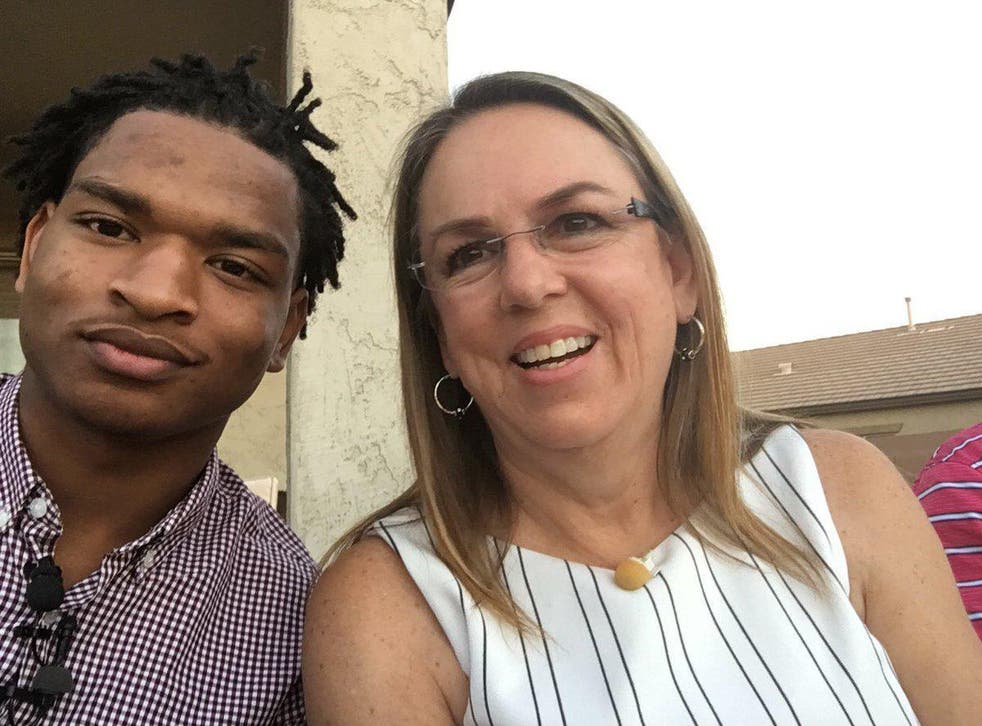 A teenage boy and a grandmother have said they will remain friends after an accidental text led to them sharing a Thanksgiving meal.
Wanda Dench, from Mesa, Arizona, sent a group message to her grandchildren inviting them to a family lunch, but she accidentally included Jamal Hinton, a 17-year-old she had never met, from the neighbouring town of Chandler.
When Mr Hinton worked out that Ms Dench was not actually his grandmother, he asked, as a joke: "Can I still get a plate tho?"
Ms Dench replied almost immediately: "Of course you can, that's what grandmas do... feed everyone!"
The story quickly went viral on social media, with thousands of people liking and sharing Mr Hinton's tweet about the messages.
On Thursday, the pair met at Ms Dench's home, where she reportedly greeted Mr Hinton with a hug, describing him as her "honorary grand son".
"I'd never seen her before and She welcomed me into her home," Mr Hinton said to ABC15.
He added: "That shows me how great of a person she is, I'm thankful for people like that.
"With all the Donald Trump going on and all the racial comments going on, it's kind of good to see there's still good people out there."
After Mr Hinton posted the exchange online, forgetting to remove Ms Dench's number, she said she recieved hundreds of supportive messages.
"The kindness that I've received from people sending me comments is just unbelievable," she said told CNN.
She said she eventually had to change her number because of the volume of messages she was recieving, but she was still happy to host Mr Hinton.
"He was just as nice as could be," she said. "We got to eat food, and he told me about his plans for the future, and I am just so excited for him."
Inflation soars as New York supersizes Thanksgiving

Show all 5
She added: "If you have an opportunity to do something kind for somebody, please, please do. It's a good feeling to give kindness, and it's a wonderful feeling to receive it."
She said the pair plan to continue their friendship.
"I just clicked when I met him and first talked to him," Ms Dench said. "Oh my gosh, I want to get to know this guy."
Join our new commenting forum
Join thought-provoking conversations, follow other Independent readers and see their replies