Susannah Mushatt Jones: World's oldest person says that she eats bacon every day
"I never drink or smoke. I surround myself with love and positive energy. That's the key to long life and happiness."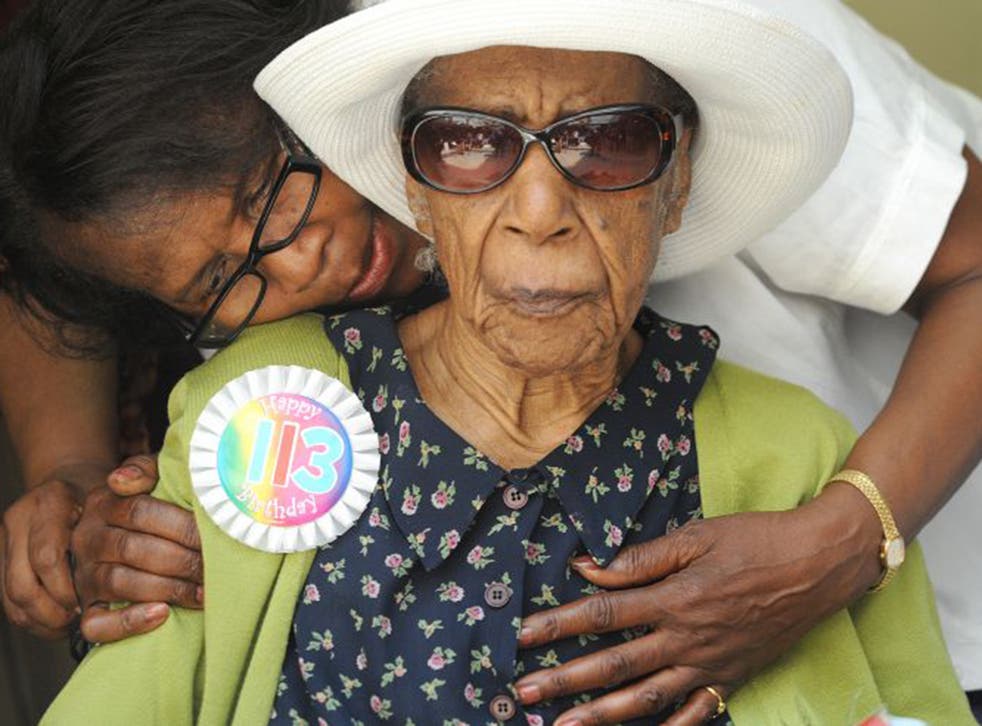 Having been officially declared the world's oldest person earlier this year, 116-year-old American Susannah Mushatt Jones has often been asked the secret of her longevity.
The revelation that she eats bacon every day will come as even more of a surprise following the World Health Organisation's announcement that processed meats do cause cancer.
A daily breakfast of bacon, eggs and grits (boiled ground corn), combined with "lots of sleep", has enabled the super centenarian to live across three centuries having been born in a small farm town near Montgomery, Alabama, in July 1899
Known as 'T', short for auntie, by her 100 nieces and nephews, Ms Mushatt Jones was recognised by Guinness World Records in July and is still going strong.
One of 11 siblings, she attended a special school for young black girls and graduated from high school in 1922 when she began to work full time helping family members pick crops - her father was a sharecropper who picked cotton to support his wife and children.
She left Alabama later that year first to New Jersey before moving to New York earning around $7 a week as a live-in housekeeper and childcare provider to wealthy families. She had wanted to become a teacher and had been accepted to Tuskegee Institute's Teacher's Program, but her parents could not afford tuition.
Ms Mushatt Jones was married for five years and although she never had any of her own she adored children, her niece Lois Judge said. She never knew what became of her husband, Henry Jones, following their separation.
Having been active in her neighbourhood "tenant patrol team" for over 30 years, for her 106th birthday celebrations the New York City Housing Authority paid tribute to her and she received a congratulatory tribute from New York mayor Michael Bloomberg who wished her "good health and great happiness."
The top 14 superfoods that will help you live to 100

Show all 14
As well as her love of bacon Ms Mushatt Jones told the Housing Authority at the time a lack of vices also helped her to live so long.
She said: "I never drink or smoke. I surround myself with love and positive energy. That's the key to long life and happiness."
Despite being blind and hard of hearing, she is not bed-bound and only takes two medications a day. If she lives for another six years she will surpass the oldest person ever to have lived – French woman Jeanne Calment who died aged 122 and 164 days.
Join our new commenting forum
Join thought-provoking conversations, follow other Independent readers and see their replies