Rudy Giuliani abuses fellow Fox News guest as impeachment process begins
'Shut up, moron. Shut up. Shut up': Trump lawyer Giuliani abuses fellow TV guest live on air as impeachment rocks White House
'You don't know what you're talking about idiot. You're just lying…just keep your lying mouth shut.'
Rudy Giuliani hurled abuse at a fellow Fox News guest, calling him a "serial liar" and a "moron" as the president's opponents pledged to seek Donald Trump's removal from office.
With the threat of impeachment hanging in the air, Mr Giuliani's outburst on Fox News' The Ingraham Angle came as he looked to defend Donald Trump and himself from allegations the president had offered to trade aid for political favours with the government of Ukraine.
The lawyer lambasted fellow guest Chris Hahn, a former aide to senior Democrat Chuck Schumer, saying he should "sue him for libel" after the liberal commentator implied Giuliani was asked by the US State Department "to dig up political dirt on Trump's opponent".
"Shut up moron, shut up" the president's legal representative shouted over the left-wing pundit. "You don't know what you're talking about idiot. You're just lying…just keep your lying mouth shut."
However in an earlier segment of the show Mr Giuliani admitted to making himself central to White House's relationship between the US and Ukraine on order of the State department, and that digging into the history of Biden's relationship with the country was part of his job as the president's defence lawyer.
World news in pictures

Show all 50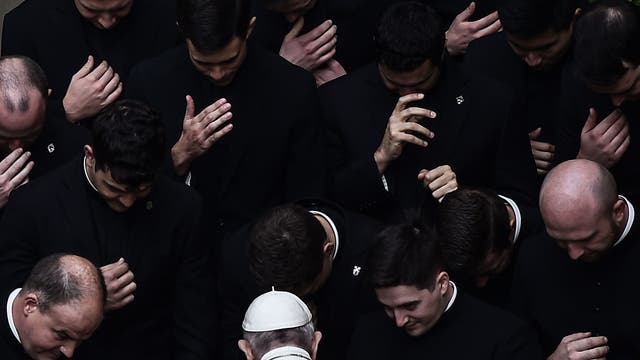 When confronted with quotes from a US official who claimed the president's lawyer had "inserted himself" into Washington's relationship with the eastern-European nation, he said: "Man I really did, and you know who I did it at the request of? The State Department.
"I never talked to a Ukrainian official until the State Department called me [and asked me] to do it. And then I reported every conversation back to them."
He went on to imply officials in the government department were "bullies", and that Mr Biden was "intellectually challenged" and a "crook".
It comes as an anonymous whistle-blower complaint from a member of the intelligence community slowly comes to light, with leaks implying the President may have repeatedly told the Ukrainian President Vlodoymyr Zolensky he could only receive US aid if his nation investigated 2020 frontrunner Joe Biden and his son's relationship with the country.
The allegation of a quid pro quo deal between the US and a smaller nation for political ends has fuelled the Democrat's most senior politician, Nancy Pelosi, to seek Trump's removal from office.
In return the White House has alleged Mr Biden meddled in a criminal investigation into firm Burisma Holdings, of which his son Hunter was a board member, by calling for the nation's prosecutor general Viktor Shokin to be fired for corruption. Mr Biden has strongly denied the claims, adding that he was part of a push from multiple world leaders for Mr Shokin to step down.
In previous interviews Mr Giuliani has admitted to "asking" Ukraine to conduct investigations into Mr Biden and his son, adding that the White House had the "right" to get involved despite Washington's continued decision to withhold aid from the country.
"We're not meddling in an election, we're meddling in an investigation, which we have a right to do," Mr Giuliani said in May when asked by the New York Times about the parallels between Ukraine and the special counsel's inquiry into Russian interference.
"There's nothing illegal about it," he added. "Somebody could say it's improper. And this isn't foreign policy — I'm asking them to do an investigation that they're doing already and that other people are telling them to stop. And I'm going to give them reasons why they shouldn't stop it because that information will be very, very helpful to my client, and may turn out to be helpful to my government."
Join our new commenting forum
Join thought-provoking conversations, follow other Independent readers and see their replies