John Kelly will leave post as White House chief of staff by end of year says Donald Trump
Trump considering appointing son-in-law Jared Kushner as new White House chief of staff, reports say
'He will be great in any role,' says Sarah Sanders
Donald Trump is believed to be considering his son-in-law Jared Kushner for his next chief-of-staff, in a move that could prompt fresh accusations of nepotism in the White House.
Sarah Sanders, Mr Trump's press secretary, did not deny that the 37-year-old was competing for the role.
"I'm not aware that he's under consideration," she said.
"But as I think all of us here would recognise, he will be great in any role that the president chooses to put him in."
"He has done a tremendous job on a number of fronts, whether it was on trade or what we've seen play out over the last week on criminal justice reform."
Donald Trump's least presidential moments so far...

Show all 30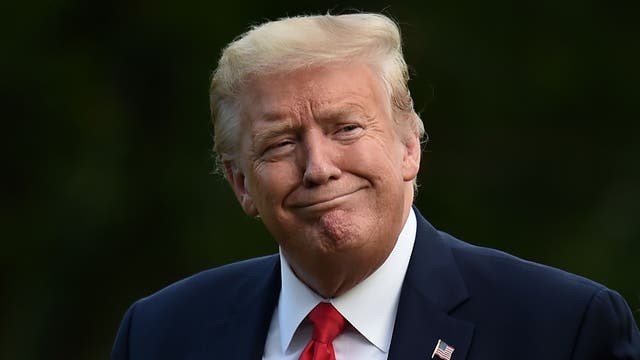 "He's done a great job on all those efforts."
Ms Sanders' comments will only add to speculation that Mr Kushner is under consideration for the role, which will be vacated by General John Kelly.
Those urging Mr Trump to appoint his son-in-law include some external advisors and some administration officials, according to a Reuters source.
Mr Kushner, who is married to the president's daughter Ivanka, has been given a number of responsibilities by Mr Trump but has mostly worked in the background at the White House.
Donald Trump's first year: in pictures

Show all 29
Donald Trump has clashed on numerous occasions with his previous chiefs-of-staff.
"It's possible that this is why this is appearing at this moment in time, especially because what everyone knows you need is someone who has a good relationship with the president," the source told Reuters.
"You want consistency, knowing he'll be here for two more years, just name Jared and let him do it the way he wants," added one of Mr Trump's confidants.
Another source said that Mr Kushner was happy with his current work as a senior adviser and is not inclined to pursue the position.
But the Huffington Post reported that the 37-year-old had met with his father-in-law on Wednesday, to discuss the chief-of-staff role.
Mr Trump has reportedly struggled to fill the post since announcing that John Kelly was leaving the White House.
His son-in-law, alongside Ivanka Trump, initially backed Nick Ayers, Vice President Mike Pence's chief-of-staff, for the position.
But Mr Ayers surprised the Washington establishment over the weekend when he instead announced that he was leaving the White House.
Senior staffers in the administration had believed that Mr Ayers' appointment was a done deal.
Treasury Secretary Steven Mnuchin and Robert Lighthizer, the US trade representative, were both reportedly under consideration for the role.
Both have now signalled that they are happy in their current positions.
Support free-thinking journalism and attend Independent events
Mark Meadows, a congressman who was briefly considered, is also out of the running, with the White House saying that the president thinks he is needed in Congress.
Former New Jersey governor Chris Christie is thought to still be under consideration for the role.
The US president insisted on Thursday that the search for his new chief-of-staff was progressing.
"We're interviewing people now for chief of staff," he said, adding that the short list is now "five people."
"Really good ones. Terrific people. Mostly well-known, but terrific people."
Additional reporting by agencies
Join our new commenting forum
Join thought-provoking conversations, follow other Independent readers and see their replies