Puerto Ricans accuse Trump of treating them 'like dogs' during disaster visit
US President slammed after suggesting storm that left 34 dead was not 'real catastrophe'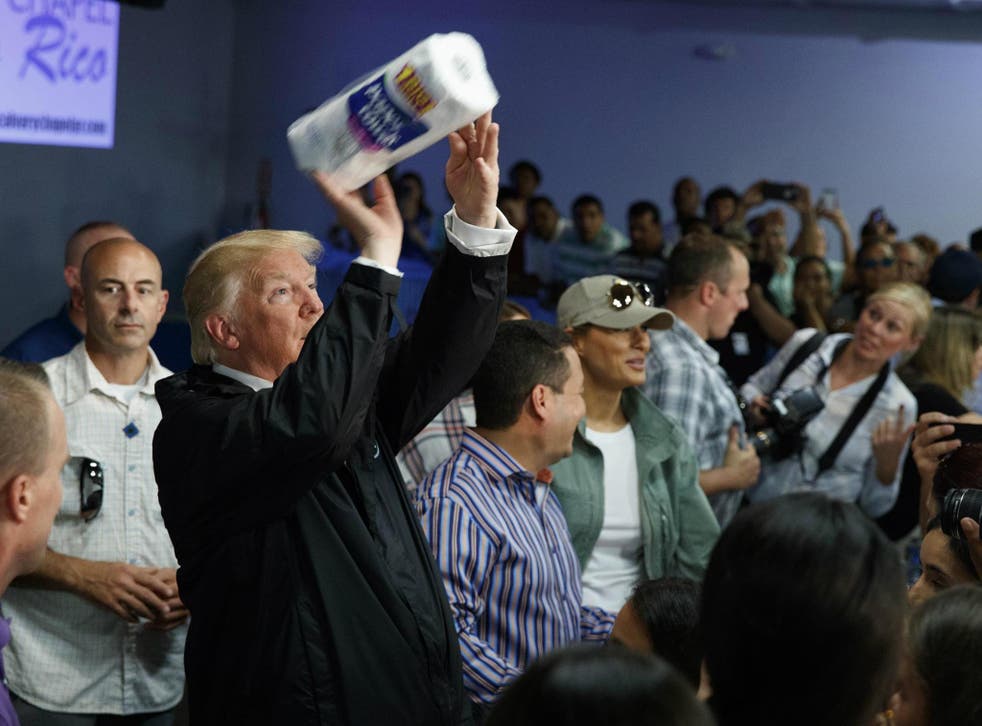 Puerto Ricans have accused Donald Trump of treating them "like dogs" after the US President's ill-fated visit to the hurricane-struck island.
Mr Trump visited the Caribbean US territory on Tuesday and was widely criticised after he threw packs of paper towels at residents, insulted local leaders and suggested the category 4 Hurricane Maria that wreaked havoc on the island was not a "real catastrophe".
Puerto Ricans were among those to join the condemnation of the US President, suggesting he had treated them like animals.
"He arrives with a smile on his face, makes fun of the situation, shows no empathy, lies and lies on camera as he does 24/7. And then throws paper towel rolls to people in need as if he was playing Go Fetch with dogs," Joel Isaac, a Puerto Rican who moved to New in 2014, told The Toronto Star.
Frances Alvarado, a Puerto Rican who lives in North Carolina, told Newsweek: "Does he think this is a show? A game? The first reaction that I had: why is he throwing things to Puerto Ricans like we're animals?"
Mr Trump also provoked anger after suggesting there is a difference between the situation in Puerto Rico and that following "a real catastrophe like [Hurricane] Katrina", which devastated many of the southern US states in 2005.
Hurricane Maria killed 34 people in Puerto Rico and caused damage costing up to $85bn (£65bn) after hitting last month. Many people on the island fear they could be left without power for months.
Donald Trump's least presidential moments so far...

Show all 30
Mr Trump was also mocked for tossing packs of paper towels to those who lost homes in the storm. Reports suggest he had to be advised not to do the same with tins of canned chicken.
The mayor of Puerto Rico's capital, San Juan, had earlier criticised the Trump administration for suggesting the US response to the hurricane was a "good-news story".
Carmen Yulin Cruz told CNN: "Dammit, this is not a good-news story. This is a people-are-dying story.
"This is a life or death story. This is a 'there's a truck load of stuff that cannot be taken to people' story. This is a story of a devastation that continues to worsen because people are not getting food and water."
Donald Trump heckled by spectator over Puerto Rico
Mr Trump accused Ms Cruz of "poor leadership" in the wake of the disaster.
The US President also triggered a backlash after claiming Puerto Rico's leaders "want everything to be done for them when it should be a community effort".
"I'm amazed that he has the gall to say Puerto Ricans expect everything to be done for them," Griselmarie Alemar, a Puerto Rican who lives in, Connecticut, told CNN. "They are working exhaustively to lift themselves up. We are citizens. We pay taxes. We serve in the military."
Another, Renee Acosta, from San Juan, said: "If he's not here, he shouldn't be criticising the community efforts."
Join our new commenting forum
Join thought-provoking conversations, follow other Independent readers and see their replies