Trump's first 100 days: What Donald Trump wouldn't have to cut if Melania and Barron lived in the White House
The price of protecting the First Lady and her son while they reside in Trump Tower is between $127,000 and $146,000 ((£101,000 and £116,000) per day, according to the NYPD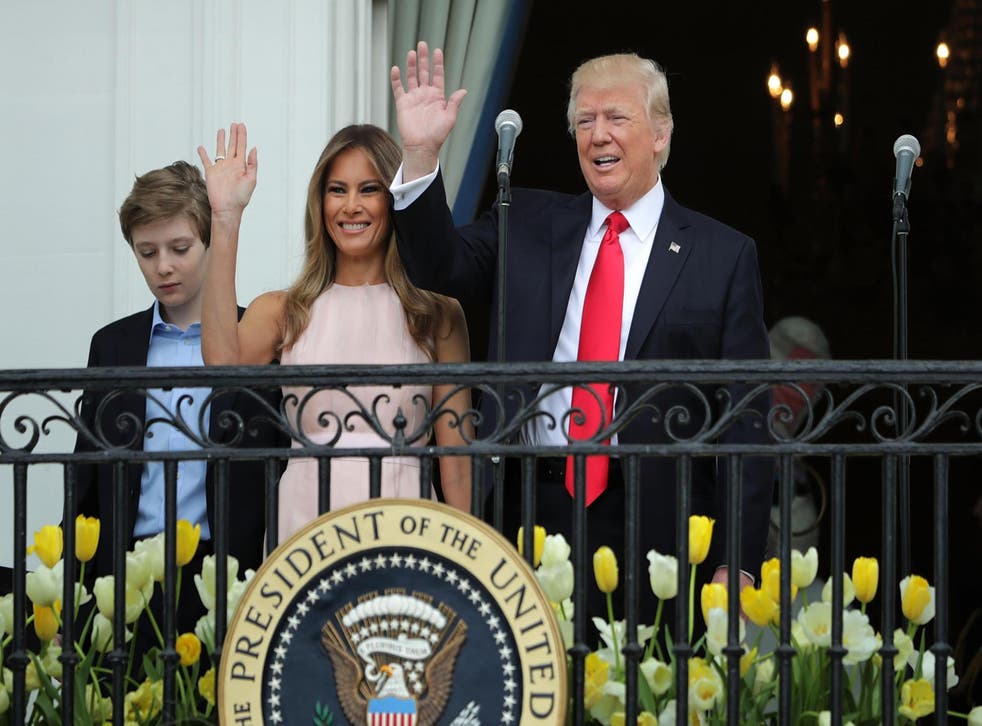 More than half a million people have signed a petition calling for Melania Trump to move out of New York's Trump Tower, or pay for her own security costs.
The New York City Police Department (NYPD) recently estimated that the price of protecting the First Lady and her son Barron while they reside in the luxury skyscraper costs between $127,000 and $146,000 ((£101,000 and £116,000) per day.
The cost of this goes to the taxpayer, the force said in a letter to members of the city's delegation to congress.
Ms Trump has said they will move in June, when Barron finishes his school year.
Until then, her stay could cost approximately $18.2 million (£14.6 million).
Meanwhile, her husband's proposed first budget seeks to make billions of dollars worth of cuts to social care, healthcare, education and the arts.
Here are a list of schemes that could be funded if Ms Trump and Barron joined the US President in the White House, based on statistics from the Centre for American Progress Action Fund:
Meals on Wheels
The cost of feeding one pensioner through the program is $2,765 (£2,157) per year. If Ms Trump had moved, the money could pay for the meals of 6,582 people over a year.
School Lunch
The National School Lunch Program provides children from low income families with free school meals. As it stands, the program gives assistance to schools at a rate of $416 per child, per year.
This means 43,750 children per year could be provided with free lunches, if Melania and her son lived in the White House.
Medicaid
Medicaid, a social health care program which provides low income families with healthcare, costs on average $5,790 (£4,518) per year, per recipient.
A total of 3,143 people could be helped.
Homelessness aid
In addition to cutting billions of dollars of funding for the Department of Housing and Urban Development, Mr Trump has also proposed to eliminate the US Interagency Council on Homelessness.
The agency costs $4m (£3.1m) to run annually, and could be run for four and a half years if Melania lived in the White House.
Public School funding
The US president has proposed to cut $9.2bn (£7.15bn) – 13.5 per cent from the Education Department's budget – and services to public schools are set to suffer.
In a statement last month, John King, CEO of The Education Trust said: "If this proposal were enacted, all students, particularly students of colour and low-income students, throughout the entire continuum of our education system would suffer, as would the nation's businesses who desperately need a skilled workforce to be successful".
The average public school spends approximately $12,296 (£9,595) per year to educate its students. This means a total of 1,480 students can be educated from Melania's Trump Tower expenditure.
The Woodrow Wilson International Centre for Scholars and Funding for International programmes
The former provides scholarships and fellowships to social sciences and humanities.
Under the president's proposed cuts, they are set to lose $11 million (£8.87 million) worth of funding and the latter scheme gives students the opportunity to study abroad in a number of partner institutions through exchanges, migrant schools and special education services.
They face cuts of $7m (£6.65m). Combined, the two education programs cost less than Melania and Barron's stay at Trump Tower.
Register for free to continue reading
Registration is a free and easy way to support our truly independent journalism
By registering, you will also enjoy limited access to Premium articles, exclusive newsletters, commenting, and virtual events with our leading journalists
Already have an account? sign in
Register for free to continue reading
Registration is a free and easy way to support our truly independent journalism
By registering, you will also enjoy limited access to Premium articles, exclusive newsletters, commenting, and virtual events with our leading journalists
Already have an account? sign in
Join our new commenting forum
Join thought-provoking conversations, follow other Independent readers and see their replies