Trump's reference to Bill Clinton affair underscores his own history of infidelity
Candidate's invitation to Gennifer Flowers will remind voters of his own record with women
Mary Jordan
Monday 26 September 2016 14:39 Comments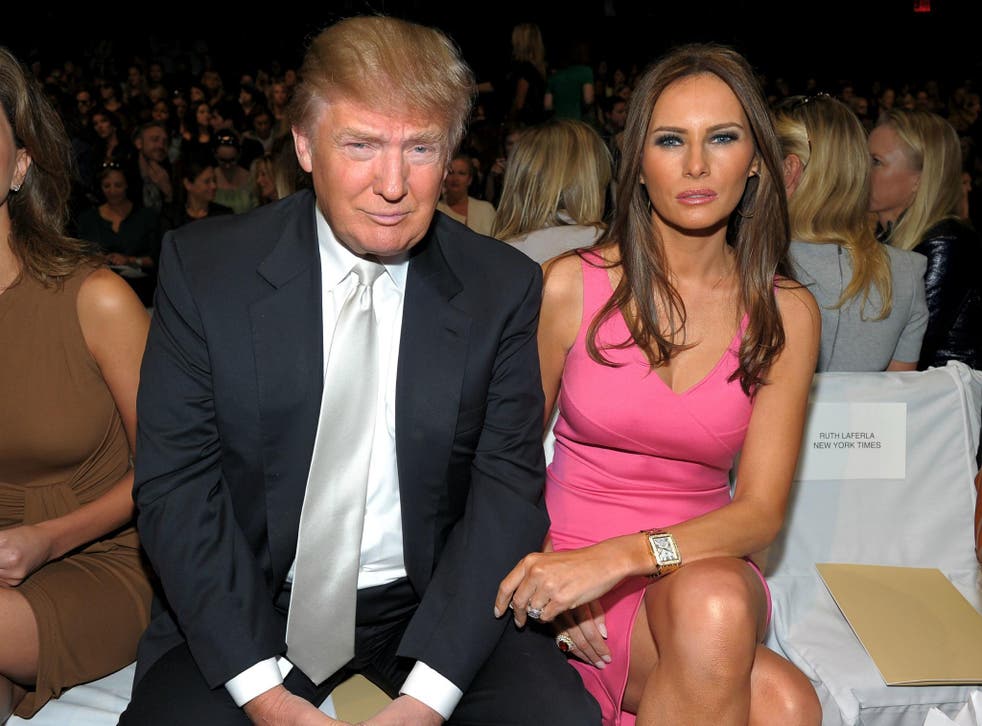 Donald Trump's threat to seat Gennifer Flowers, who had an extramarital affair with Bill Clinton, in the front row at Monday night's presidential debate focuses new attention to Trump's own history of infidelity and could further weaken his support among female voters.
Trump's suggestion, delivered Saturday via a Tweet, was widely seen as an effort to rattle Clinton ahead of Monday's high-stakes debate and fired up some of his hardcore supporters. Trump's campaign reversed course Sunday, saying Flowers was not going to be invited to the debate.
Even so, some analysts questioned whether it was wise for Trump to even bring up the issue in an attempt to smear Hillary Clinton for the failings of her husband, especially given his own playboy past.
"Why is he doing this to Hillary Clinton?" said Mary Anne Marsh, a Democratic strategist. "This is not about her behavior, it's something that happened to her. Women will not see this as fair.
"His base will love it, but the very voters he needs - white, college-educated women - will not," she said. "It will hurt him."
Polls show Trump and Clinton virtually deadlocked among all voters, but Clinton has far greater support among women. Among likely voters who are women, Clinton leads by 19 points, 55 percent to 36 percent, according to a Washington Post-ABC News poll released Sunday. It found Clinton up 2 points overall among likely voters.
Trump is currently losing among likely white women voters with a college degree by 25 points, according to the same poll. In 2012, Republican nominee Mitt Romney won that group by six points. Trump's deficit among white, college-educated women is unprecedented in exit polls going back to 1980.
Katie Packer, a Republican strategist who worked on Romney's 2012 presidential campaign and who ran an anti-Trump PAC during the Republican primaries, said research shows that even "women who aren't immediately inclined toward Hillary" are sympathetic toward her "when people punish her for her husband's infidelity."
"They feel it's very sexist to hold her responsible for his bad behaviour," she said. About Trump, she said, "He is a serial philanderer, too, and has publicly bragged about it. He has no moral high ground."
Mr Trump - who has been married three times - separated from his first wife, Ivana, after his affair with Marla Maples became widely known. Trump and Ivana finalised their divorce in 1992. Mr Trump married Ms Maples in December 1993, two months after she gave birth to a daughter. He divorced Ms Maples in 1999 and married Melania Knauss in 2005.
After his second divorce and at other times when he was single, Mr Trump was frequently seen out on the town with different women. He appeared on the cover of Playboy magazine, wrote in his books about all the women chasing him and publicly boasted about his sex life.
"I haven't thought about it," Trump said in April when asked if he thought his affair with Maples while he was married to his first wife would come up in the general election if Bill Clinton's affairs were aired again.
"I don't see it as a very big situation. It was a long time ago," he said. "I may be wrong. I am learning everything I do is a big deal."
Donald Trump's most controversial campaign moments
Mr Trump insists his affair with Ms Maples, who was quoted in tabloids saying "Best Sex I've Ever Had!" about Trump, is not like Bill Clinton's infidelities. Those, Mr Trump said in the interview, are "from another planet."
Mr Trump insisted that even though his marriage with Ivana had not officially ended, "it was over" when he began seeing Maples.
But his first wife was stung. Ivana Trump - who has kept an exceptionally low profile during the 2016 campaign - said at the time of the affair that she overheard her husband talking to Ms Maples on the telephone when the couple were staying in an Aspen hotel with their three children at Christmastime in 1989. Ivana and Ms Maples then famously had a public spat over Mr Trump on the ski slopes.
Mike Murphy, a Republican strategist who backed Jeb Bush in the primaries, said Mr Trump would have been wiser to tweet that he was bringing a woman widowed by the terrorist attack in Benghazi, Libya, to the debate. While Mr Trump made the kind of "media noise" that he loves to create, Mr Murphy said, this move was "typical Trump: all impulse and no strategy."
Copyright Washington Post
Register for free to continue reading
Registration is a free and easy way to support our truly independent journalism
By registering, you will also enjoy limited access to Premium articles, exclusive newsletters, commenting, and virtual events with our leading journalists
Already have an account? sign in
Join our new commenting forum
Join thought-provoking conversations, follow other Independent readers and see their replies