Trump accused of sexual assault by former model Amy Dorris in new interview
Model alleges the president forced his tongue down her throat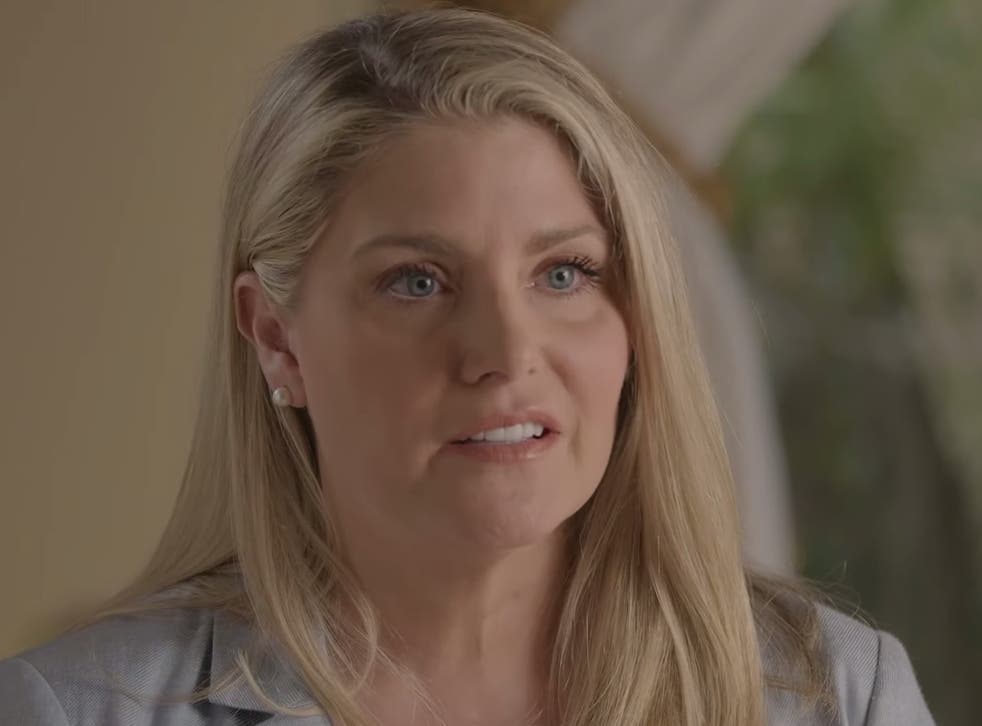 A former model has accused Donald Trump of sexually assaulting her at the 1997 US Open tennis tournament, telling The Guardian that the incident left her feeling "sick" and "violated".
Amy Dorris alleged that the US president, who was 51 at the time, assaulted her outside the bathroom in his VIP box at the New York tournament. She was 24.
"He just shoved his tongue down my throat and I was pushing him off. And then that's when his grip became tighter and his hands were very gropey and all over my butt, my breasts, my back, everything," Ms Dorris, 48, told the newspaper."
"I was in his grip, and I couldn't get out of it," she said. "I don't know what you call that when you're sticking your tongue just down someone's throat. But I pushed it out with my teeth. I was pushing it. And I think I might have hurt his tongue."
Mr Trump strongly denies the allegations, with his lawyers saying he never harassed, abused or behaved improperly toward the former model.
Ms Dorris's account was corroborated by several people who she had told about the incident. Her mother and a friend both said the former model called them immediately after the alleged assault. Other friends and a therapist, in whom Ms Dorris confided in later years, also said the details reported by the newspaper matched what she had described to them at the time.
She also showed journalists her ticket to the US Open, as well as six photos showing her with the president over several days in New York.
The former model said she went to New York with her boyfriend at the time, Jason Binn, who was a friend of Mr Trump's. In 1997, Mr Binn described the real estate magnate as his "best friend".
Ms Dorris alleged that Mr Trump assaulted her after she went to the bathroom. She said told the president "no, please stop" but "he didn't care".
She said she was unsure whether she told her then boyfriend the full details of the incident, but recalled asking him to tell the real estate businessman to leave her alone. She said she told Mr Binn: "He's all over me. I can't deal with this. You have to do something."
Mr Binn did not respond to the newspaper's requests for comments, but Mr Trump's legal team said Mr Binn told them he did not remember Ms Dorris telling him anything improper had happened.
The 48-year-old mother-of-two said that she had considered coming forward with the allegations in 2016, when a number of women had publicly accused Mr Trump of sexual assault, but decided against doing so to protect her family.
Several women have accused Mr Trump of similar incidents, with nearly two dozen publicly making allegations of sexual assault or misconduct.
Register for free to continue reading
Registration is a free and easy way to support our truly independent journalism
By registering, you will also enjoy limited access to Premium articles, exclusive newsletters, commenting, and virtual events with our leading journalists
Already have an account? sign in
Register for free to continue reading
Registration is a free and easy way to support our truly independent journalism
By registering, you will also enjoy limited access to Premium articles, exclusive newsletters, commenting, and virtual events with our leading journalists
Already have an account? sign in
Join our new commenting forum
Join thought-provoking conversations, follow other Independent readers and see their replies