Two feared dead after being 'ejected' from bachelor party boat trip in alligator-infested lake
Charlie Jackson and Jason Cobb disappeared in the 'wet and stormy' early hours of Saturday morning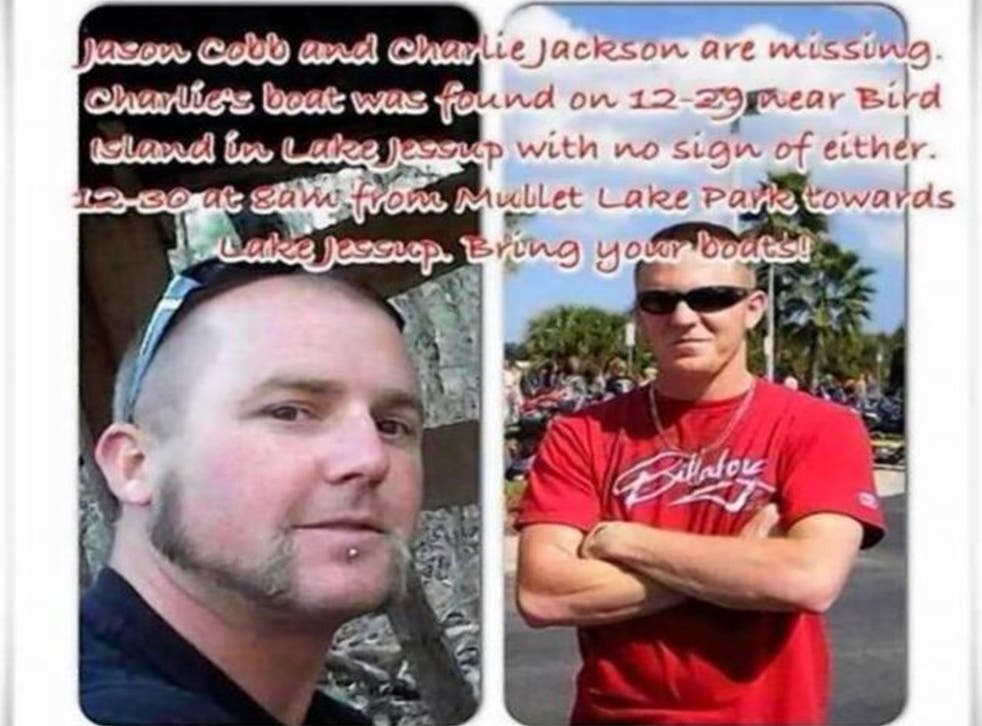 Two men are feared dead after being 'ejected' from a bachelor party boat trip in the middle of an alligator-infested lake.
Charlie Jackson and Jason Cobb disappeared in the 'wet and stormy' early hours of Saturday morning after going out onto Lake Jesup in Florida in a 15ft vessel.
Family members said the two missing men, aged 26 and 30 respectively, had attended a bachelor party before heading out onto the lake to fish.
The boat was found Saturday afternoon undamaged and with the keys in the ignition in cattails less than a mile north of the fish camp, near Bird Island.
Two life jackets, two paddles, eight unopened beer cans and one partly empty can of beer were apparently found on the boat.
'It appears they may have been ejected from the vessel,' Joy Hill, a spokeswoman for the Florida Fish and Wildlife Conservation Commission said in a statement.
Seminole County deputies and state wildlife officers have searched the alligator-infested lake using a sheriff's helicopter, equipped with heat-sensing technology but have so far found no trace of the pair.
Friends and family have launched a Facebook campaign for help finding the pair,but Mr Jackson's 55-year-old father Bill admitted: 'It doesn't look real good for them. I'm just facing reality.'
Lieutenant Jeff Hudson of the Florida Fish and Wildlife Conservation Commission said it is unlikely that the pair were eaten by alligators because cold temperatures force the reptiles into underwater caves to stay warm.
He said they go into a hibernation-like state and don't eat or hunt as much during the winter, adding officials were more concerned about the cold weather and the effects of hypothermia following two near-freezing nights with additional wind-chill factors.
'We deal with possibilities and probabilities. It's possible they're still alive, yes,' Lt Hudson told the Orlando Sentinel. 'Is it probable? I don't know.'
Join our new commenting forum
Join thought-provoking conversations, follow other Independent readers and see their replies