Conspiracy theorist Alex Jones accused of inciting violence after saying Biden will be removed 'one way or the other'
The InfoWars host spoke at the Million MAGA march on Saturday in DC organized to protest the election results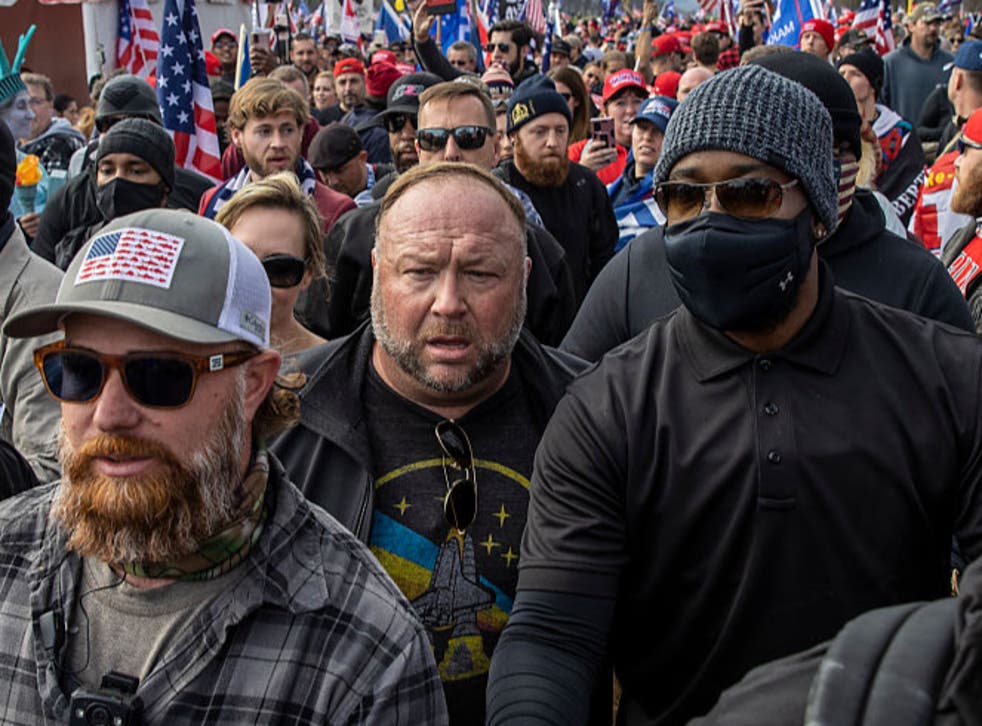 Far-right conspiracy theorist Alex Jones has told a Trump rally that president-elect Joe Biden will be removed "one way or the other" leading to calls for the Secret Service or FBI to investigate him for attempting to incite violence.
The InfoWars host, whose show has been removed from major social media platforms, spoke at the "Million MAGA march" where the president's supporters railed against the election results and falsely claimed that Mr Trump had won a second term.
"The system is publicly stealing this election from the biggest landslide and the biggest political realignment since 1776," Mr Jones said during a speech.
Mr Jones also repeated debunked claims associated with the far-right QAnon conspiracy theory.
He said: "We will never back down to the Satanic paedophile, globalist New World Order and their walking-dead reanimated corpse Joe Biden, and we will never recognize him".
He then turned his attention to the FBI investigation of the Trump campaign's contacts with Russia, before referencing a recently-revealed Department of Justice probe into Hunter Biden's taxes.
"President Trump had zero connection to Russians. No proof. Four years of investigation. With the Bidens, it's open and shut," Mr Jones said.
"So I don't know who's going to the White House in 38 days but I sure know this - Joe Biden is a globalist and Joe Biden will be removed one way or another."
Critics accused Mr Jones of an attempt to incite violence, and David Weissman, from the Lincoln Project, also accused Mr Jones of anti-Semitic tropes.
He said: "This antisemitic trope should also be considered a threat and Alex Jones should be arrested for incitement."
Fred Wellman, also with the Lincoln Project, tweeted a link to Mr Jones' remarks, writing: "Hi @SecretServicejust you know...saying hello."
Violence erupted on the streets of DC following the rally. Four people were taken to hospital with stab wounds, DC fire spokesman, Doug Buchanan, said.
Their injuries were described as serious but not life-threatening. Authorities said that 23 people had been arrested.
Meanwhile, law enforcement declared a riot in Olympia, Washington, where one person was shot at a Trump rally. The suspect was detained, Washington State Patrol said.
The violence erupted just a day after Mr Trump suffered a Supreme Court defeat which further dents his desperate bid to hold onto the White House.
Justices on Friday rejected a lawsuit by the state of Texas which asked them to throw out election results in four key battleground states where Mr Trump lost to Mr Biden. Protests broke out in several state capitals following the ruling.
President-elect Biden won the 2020 election and will enter the White House on 20 January.
Register for free to continue reading
Registration is a free and easy way to support our truly independent journalism
By registering, you will also enjoy limited access to Premium articles, exclusive newsletters, commenting, and virtual events with our leading journalists
Already have an account? sign in
Register for free to continue reading
Registration is a free and easy way to support our truly independent journalism
By registering, you will also enjoy limited access to Premium articles, exclusive newsletters, commenting, and virtual events with our leading journalists
Already have an account? sign in
Join our new commenting forum
Join thought-provoking conversations, follow other Independent readers and see their replies