Trump's attack on Biden's mental fitness isn't landing with voters, new poll finds
New poll finds Trump scores worse than Biden with public on mental fitness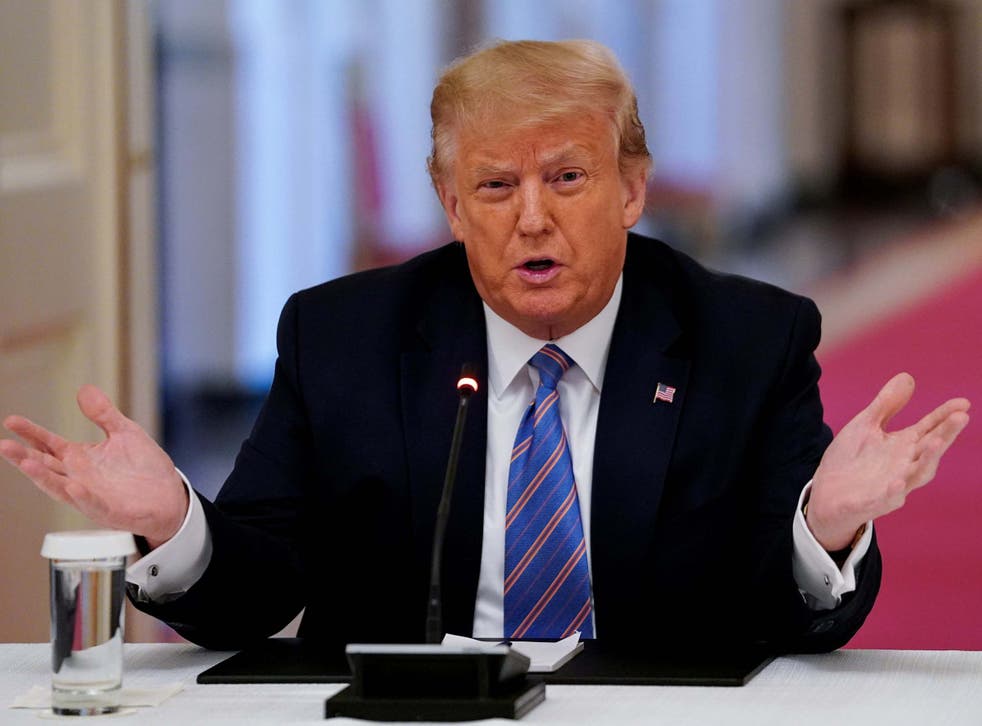 The Trump campaign's apparent strategy to paint Democratic presidential nominee Joe Biden as senile and incompetent does not appear to be catching on with voters, a new Fox News poll has found.
Forty-seven per cent of the 1,104 registered voters surveyed for the poll released on Sunday said they believe Mr Biden has "the mental soundness to serve effectively as president," while 39 per cent said they believe he does not.
The president, in fact, scored worse. Just 43 per cent of those surveyed said Donald Trump is mentally sound enough to serve effectively, while more than half, 51 per cent, said he is not.
Pollsters from Fox News released the survey, which has a margin of error of +/- 3 percentage points and was conducted via live phone interview from 12-15 July, as the president and his campaign surrogates have escalated their attacks against Mr Biden's mental fitness.
Mr Biden led Mr Trump 49 per cent to 41 per cent when voters were asked who they would vote for if the presidential election were today.
Mr Biden, who for decades has been well-known for his verbal gaffes, would be the oldest person to take the presidential oath of office. Mr Trump, who was 70 when he swore the presidential oath in 2017, currently holds that distinction.
The survey's results on the two candidates' mental fitness broke down mostly along party lines, with most Republicans tending to say Mr Trump was mentally fit for office while Mr Biden was not, and Democrats saying the opposite.
Forty-one per cent of Independents said Mr Biden has the soundness of mind to serve, compared to 34 per cent who said he does not. Twenty-five per cent said they did not know.
Mr Trump's figures among Independent voters on his mental soundness are even less promising, with more than half, 54 per cent, saying he was not fit. Just 30 per cent said he does have the mental soundness, and 17 per cent said they did not know.
On other questions of mental acuity, Mr Trump scored even more poorly among the Fox News poll's respondents.
Forty-two per cent said he had the intelligence for the job, and just 40 per cent said he had the proper judgment.
The polling does not necessarily spell doom for Mr Trump on Election Day this November, however. In October 2016, just a month before he scored an electoral college victory over Hillary Clinton, just 36 per cent of respondents to a Fox News poll said Mr Trump showed the necessary judgment to be president.
Despite his own lagging support in public polling, Mr Trump has overridden the warnings of several campaign aides to push for a line of attack against Mr Biden's alleged senility, NBC News reported last week.
The president's allies have happily obliged.
White House communications aide Dan Scavino, who directed the 2016 Trump campaign's social media operation, has shared multiple videos from his personal account on Twitter recently of Mr Biden appearing to lose his train of thought mid-speech, mumble words, and speak without vigour.
In a contentious interview with Fox News Sunday's Chris Wallace that aired on Sunday, the president stridently attacked Mr Biden's mental fitness.
"Biden can't put two sentences together. … They wheel him out. He goes up — he repeats — they ask him questions. He reads a teleprompter and then he goes back into his basement. You tell me the American people want to have that in an age where we're in trouble with other nations that are looking to do numbers on us?" Mr Trump said.
Meanwhile, the president's own former advisers have accused him of the same thing he's now accusing Mr Biden of.
Former Trump national security adviser John Bolton has said he will not vote for his former boss this November, describing the president as "not fit for office" and lacking "the competence to carry out the job."
Register for free to continue reading
Registration is a free and easy way to support our truly independent journalism
By registering, you will also enjoy limited access to Premium articles, exclusive newsletters, commenting, and virtual events with our leading journalists
Already have an account? sign in
Register for free to continue reading
Registration is a free and easy way to support our truly independent journalism
By registering, you will also enjoy limited access to Premium articles, exclusive newsletters, commenting, and virtual events with our leading journalists
Already have an account? sign in
Join our new commenting forum
Join thought-provoking conversations, follow other Independent readers and see their replies