US midterms: In Alaska the result is so uncertain they do not even know if it's close
The massive state with a tiny population could determine control of the Senate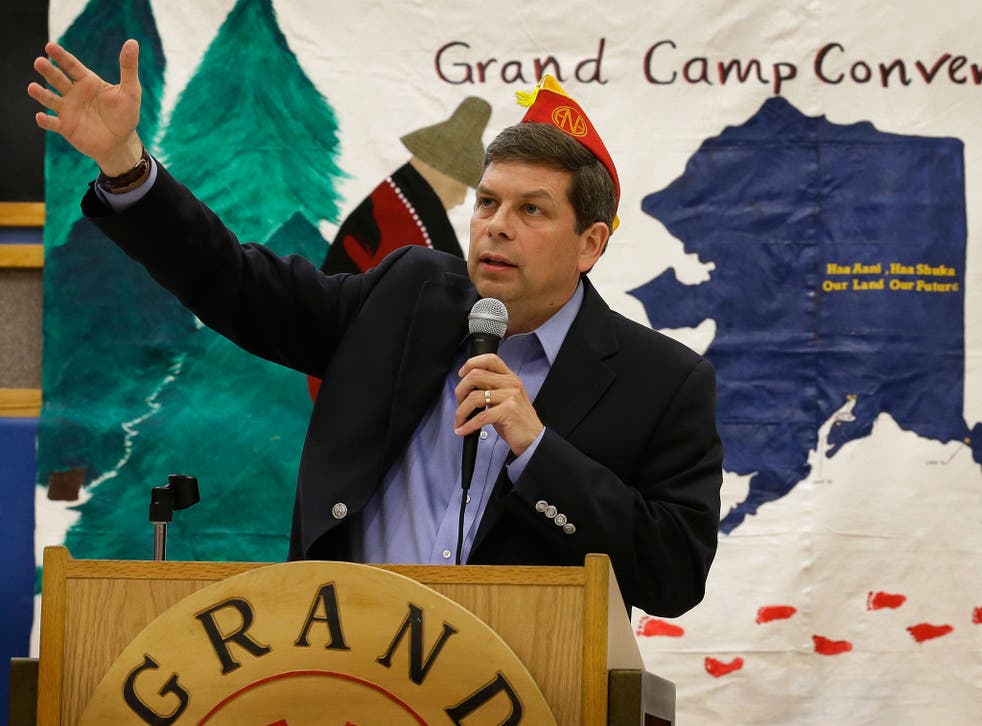 At this time of year in Anchorage, around 500 miles south of the Arctic Circle, the sun doesn't come up until well after 9am. But by then the voting booths at City Hall are already open and occupied.
Early voting for Tuesday's midterm elections began on 20 October, and, in a vast state which has a smaller population than Leeds, every vote really does count – this year more than ever.
That's because the balance of the US Senate could be tipped by the result in Alaska, one of a handful of key states that voted for Mitt Romney in 2012, and where incumbent, Democrat senators are vulnerable to their Republican rivals.
Wins in Arkansas, Louisiana, Montana, South Dakota, West Virginia and here would likely give the GOP a Senate majority and control of both Congressional chambers.
And Alaska's may be the tightest race of them all. In 2008, Democrat Mark Begich scraped into office, defeating then-Senator Ted Stevens by fewer than 4,000 votes.
Mr Stevens, the longest-serving Republican senator in US history, was an Alaskan icon – even Anchorage's airport is named after him – and many believe that he lost his seat only because he was indicted in a federal corruption case. The indictment was later dismissed.
This year, Mr Begich faces a new GOP challenger, Dan Sullivan, who was born and raised in Ohio but served as Alaska's attorney general under former governor Sarah Palin.
More than $50m (£31m) had already been spent on the race before last week, with at least two-thirds of the cash coming from outside the state.
Groups funded by the Koch Brothers and Karl Rove are backing Mr Sullivan, while the likes of Barbra Streisand and JJ Abrams have written cheques to his opponent.
Mr Romney and Tea Party firebrand Senator Ted Cruz were both due to fly into Alaska to campaign alongside Mr Sullivan in the closing days of the race.
Michael Carey, host of the public-radio show Alaska Edition and a veteran commentator on state politics, said: "We've had big campaigns here for governor and US Senate before, but there has never been anything like this. My mailbox is full of glossy flyers; I was travelling and my wife wouldn't answer the phone when I called because she thought I was a pollster. The level of spending is astonishing."
There are approximately 70,000 registered Democrats in Alaska and nearly twice as many Republicans. But more than half the state's voting population is unaffiliated to either major party – a greater proportion of independents than in almost any other US state.
One thing a majority does agree on is President Barack Obama: a recent CNN poll found that 65 per cent of registered Alaska voters disapproved of him.
Keen to tie his rival to an unpopular commander-in-chief, Mr Sullivan has made the case that Alaska is the key to controlling the US Senate, with one of his campaign's many TV ads suggesting that Mr Begich's was the "deciding vote" in the passage of Obamacare.
And yet, in spite of all the money being spent on persuasion and polling, and in the era of election guru Nate Silver and "big data", public polls in Alaska remain notoriously unreliable. So much so that not only does nobody really know which candidate will win, they're not even sure whether it's close.
Mr Begich appeared to be narrowly ahead during the summer, but in recent months Mr Sullivan had opened up a lead of around five points in many polls.
By the end of October, however, a survey by national pollsters Harstad Research suggested the candidates were neck-and-neck. That was quickly followed by results from two Alaskan firms which put the Democrat in front by a wide margin. In September, a poll by the Republican-leaning Hellenthal & Associates showed Mr Begich behind by 4.5 points. But in its 24 October poll the incumbent was up almost 10.
The firm's owner, Marc Hellenthal, whose midtown Anchorage office is within walking distance of both candidates' campaign headquarters, said national pollsters rarely have a reason to study Alaska outside election season. When they do, they tend to rely on the same, somewhat dated sample frames of potential Alaskan voters over and over again.
"We're a very transient state. There's a large and constant influx of people, so having a four-year-old sample frame really dates you," he explained.
Anchorage programmer Robert Harrison said 10 years ago he would get phone calls from pollsters around once a month. Now he receives around three calls per day, most from outside the state.
"If I'm getting all those calls, I can't be the only one," he said. "So they must be repeatedly polling a lot of the same people. It can't be good for their accuracy."
Mr Hellenthal also noted the logistical difficulties of surveying Alaska's far-flung, rural population, many of whom do not have a fixed address, let alone a landline.
"We have a large, native population of Eskimos and Indians, and they often live in small villages of 200 to 700 people," he said. "Pollsters can't ignore them because they can be critical as to who wins or loses an election."
Native Americans make up 13 per cent of Alaska's voters, and Mr Begich believes the Senate race can be won in the Bush, as the massive state's most-remote regions are known. To that end, he has 16 campaign offices dotted across Alaska, compared to Mr Sullivan's five.
According to The New York Times, the Democrat and his supporters have spent eight times as much as their Republican rivals on their so-called "ground game".
To get out the vote, Mr Begich recently told the Alaska Dispatch: "We have knocked on every single door in rural Alaska."
That effort may prove crucial, given that this Senate race – and thus the balance of power in Washington – could once again hang on just a few thousand votes.
Located in a time zone one hour behind the West Coast, Alaska will be the last state to close its voting booths tomorrow. And, if the vote is close, it could be days before the result is final.
"Both sides are prepared for a close race, and if it's very close they have their lawyers ready to come up here," Mr Carey said. "This election is not going to be over on election night."
Join our new commenting forum
Join thought-provoking conversations, follow other Independent readers and see their replies