A diabetic boy's religious parents 'didn't believe in doctors.' Now they're guilty of his murder.
'Alex was a very brave, a very smart little man, and he would have wanted for his life to have had meaning'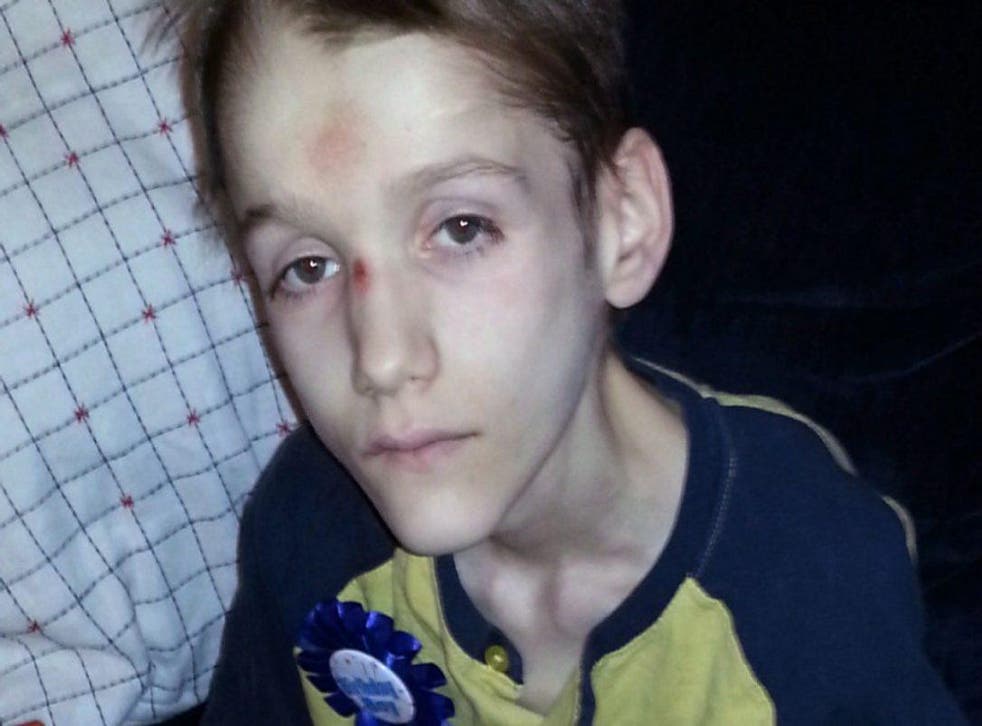 Alexandru Radita's first medical crisis began when he was on the verge of turning 3. His parents brought him - thirsty, feverish, vomiting and suffering from abdominal pain - to a hospital in British Columbia in December 2000. Lab tests confirmed that young Alex had Type 1 diabetes.
A doctor spoke to Alex's mother to explain her son's diagnosis and how they would need to treat him at home. Type 1 diabetes is a lifelong condition in which a person's pancreas does not produce enough insulin. People with it need regular blood tests and insulin injections to moderate blood-sugar levels.
According to court documents, "Mrs. Radita . . . made it clear that in her view the diagnosis was incorrect and she would prove that the doctors were wrong."
A little more than a decade later, Alex would die in his family's home in Calgary, Alberta, bedridden and emaciated.
Although he was 15, he weighed less than 37 pounds at the time of his death.
An emergency worker detailed the disturbing scene upon discovering the teen in his parents' bedroom on the night of his death, May 7, 2013.
"She described him as emaciated to the point where he appeared 'mummified.' His face had no visible flesh left as she could see every bone in his face," court records of the worker's account stated. "He had black, necrotic sores on his face and his left jaw had open sores so deep she could see his jaw bone. There was nothing left of his stomach as he was just so extraordinarily skinny. She estimated his waistline to be approximately three inches. He was dressed in a diaper and t-shirt. His eyes were open. He was not breathing."
An autopsy found the cause of death to be bacterial sepsis, brought on by starvation and neglect.
Alex's mother and father were arrested in early 2014. Last week, after a months-long trial, a Canadian judge found Emil and Rodica Radita guilty of first-degree murder in the death of their son. They were both sentenced to life in prison.
"The Raditas were well aware how ill Alex was and still refused to treat his medical condition with proper insulin protocol and medical care," wrote Karen Horner, the justice of the Court of Queen's Bench of Alberta who presided over the case. "They knew he was dying."
For years, Alex was reportedly home-schooled and had little contact with the outside world. His parents' "intentional isolation of Alex from anyone who could intervene" had a profound effect on the teen, who had weakened to the point that he had trouble moving, the judge wrote. "His muscles had wasted away. His body was covered in painful bedsores, one was so advanced his jaw bone was openly visible. The pain at times must have been unbearable. He was unable to use the toilet. The only evidence of his food intake was baby food."
Nearly four years after Alex's death, questions remain about why the family eschewed professional medical treatment in the final years of his life. One of his siblings testified in court that the family did not believe in doctors because of their religion. But unlike some denominations known for their belief solely in spiritual healing, there does not appear to be any doctrine that bears that out for the Romanian Apostolic Church, to which the Raditas belonged.
Letters written by Emil Radita and posted to an online message board for the Romanian community in 2004 indicate that there was nothing in his religious beliefs that barred him from seeing doctors - but that he had developed a deep mistrust of them in Canada after claiming Alex had been forcibly handled at a hospital. His son's "diabetes," he wrote, had been misdiagnosed, and he accused doctors of "teaming up against us" to tear apart the family.
"We believe in God and in His power of healing, but we know also God is the One who organize everything on Earth, and therefore, doctors are in His plan too," Radita wrote. "But confessing that in the front of one doctor, cost us time spent in the front of a court of justice, 4 times in 3 years, and we are not done yet. Family Services want to take one of my boys from us."
The judge's ruling capped a lengthy and emotional case that raised questions about possible gaps in Canada's social safety nets.
"To all outward appearances," court documents stated, "the Raditas seemed to be running a normal busy household filled with two adults and their eight children."
But concerns about Alex's treatment - or rather, his lack of proper medical care - had warranted social-service intervention before.
In 2003, when he was 5 and the Raditas were living in British Columbia, Alex was again admitted to a hospital, suffering from hypoglycemia, according to court records. Alex's mother told doctors they had not taken him for medical care for two years. A doctor noted that Alex was "within one day of death."
After that hospital visit, Alex was placed in foster care, where he remained throughout 2004.
In a victim impact statement she prepared but ultimately could not read at the Raditas' trial, Alex's social worker, Patricia MacDonald, recalled visiting him at his foster mother's home.
"We were both so proud of you and how well you understand your diabetes. Your foster parents encouraged independence and had a range of food you could choose from," MacDonald wrote in the statement, which was published in full by Canadian Broadcasting Corporation News. "Alex, you were so engaging when you attended appointments at the children's diabetes centre. All the staff were delighted to see you. However these positive memories are shrouded by the torment that you must have experienced through all those years that followed."
In December 2004, a judge in British Columbia ruled that Alex could be returned to his parents.
"The Raditas had now accepted the diagnosis of diabetes and they would now treat it properly given sufficient education and monitoring," Judge J.G. Cohen found, according to records. "The family had not previously experienced a major hospitalization with Alex as they now had. They would therefore know how to look for gradual changes as well as rapid ones."
Cohen added that Alex would be under "the watchful eye" of schoolteachers and a family doctor now, who would be able to notify authorities if his condition changed.
Though the child's social worker fought the decision, Alex returned to live with his parents in January 2005.
For about two years, the family was commended for keeping Alex's diabetes under control, records showed. He slowly gained weight and progressed three grades in school.
However, at his last known clinic visit, on Jan. 16, 2008, a doctor noted Alex's mother was resisting a recommended increase in her son's insulin dosage out of a mistaken fear it was causing cold sores. The doctor never saw Alex again, court records stated.
It was around then, "sometime in 2008 or 2009," that the Raditas moved from British Columbia to Alberta, court records showed.
A social worker who first met the family in 2000 testified that she tried unsuccessfully to follow up with the Raditas for about a month after they missed a January 2009 doctor's appointment. Another social worker testified that she found Alex had been withdrawn from his last elementary school, near Vancouver, the previous September.
"Her team leader directed her to close the file [on Alex] due to insufficient information which she did," court records stated.
There were no records of Alex receiving medical exams or services while in Alberta, though prescription records showed thousands of dollars of diabetes-related drugs and equipment (insulin, syringes and test strips) purchased between 2009 and 2012.
A picture of Alex at his 15th birthday party in January 2013, just a few months before his death, showed him with sunken eyes and a mysterious blotch on his forehead, but also wearing festive birthday glasses and holding wrapped gifts.
His parents would later present photos from that birthday party in court as evidence they loved their child.
During the trial, one of Alex's seven siblings testified that their mother was particularly fond of Alex.
"He was a very vibrant person, he was very artistic, smart, he was one of the favorites," said the girl, according to CBC News. "He was one of my mom's favorites."
She told prosecutor Susan Pepper during a cross-examination that her parents didn't seek medical care for Alex for religious reasons, according to CBC:
Nicolae Brancu, a Romanian Apostolic Church pastor, testified that Alex's father attended church frequently, sometimes accompanied by family members, but that he could not remember ever meeting Alex. A few months before Alex died, Brancu said, Alex's father mentioned to him that his son had cancer; weeks later, he said his son was fine.
On the night of Alex's death, Brancu and about a half-dozen people from the church visited the Radita family's home.
Brancu "went straight to the bedroom where Alex lay. He knew immediately Alex was dead," court records stated. "Mrs. Radita was lying beside Alex on the bed and touching him. He told Mr. Radita immediately to call an ambulance which Mr. Radita did but only after speaking to his family first."
EMS workers would arrive to find a group chanting in the living room. Alex was pronounced dead shortly after 10 p.m.
Phone numbers for the Romanian Apostolic Church in Calgary and for Brancu were not listed. Records for the church showed that it was registered as a Canadian charity with what appeared to be an address in a residential neighborhood.
Pepper, the prosecutor, said Canada's social safety net had failed Alex, according to CBC News.
"I think that there are probably, unfortunately, children in the same situation as Alex Radita," Pepper said. "It would be naive to think there are not other children who are being isolated by their parents so those parents can abuse and/or neglect them. . . . As good as our system is, it should be better. That should not happen."
Fighting back tears last week, MacDonald, the social worker, called the verdict "justice for Alex."
"He went through a horrendous, horrible ending to his life," she said, "and I'm glad to see his parents being held accountable."
According to CBC News, MacDonald said she hoped to work with Canadian lawmakers to create an "Alex Alert" system - similar to "Amber Alerts" for abducted children - so that others might not suffer the way he had.
"Alex was a very brave, a very smart little man, and he would have wanted for his life to have had meaning," she said. "He would have wanted for it to have brought about change for other children."
(c) 2017, The Washington Post
Join our new commenting forum
Join thought-provoking conversations, follow other Independent readers and see their replies