Barack Obama and Hillary Clinton are most admired man and woman in America, finds poll
Donald Trump comes in at second place behind former President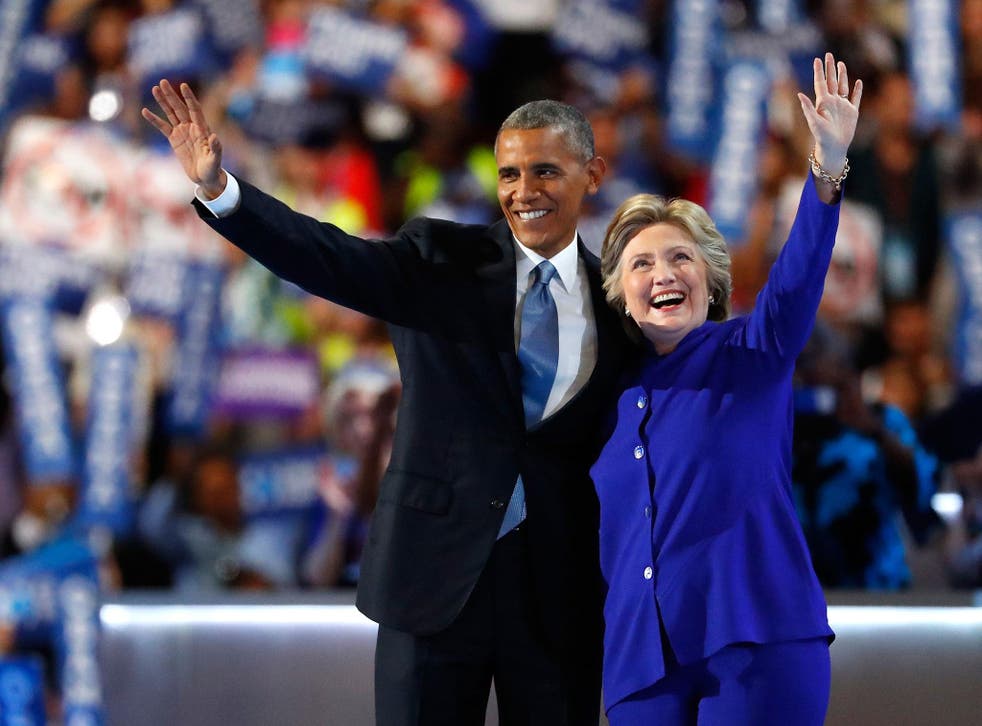 Barack Obama and Hillary Clinton are the most admired man and woman in America, according to a Gallup poll.
The former President has made it to the top of the list for the past 10 years, while the former presidential candidate has won 16 years in a row.
The poll found 17 per cent of Americans named Mr Obama as the man they admired most, while 14 per cent named Donald Trump, putting him in second place.
Ms Clinton was named the most admired woman by 9 per cent of respondents, compared to 7 per cent who chose Michelle Obama, the former First Lady.
Barack Obama says we must set example with social media use, in Prince Harry interview
Mr Obama and Mr Trump were followed by Pope Francis, with 3 per cent of votes. Others on the top 10 list for men included politicians, businessmen and religious figures.
A quarter of Americans were unable to name a man or woman they admired the most.
Nine per cent named a relative or friend as their most admired man, compared to 13 per cent who did so for their most admired woman.
Donald Trump's least presidential moments so far...

Show all 30
In an analysis of the results, Gallup pollsters wrote: "Trump's unpopularity is holding him back from winning the most admired distinction.
"The incumbent President is the usual winner, since he is arguably the most prominent figure in the country - but when the President is unpopular, other well-known and well-liked men have been able to finish first.
"Obama, like Hillary Clinton, may fade in prominence the longer he is out of office. Former Presidents commonly make the top 10 list but rarely win, with Obama only the second to do so, along with Eisenhower in 1967 and 1968."
Register for free to continue reading
Registration is a free and easy way to support our truly independent journalism
By registering, you will also enjoy limited access to Premium articles, exclusive newsletters, commenting, and virtual events with our leading journalists
Already have an account? sign in
Register for free to continue reading
Registration is a free and easy way to support our truly independent journalism
By registering, you will also enjoy limited access to Premium articles, exclusive newsletters, commenting, and virtual events with our leading journalists
Already have an account? sign in
Join our new commenting forum
Join thought-provoking conversations, follow other Independent readers and see their replies