Bernie Sanders accepts challenge to debate Donald Trump: 'Game on'
The Vermont senator has vowed to continue his campaign until the final primary contest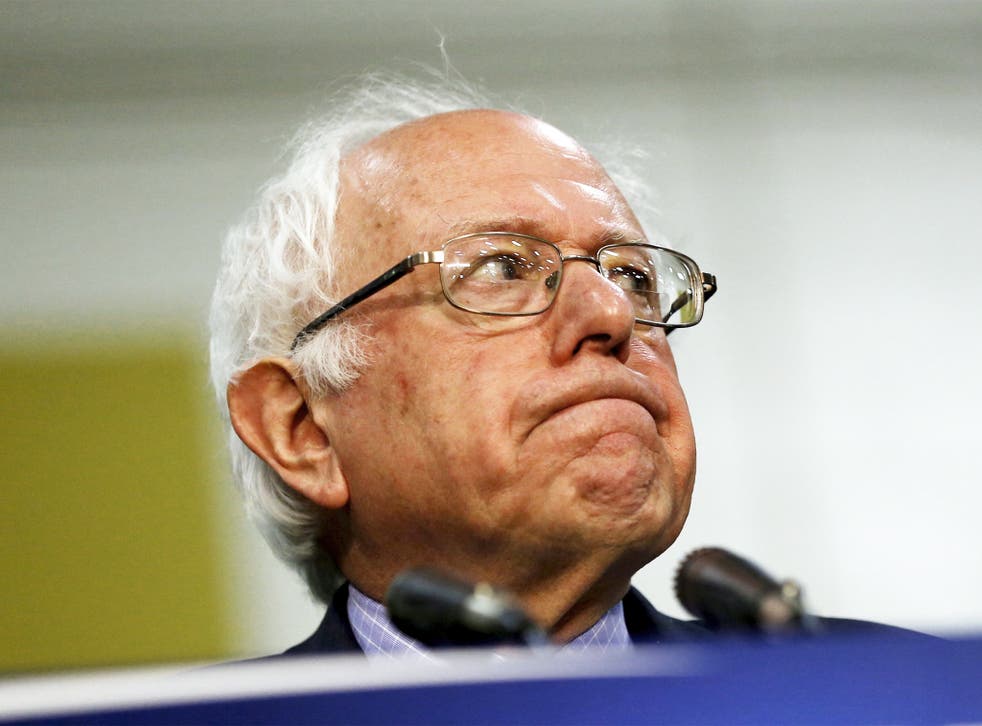 It would be billed the showdown of the populists.
Bernie Sanders may have been declined an opportunity to debate with Democratic rival Hillary Clinton, but perhaps he is set for an unprecedented appearance with Donald Trump.
In an appearance on television on Wednesday evening, the presumptive Republican nominee said he was willing to participate in a debate with the Vermont senator.
"If I debated him, we would have such high ratings, the New York tycoon said on the Jimmy Kimmel Live show.
"I think I should ... take that money and give it to some worthy charity."
Mr Sanders is still engaged in a primary battle against Democratic front-runner Hillary Clinton, while Mr Trump effectively clinched the Republican Party's nomination earlier this month when his two remaining rivals dropped out. Mr Sanders had challenged Ms Clinton to a debate ahead of next month's primary in California, but the former secretary of state's campaign declined.
Mr Trump and Mr Sanders have gone through a series of debates against rivals within their parties but Republican and Democratic presidential candidates usually do not debate each other until the parties have selected a nominee.
Yet on Thursday, the 74-year-old socialist suggested on Twitter that he was ready for the challenge. he hashtag #BernieTrumpDebate began trending in the US with news of the possible debate.
"Game on," he said. "I look forward to debating Donald Trump in California before the June 7 primary."
The two candidates have both energised their own supporters with their willingness to attack the political establishment and to position themselves as political outsiders, even though Mr Sanders has been a politician for decades and Mr Trump had twice before pondered a presidential run before announcing his campaign in 2015.
A number of people attending Mr Sanders' rallies during the primary season, told The Independent they would vote for Mr Trump as their second choice, given his willingness to attack the political establishment and his refusal to take corporate money, two things the candidates have in common.
Mr Sanders has no mathematical hope of closing the gap with Ms Clinton, who leads him by a large margin in the delegate haul and is all but certain to become the party's nominee. Yet he he has made clear - to the anger of many Democrats - that he will keep campaigning until all the primaries are finished in order to further promote his platform.
A number of leading Democrats have said that by doing do, he is allowing his own ego to distract Ms Clinton from preparing for a showdown with Mr Trump in November.
It is likely that if the debate goes ahead that Mr Sanders would face more criticism, as Mr Trump would all but certainly use the event to attack Ms Clinton as much as the Vermont senator. Mr Sanders has said he will do everything he can to ensure that Mr Trump does not win the White House.
Mr Trump's spokeswoman, Hope Hicks, said in an email to Reuters on Thursday there were no formal plans yet for such an event. Representatives for the Sanders campaign did not immediately respond to a request for comment.
Mr Kimmel said he asked Mr Trump about the debate at the suggestion of Sanders, who is scheduled to appear on the show Thursday night.
Mr Sanders, who was elected to Congress as an independent and has made economic equality a keystone of his campaign, was disappointed when the former secretary of state declined a debate. The Clinton campaign did not immediately respond to a request for comment to a possible Trump-Sanders showdown.
Join our new commenting forum
Join thought-provoking conversations, follow other Independent readers and see their replies