Bernie Sanders: I want to work with Hillary Clinton to defeat Donald Trump
After his meeting with Mr Obama, Mr Sanders said he cannot believe the Republicans would support a candidate who makes 'bigotry and discrimination a cornerstone of his campaign'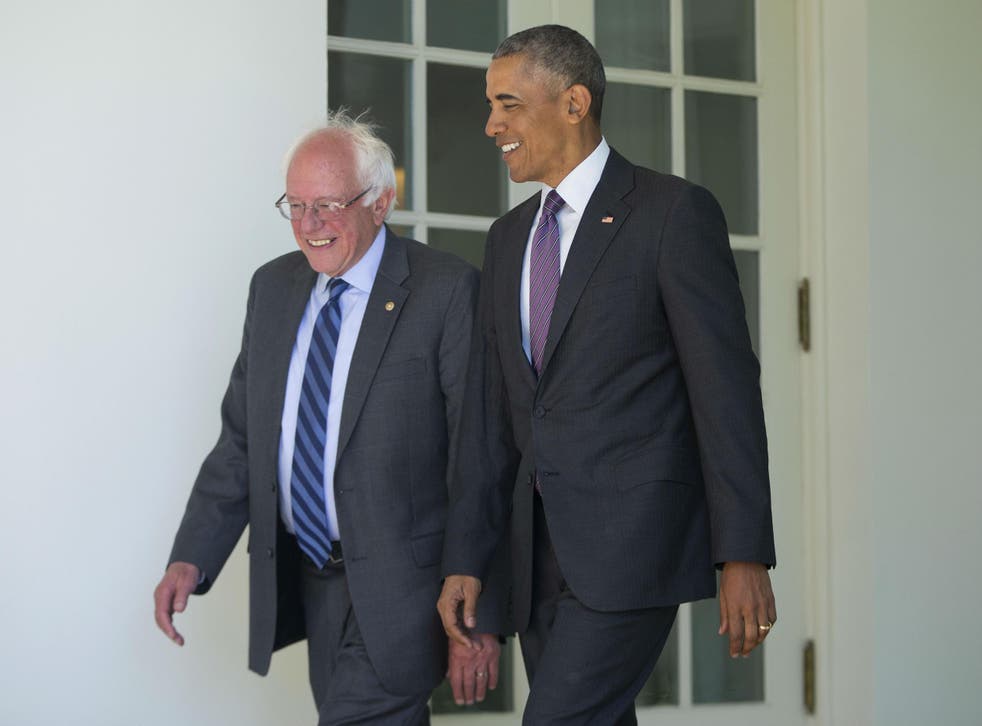 Bernie Sanders, after an hour-long meeting with president Obama, said he is determined to work with Hillary Clinton to defeat Donald Trump.
On the steps of the White House and facing a sea of reporters, it was a prime opportunity for the flailing democrat to deliver the staple diet of his campaign rhetoric, including the "struggle" of ordinary Americans to put food on the table, child poverty, low life expectancies, college debt, crumbling infrastructure and the power of Wall Street.
He vowed to take all of these issues to the democratic convention in Philadelphia next month.
The meeting with Obama, which came at the senator's request, was clearly choreographed as the pair greeted outside the building and walked inside together.
But if the mass of journalists were waiting for the 74-year-old to announce the end to his candidacy, they would have been disappointed.
Instead, Mr Sanders reiterated his intention to fight until the last democratic primary in Washington DC on 14 June. He added that it "does not make sense" that Washington DC does not have the status of a state with two senators and one congressman, like his home senate of Vermont with a similar-sized population.
Acknowledgement of his defeat in the latest raft of state primaries came, however, when he said that his goal is to "work together" with his rival Hillary Clinton - in order to beat Donald Trump.
"Trump would be a disaster as president of the United States," he said on the steps of the White House. "I cannot believe, and I say this with all sincerity, that Republicans would have a candidate for president in the year of 2016 who makes bigotry and discrimination a cornerstone of his campaign."
Donald Trump's most controversial quotes

Show all 14
Mr Sanders accused Mr Trump of insulting many groups including Latinos, Mexicans, Muslims, African Americans and women.
"I will do everything in my power and will work as hard as I can to make sure Trump will not be president," he said.
In a campaign between two democrats which had become increasingly nasty, Mr Sanders said on Thursday that he wanted to unify the party.
"I spoke briefly to Clinton on Tuesday night and I congratulated her on her campaign and I look forward to meeting her in the near future to see how we can work together and defeat Trump," he concluded.
Mr Sanders ended his speech at the White House abruptly and did not take any questions after the meeting with the president.
Mr Trump, speaking this week from his Westchester golf resort, that he would "welcome Bernie Sanders supporters with open arms", and talked about a rigged political system to woo socialists who have "been left out in the cold".
Mr Obama phoned both the senator and Ms Clinton to congratulate them on Tuesday for "energising and inspiring" millions of Americans.
Ms Clinton, however, now has a clear lead of pledged and superdelegates, which makes it likely she will be announced as the official democratic nominee at the party convention.
Join our new commenting forum
Join thought-provoking conversations, follow other Independent readers and see their replies