Bernie Sanders publishes tax returns showing $205,000 earnings following Hillary Clinton's challenge
Hillary Clinton was paid $675,000 for just three speeches by banking giant Goldman Sachs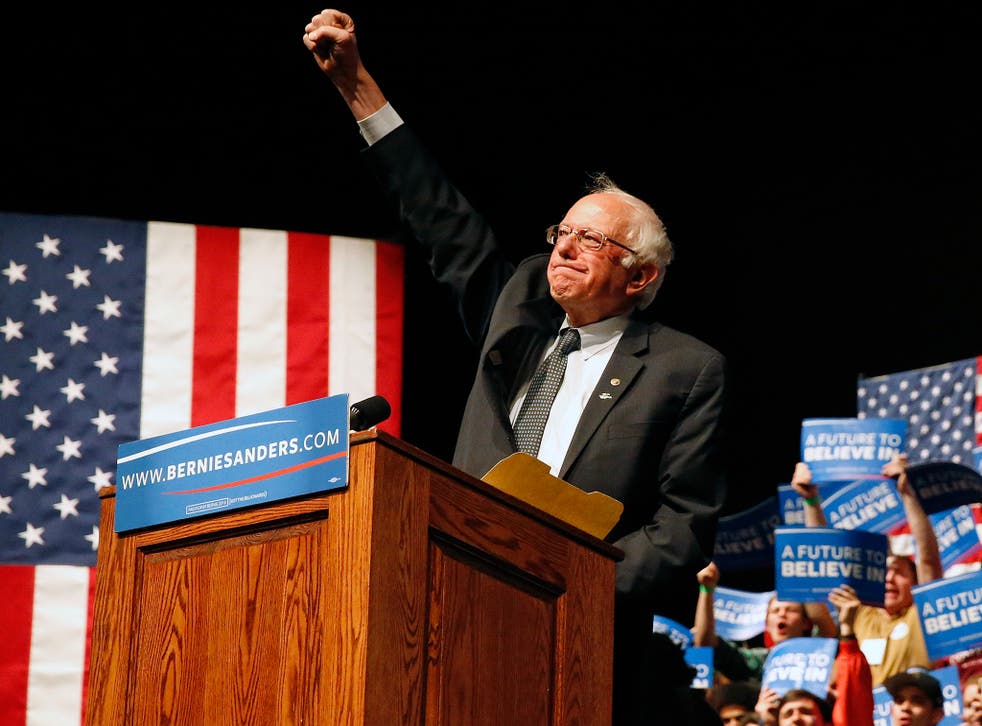 Bernie Sanders has revealed he earns $205,000 dollars (£145,000) a year, after being challenged by Hillary Clinton to publish his tax returns.
Mr Sanders' annual income, which is shared with his wife, is less than his multimillionaire rival made for three recent speeches delivered to Goldman Sachs employees.
The banking giant paid Ms Clinton $675,000 (£475,000) for the appearances. She and her husband have an estimated net worth of $110m (£77m), far surpassing the Sanders, who are worth around $300,000 (£210,000).
Income inequality has been a key plank of Mr Sanders' campaign, leading Ms Clinton to challenge him to publish his earnings. On Thursday, she said: "I've released 30 years of tax returns, and I think every candidate, including Senator Sanders and Donald Trump, should do the same."
Bernie Sanders Sticks It To Corporate America in New York Rally
The veteran Senator rapidly fired back, saying: "They are very boring tax returns. No big money from speeches, no major investments.Unfortunately, I remain one of the poorer members of the United States Senate."
Ms Clinton generally commands a minimum of $225,000 per speech, or over four times as much as the $52,000 (£36,000) the average American citizen earns in a year. She once pocketed $315,000 for a 20-minute address to Ebay staff.
Mr Sanders' income, by way of contrast, is largely derived from his $175,000 Senate salary. His wife, Jane Sanders, makes $5,000 annually as a radioactive waste disposal commisioner, and the couple also receive social security benefits and a small annual pension.
With an estimated wealth of around $3m, the average US Senator is worth 10 times as much as Mr Sanders. While his income puts him in the top 5 per cent of US earners, the Vermont senator is one of the poorest 20 per cent of members of the Senate.
In pictures: US Elections 2016

Show all 15
He also has tens of thousands of dollars in credit card debt, a rental property in Vermont capital Burlington and a condo in Washington, DC.
Mr Sanders has raised nearly $140m to support his campaign for the Democratic presidential nomination, without recourse to big business or Super PAC backing. His campaign is almost entirely funded by an estimated three million small donors.
All 10 companies cited by Mr Sanders as "America's biggest tax dodgers" have donated directly to Ms Clinton's $220m campaign or the Clinton Family Foundation.
Neither Mr Sanders nor Mr Clinton, however, come close to matching Donald Trump. The tycoon has not published any tax returns, but is believed to be worth somewhere between $3bn and $10bn.
Register for free to continue reading
Registration is a free and easy way to support our truly independent journalism
By registering, you will also enjoy limited access to Premium articles, exclusive newsletters, commenting, and virtual events with our leading journalists
Already have an account? sign in
Register for free to continue reading
Registration is a free and easy way to support our truly independent journalism
By registering, you will also enjoy limited access to Premium articles, exclusive newsletters, commenting, and virtual events with our leading journalists
Already have an account? sign in
Join our new commenting forum
Join thought-provoking conversations, follow other Independent readers and see their replies