Bernie Sanders says Hillary Clinton is not qualified to be president
'I don't think you are qualified if you get $15 million from Wall Street through your super PAC'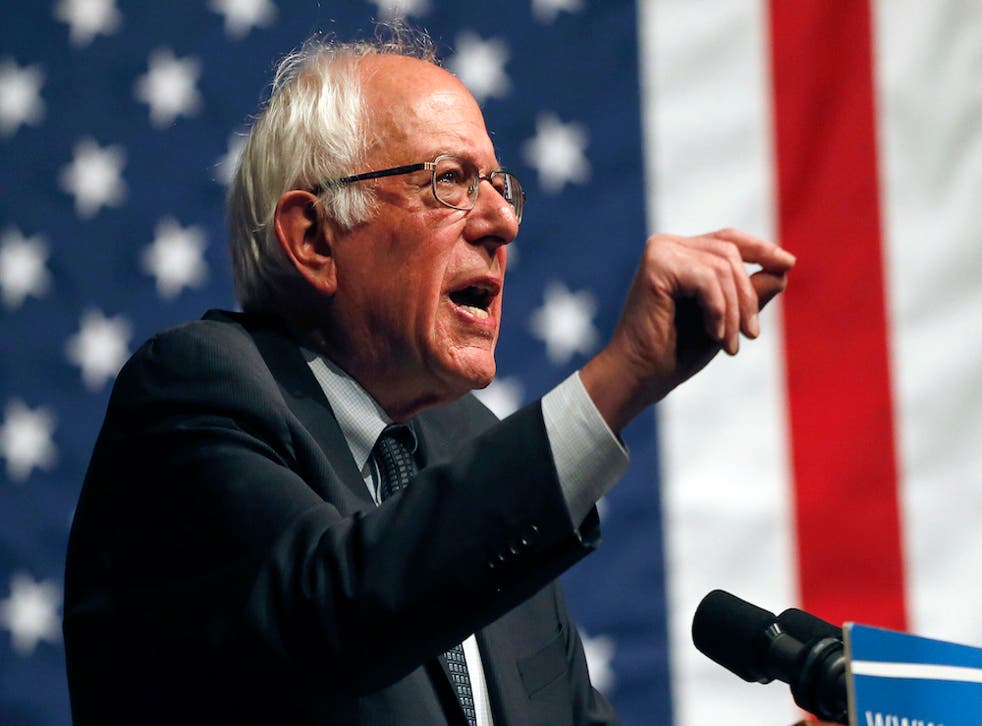 Hillary Clinton is not "qualified" to be US President, Bernie Sanders has claimed, while Ms Clinton has said that she is "not even sure" if Mr Sanders is a Democrat.
Compared to their counterparts in the race for the Republican nomination, Ms Clinton and Mr Sanders have conducted a relatively cordial campaign. However, relations between the two camps have grown increasingly hostile in recent weeks.
Speaking at a Philadelphia rally on Wednesday, Mr Sanders said: "Secretary Clinton appears to be getting a little bit nervous.
"She has been saying lately that she thinks that I am not qualified to be president. Let me just say in response to Secretary Clinton: I don't believe that she is qualified.
"I don't think you are qualified if you get $15 million from Wall Street through your super PAC."
The past few days have been marked by aggressive exchanges between the two camps as both candidates prepare for a debate in New York next week – with even the date of the head-to-head meeting provoking heated argument.
Mr Sanders was responding to criticism of an interview he conducted with The New York Daily News. According to Ms Clinton, the interview showed Mr Sanders does not understand how the Wall Street banks could be broken up– a key issue in his campaign.
"I think he hadn't done his homework," Ms Clinton told MSNBC. "He'd been talking for more than a year about doing things that he obviously hadn't really studied or understood, and that does raise a lot of questions.
Sanders Slams US-Panama Free Trade Deal Following 'Panama Papers' Leak
"His whole campaign doesn't seem to be rooted in an understanding of either the law or the practical ways you get something done."
Mr Sanders' supporters argue that brief quotes from the 45-minute Daily News interview were taken out of context by the media, making him appear out of his depth.
A New York Times fact-check noted that his arguments were solid when taken as a whole, and in accordance with a breakup plan the presidential hopeful set out before Congress last year.
But this hasn't stoppped Ms Clinton's staffers from pillorying Mr Sanders over the interview and his subsequent comments, or from unsuccessfully attempting to get #TakeItBackBernie trending on Twitter.
And in a candid interview with Politico, published on Wednesday, Ms Clinton took an unprecedentedly personal angle of attack, critising the Vermont senator for attacking her husband and President Obama, rather than George Bush.
In pictures: US Elections 2016

Show all 15
Asked whether Mr Sanders was a real Democrat, she said: "well, I can't answer that... He's a relatively new Democrat, and, in fact, I'm not even sure he is one... I don't know quite how to characterize him."
Until joining the Democrats to seek the presidential nomination in 2015, Mr Sanders spent most of his political career as an independent candidate.
However, he worked closely with the Democrats throughout this time, securing their endorsements, chairing their commitees and "voting with the Democrats 98% of the time," according to Democratic National Committee chairman Howard Dean.
Mr Sanders has won seven of the last eight Democratic primaries, but Ms Clinton is currently leading the New York polls by 10 points, at 53 per cent to Mr Sanders' 43 per cent.
Register for free to continue reading
Registration is a free and easy way to support our truly independent journalism
By registering, you will also enjoy limited access to Premium articles, exclusive newsletters, commenting, and virtual events with our leading journalists
Already have an account? sign in
Register for free to continue reading
Registration is a free and easy way to support our truly independent journalism
By registering, you will also enjoy limited access to Premium articles, exclusive newsletters, commenting, and virtual events with our leading journalists
Already have an account? sign in