Bernie Sanders tells young voters in New Hampshire to 'prepare for political revolution'
Mr Sanders had been a huge connection with America's younger voters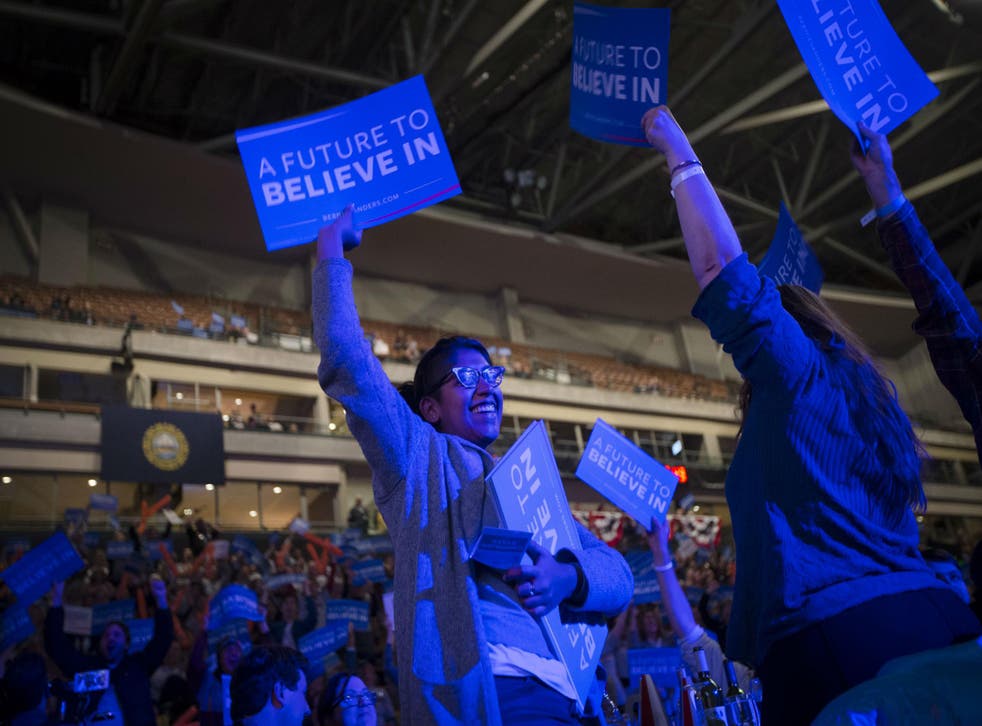 The young people waiting to see Bernie Sanders speak at their college had no doubts as to why they were supporting a man old enough to be their grandfather. Age did not matter, they insisted, it was all about what he had to say.
"I think he understands what it's like to be a young person," said 18-year-old Shawn Titon. "It's easy for adults to forget."
Megan Crossman, a 20-year-old psychology student said she liked that Mr Sanders was trying to make higher education more affordable. "The middle class does not have a lot of money," she said. "He wants to raise taxes but I don't think it will be a problem."
As the process for America's two largest parties to select a presidential candidate plays out in an increasinglly hard-fought and intense campaign, one of the more remarkable aspects of Mr Sanders' White House run has been his ability to connect with people 50 years younger than him.
Perhaps more than any other candidate - and certainly much more than his Democratic rival Hillary Clinton - the white-haired democratic socialist who sometimes appears angry and is never anything less than impassioned, has struck electoral gold among America's youth. In last week's Iowa caucus, Mr Sanders secured 84 per cent of support among voters aged between 17 to 29, with Ms Clinton getting just 14 per cent.
When he took to the stage in the gymnasium at Franklin Pierce University in Rindge, an hour north of Manchester, New Hampshire, where the sound system had blasting David Bowie's Young Americans, Mr Sanders received huge, roaring cheers. At one point during his 45 minute address, he became so energised that he was obliged to take off his jacket.
"I feel like a rock and roll star," he said, to loud laughter. "Don't worry. I won't be taking off anything else."
The Vermont senator, who has pushed Ms Clinton to a virtual tie in the latest national polls, urged his audience to ready themselves for a political revolution. He claimed a rigged economy, a skewed campaign finance system and a corrupt criminal justice system had created a national where ordinary people could not afford proper healthcare or education.
He said Americans paid more than any other the citizens of any other country for prescription medicine. He claimed that one in five people could not afford to buy the drugs their doctors had prescribed.
"The pharmaceutical industry has 1,300 lobbyists in Washington DC and they provide million of dollars in campaign contributions," he said.
His speech took in the need to reform the economy, to address a fairer system of college funding, to defend equality for same-sex couples, and to push for greater equality for women. At one point he turned to the problem of student debt and asked if anyone in the audience had such bills.
One women, a graduate student, lifted her hand to reveal she owed $300,000.
"That young woman over there - $300,000 in debt. Here's the problem," said Mr Sanders. "Why should young people go into severe financial pain for the "crime" of trying to get an education. Don't accept that reality."
Owen Hudson, 20 a student from Vermont, who was among those watching, said Mr Sanders policies had not changed throughout his career, unlike those of other politicians.
Eliza Giles, 20 a student of English at the University of Vermont, said his record on the issues gave him an authenticity that others did not.
"He has been pro-women rights, and anti-racism for 50 years. His policies have been consistent," she said
Mr Sanders urged those in the audience, young and old alike, to ensure they turned out to vote on Tuesday. Polls have him far ahead of Ms Clinton.
"If everyone turns out I think we can do it," he said.

Join our new commenting forum
Join thought-provoking conversations, follow other Independent readers and see their replies