Cleveland plans overwhelming police presence for Donald Trump's convention, will flood streets with blue
In a vote of no-confidence in Cleveland's competence one police department changes its mind about helping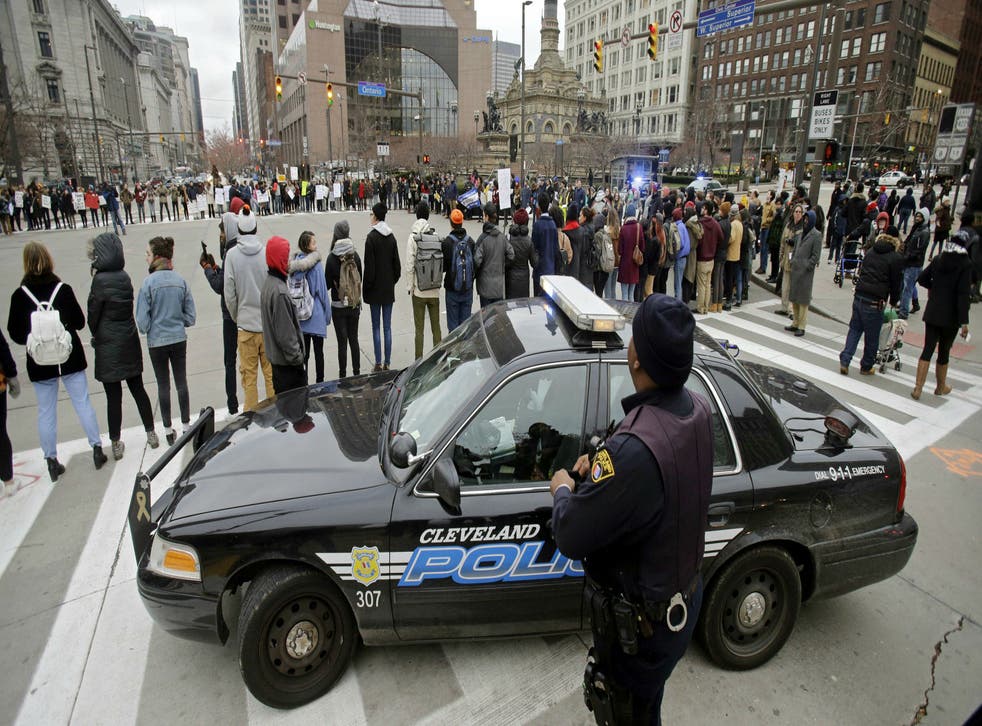 Authorities in Cleveland will next week lay out plans to deploy as many as one police officer for every ten people expected at the Republican Convention in the city in late July.
The huge police presence has been ordered amidst fears that the main event at the convention - the official coronation of Donald Trump as the party's 2016 presidential nominee - could trigger large protests and possible acts of civil disobedience in the north Ohio metropolis.
With outside police departments across Ohio and from several other states set to send reinforcements, Cleveland will flood the area around the convention venue, the Quicken Loans Arena, with roughly 5,000 officers, though a precise level of policing has yet to be agreed.
Their job will be to protect the 50,000-65,000 people who are expected to attend, including delegates, entertainers, top party officials and reporters from around the world.
While the convention will no longer be contested with Mr Trump now the certain nominee, his rhetoric targeting minorities, including Mexicans and Muslims, has helped trigger loud, sometimes violent protests at his rallies around the country.
There were rowdy scenes at a Trump rally in Albuquerque, New Mexico, last Tuesday when protesters, some brandishing large Mexican flags, hurled burning T-shirts, plastic bottles and other items at police officers, injuring several. Police responded by firing pepper spray and smoke grenades into the crowd outside the Albuquerque Convention Center
At a press conference set for Tuesday, officials will push back against reports that they have fallen behind in security planning, triggered in part when the police department of Greensboro, North Carolina, said at the end of last week it had withdrawn its offer to send police to Cleveland for the event amid concerns about insurance arrangements and the competence of their hosts.
"Despite rumors, the Division of Police will be prepared and is on track with its planning goals," a statement for the office of Mayor Franck Jackson said. "Plans concerning outside agency support are still being drafted. No outside agencies have expressed preparedness concerns directly to the Division of Police or to the City of Cleveland."
A dispute has also broken out over a decision by the city's police chief not to attach body cameras to thousands of officers who will be wearing riot gear around the arena, saying that while the cameras are available, affixing them would be too difficult.
"To have those body cameras and not allow us to wear them is absolutely irresponsible," Cleveland Police Patrolmen's Association President Steve Loomis said on Friday. "Just when we get used to them and we want them to be around, [the department] tells us, when we probably need them the most, that we're not going to be wearing them."
The move has also been condemned by civil rights activists demanding that every step is taken to make sure the rights of protestors are not violated by police, which they say will be impossible given the decision not to use all available body cameras.
Not so, said Cleveland police department spokesperson, Sgt. Jennifer Ciaccia. "We are confident with the operational plan we have in place that we will capture any interaction/encounter with a citizen during the RNC," she said.
Many meanwhile see the decision by the Greensboro police department to rescind its offer to send officers a clear vote of no confidence in the Cleveland department.
"Police work is dangerous by nature. But of course in any situation, we try to plan and prepare as best we can," Lt. Brian James, Greensboro deputy chief of police, told ABC News. "Of course, we will be officers working out of jurisdiction, so we are totally reliant on the Cleveland Police Department for direction. We didn't have enough information at this time to send our officers there, so we decided we are not going to send them."
Of the 5,000 officers that the city sees being deployed only 1,200 will be from Cleveland itself. Offices from other cities and states will therefore be entirely dependent on their hosts for guidance and protection should they have to respond to any violence.
Register for free to continue reading
Registration is a free and easy way to support our truly independent journalism
By registering, you will also enjoy limited access to Premium articles, exclusive newsletters, commenting, and virtual events with our leading journalists
Already have an account? sign in
Register for free to continue reading
Registration is a free and easy way to support our truly independent journalism
By registering, you will also enjoy limited access to Premium articles, exclusive newsletters, commenting, and virtual events with our leading journalists
Already have an account? sign in
Join our new commenting forum
Join thought-provoking conversations, follow other Independent readers and see their replies