DNC 2016: Bernie Sanders tells supporters to stop booing Hillary Clinton's name
Many of the Vermont senator's supporters say they would rather vote for Donald Trump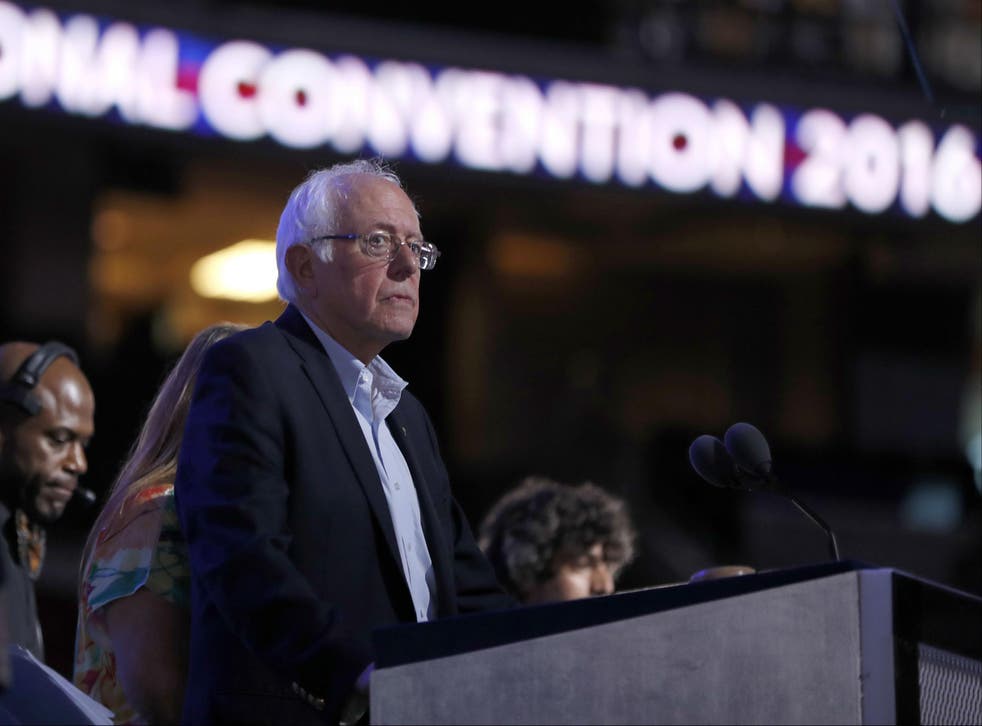 There are an awful lot of Bernie Sanders supporters refusing to concede defeat.
On Monday, as the convention that Democratic Party helped would being unity got underway, the Vermont senator found himself in the unlikely position of being booed by his own supporters when he asked them to unite around the Democratic candidate and support Hillary Clinton. Later, he was obliged to ask his supporters not to heckle when her name was mentioned.
Many of Mr Sanders supporters have made little attempt to hide their disdain for the former secretary of state, saying that her acceptance of corporate money and her links to Wall Street make her little better than the Republicans. Some have even suggested they would rather vote for Donald Trump.
Their anger intensified after the emergence of Democratic National Committee (DNC) emails, published by Wilileaks, which revealed a plot by officials to smear Mr Sanders and support his establishment rival, Ms Clinton. That controversy resulted in Sunday in the resignation of the DNC chairperson, Debbie Wasserman Schultz.
Ms Wasserman Schultz was heckled and booed on Monday morning when she addressed delegates. It was also announced that she would not officially open the convention - a decision that was taken to ensure prime time television coverage was not dominated by sights of her being booed. Instead, the job will fall to Stephanie Rawlings Blake, the Mayor of Baltimore.
Meanwhile, Mr Sanders found himself being being booed when he addressed supporters and said it was essential to support Ms Clinton to prevent Mr Trump becoming their candidate candidate.
"Brothers and sisters, this is the real world that we live in," he said, according to Reuters. "Trump is a bully and a demagogue."
Members of the crowd started screaming back: "So is Hillary" Someone else shouted: "She stole the election."
Later in the afternoon, as his supporters inside the convention hall booed every time Ms Clinton's name was mentioned, sent out a flurry of text and emails exhorting delegates supporting him to desist. He said that the credibility of the movement was being underminded by their actions and "will be damaged by booing, turn of backs, walking out or other similar displays".
Outside Philadelphia City Hall, a number of supporters of Mr Sanders said they were refusing to concede that their candidate had lost. Others said they were unsure who they would vote for in November.
"We know that both parties stand for the same agenda," Chris Hassell, a businessman from Santa Fe, told The Independent. "We are retying to get progressive people elected and stop the corruption."
Alongside him Martha Accosta, said: "Trump or Hillary is not the choice. We want something that defends democracy."
Other supporters of Mr Sanders rejected suggestions that by not voting for Ms Clinton they would ensure victory for Mr Trump, a charge that was leveled at supporters of Ralph Nader in 2000 when he was accused of taking votes away from Al Gore and allowing George Bush to secure the presidency.
Mike Tagliabue, from New York, said the most important thing was helping ensure Mr Sanders' platform was adopted by Ms Clinton and that she selected progressive people for her government. Many supporters of Mr Sanders - and he do - have voiced their disappointment over the decision to select centrist Tim Kaine as her vice presidential pick.
"When I look at the voting system, it just seems rigged," he said.
Outside the Wells Fargo Centre in the south of Philadelphia, where the convention is being held, maybe a thousand protesters held placards and hurled slogans, denouncing Ms Clinton, and insisting that they would not vote for her. Daniel Sammatino from New York was among those chanting.
"I will never vote for Hillary because I care about the future. Hillary Clinton takes money from the corporations. She will be just like Obama," he said.
The leak last Friday of more than 19,000 DNC emails has put the spotlight back on Mr Sanders failed bid to win the Democratic nomination, and in particular on his complaints during the campaign that the party establishment was working to undermine him.
A democratic socialist, Mr Sanders ran an unexpectedly tough race against Ms Clinton, galvanising young and liberal voters with his calls to eradicate income inequality.
On Monday, Mr Sanders brought the loudest cheers when he noted that Congresswoman Wasserman Schultz had resigned as the DNC chair.
"Her resignation opens up the possibility of new leadership at the top of the Democratic Party," he said.
Ms Wasserman Schultz's resignation is effective at the end of the convention, but on Monday she said she would not speak at the convention.
"I have decided that in the interest of making sure that we can start the Democratic convention on a high note that I am not going to gavel in the convention," she told the Sun-Sentinel.
"This needs to be all about making sure that everyone knows that Hillary Clinton would make the best president."
Register for free to continue reading
Registration is a free and easy way to support our truly independent journalism
By registering, you will also enjoy limited access to Premium articles, exclusive newsletters, commenting, and virtual events with our leading journalists
Already have an account? sign in
Register for free to continue reading
Registration is a free and easy way to support our truly independent journalism
By registering, you will also enjoy limited access to Premium articles, exclusive newsletters, commenting, and virtual events with our leading journalists
Already have an account? sign in
Join our new commenting forum
Join thought-provoking conversations, follow other Independent readers and see their replies