DNC 2016: Democrats make history by formally nominating Hillary Clinton for president
Ms Clinton won the nomination after seeing off an insurgent campaign from Bernie Sanders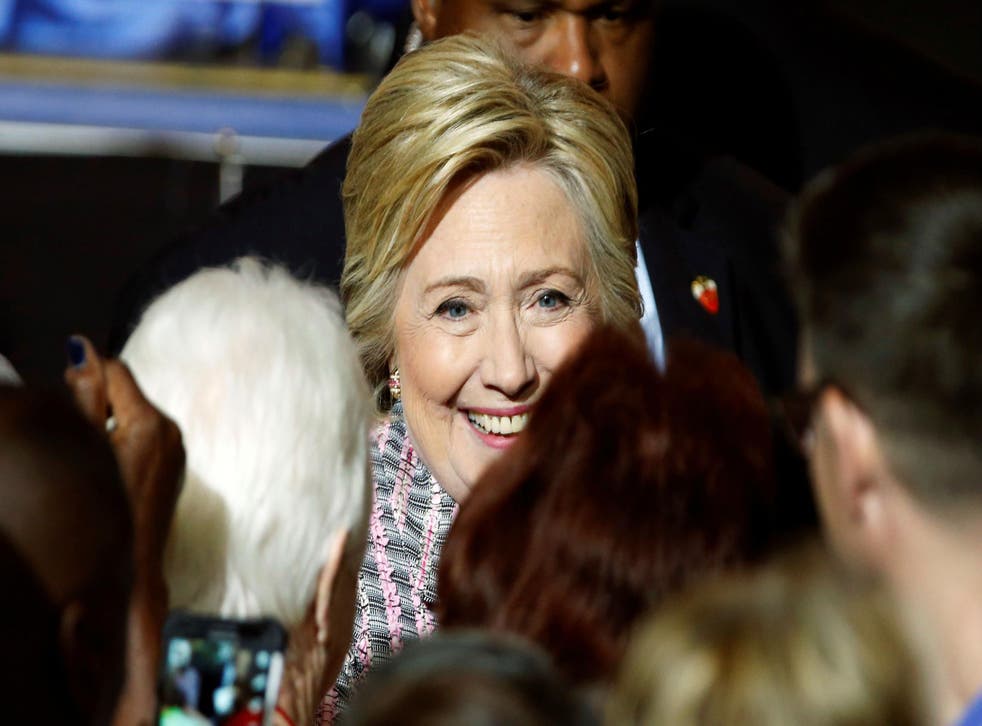 After so many months of unexpectedly vigorous competition and tumult, Hillary Rodham Clinton has been formally annointed the Democratic presidential nominee - freeing her to gird herself for a hundred and some days to battle Donald Trump, her Republican foe, for the White House.
The delegation from South Dakota put Ms Clinton over the top, propelling her past the 2,383 delegates she needed, in the ritual floor roll call of states. But it fell to Vermont to announce the fact - the shattering of the last great glass ceiling - and the person on hand to declare it: none other than Mr Sanders himself. Asking that the normal rules be suspended and she be chosen by acclamation of the convention as whole, he almost shouted: "I move that Hillary Clinton be selected as the nominee." It was a dramatic gesture from the vanquished in the name of party unity.
When the chairman from the stage asked for a seconder for his motion, the entire hall erupted as one.
Attendant to that, it was a moment of relief for a party that for months has been riven by her rivalry with Mr Sanders, and also a new bookmark in history as Ms Clinton became the first woman ever to claim a major party's nomination for president. And it was a deeply personal moment for her, erasing at last the pain of 2008, when her first quest for her party's nod was frustrated by Barack Obama.
Later in the night, her husband, former President Bill Clinton, was to take the stage in the Wells Fargo Centre in Philadelphia to exhort all of the party to unite behind her and the country to once again to tick the name Clinton when the polls open on election day on 8 November.
Larry Sanders, the vanquished candidate's brother who lives near Oxford, England, and ran unsuccessfully as a Green for parliament in Britain's last general election, offered him his own emotional tribute, declaring the 9 votes cast by a special group, Democrats Abroad, in the roll call ritual, when each state declares the votes that it is casting for each candidate.
If it was a night of loss and disappointment for his supporters, Mr Sanders, sitting in a VIP box high in the arena, had earlier enjoyed a brief moment to bask, as he was formally nominated for president from the stage. It was always only a formality, if also a courtesy, however. The nominations for Mr Sanders duly proffered, so straight afterwards were those for Ms Clinton.
Yet, the self-declared Democratic Socialist, has already left a deep imprint on the 2016 election, and indeed on Ms Clinton, who was forced to tack left to accommodate him, changing her stance notably on trade policy, agreeing to oppose a new Pacific trade deal as it now stands, and agreeing to fight for free college education for poorer Americans.
The first to have nominated Ms Clinton in the Tuesday night session was retiring US Senator Barbara Mikulski and close friend of the former first lady who said she there on behalf of "all women who have broken down barriers for others". To second the nomination, the convention welcomed veteran civil rights campaigner and Congressman from Georgia John Lewis.
DNC 2016: Demi Lovato speaks about mental health as she endorses Hillary Clinton
To warm applause, Mr Lewis, with undisguised emotion, declared: "Eight years ago, our party nominated and elected the first person of color to ever serve in the White House not just for one, but two terms. Tonight we will shatter that glass ceiling again. We're the party of tomorrow, and we will build a true democracy in America."
He added: "I must tell you, I have known Hillary Clinton for many years. She is one of the most qualified candidates to ever run for president. She is a leader, sometimes sailing against the wind to break down the barriers that divide us. She's smart, just smart. She could have done anything with her life, but she decided long ago she didn't want to just do well, she wanted to do good."
Mr Clinton will not formally accept the nomination until Thursday evening when she will close the four-day convention with a speech she hopes will be as stirring as those made by those honoured by the party before her, including Mr Obama and, indeed, her husband.
Democratic National Convention 2016 in pictures

Show all 15
But with the job done of confirming that she is indeed now the nominee, both her campaign and the party itself, will be hoping fervently that the tumult of the first day of the convention, with a large fraction of Sanders' supporters still voicing their opposition to her, can be quieted and the energy in the hall can be channeled exclusively into projecting unity.
Having done the honours and put her over the top, members of the New York delegation were especially thrilled to be nominating as president a woman who had served as its senator.
"It means a lot because she is the most qualified candidate we have ever had and she is a woman," Mindy Resier, a delegate, and the Mayor of Albany, said in the jam of the convention floor.
"I think the most important thing facing us is the fight for equality and the fight for our young people. There is a better future, but we have too many young people who have become disconnected."
Andrena Wyatt, an African American delegate from Long Island, New York, said she was happy to be nominating a candidate with an outlook whose views were inclusive. "It's important that we can be nominate someone who will continue the work of Barack Obama," she said
Asked about Donald Trump, many of whose views are in sharp contrast to those mentioned at the convention, she said: "It's shameful. It will be an embarrassment for America if he becomes president."
Join our new commenting forum
Join thought-provoking conversations, follow other Independent readers and see their replies