Donald Trump and Hillary Clinton accuse each other of bigotry and racism
The rival candidates have steadily increased their attacks on each other as election day gets nearer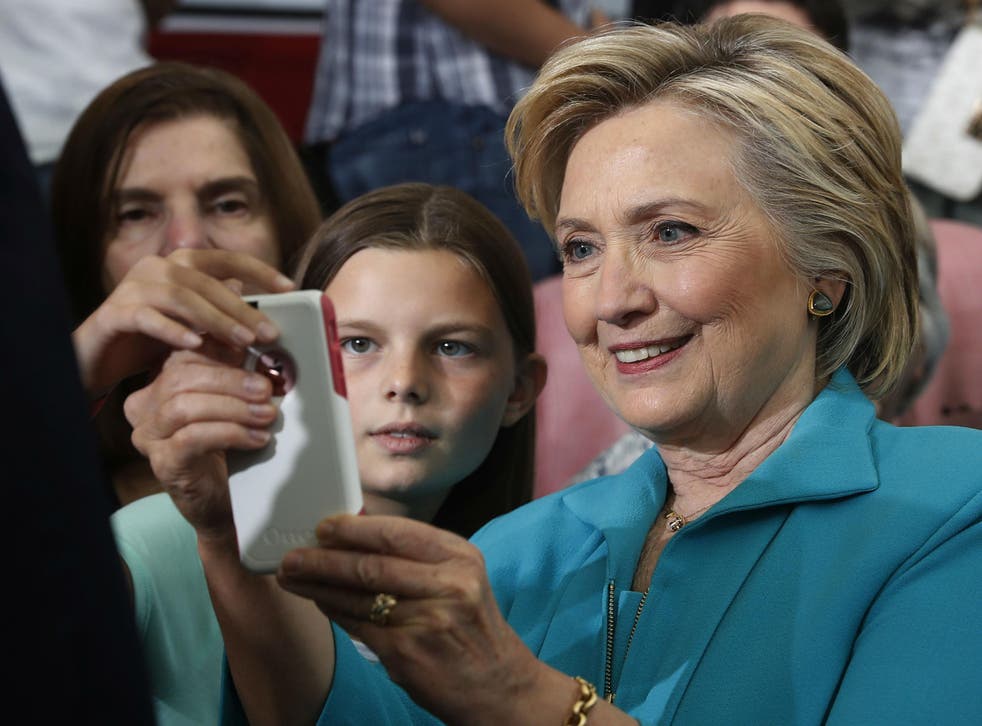 Hillary Clinton has kept up her attack on Donald Trump - calling on voters to reject the "bigotry" of his campaign and releasing a television advert criticising a new effort on his part to reach out to minority voters.
A day after she launched an attack on the "alt-right" and accused Mr Trump of building his campaign on "prejudice and paranoia", the Democratic candidate said the New York tycoon was unfit for the White House.
"I am reaching out to everyone, Republicans, Democrats, independents, everyone who is as troubled as I am by the bigotry and divisiveness of Donald Trump's campaign," she told MSNBC, adding she was asking "fair-minded Americans to repudiate this kind of divisive demagoguery".
The advert released by the Clinton campaign shows video of Mr Trump's controversial pitch to black voters, in which the Republican candidate urges them to support him by asking, "What do you have to lose?" It also shows headlines about a racial discrimination lawsuit the New York real estate mogul faced in the 1970s, Reuters reported, and a recording of comments he made in 2011.
"I have a great relationship with the blacks," Mr Trump is heard saying, in the clip from a radio interview five years ago. "I've always had a great relationship with the blacks."
Ms Clinton's presidential campaign said it believed the would air in the hotly contested states of Florida, North Carolina, Ohio and Pennsylvania.
On Thursday, speaking in Nevada, Ms Clinton said: "[Donald Trump] is taking hate groups mainstream and helping a radical fringe take over the Republican party. His disregard for the values that make our country great is profoundly dangerous." She also accused Nigel Farage, the former UKIP leader who attended a rally with Mr Trump, of stoking "right-wing nationalism".
Mr Trump countered on Friday by releasing a video showing Ms Clinton in the 1990s discussing a crime bill and referring to "super-predators", or at-risk youth she said needed to be brought under control. Mr Trump's video also shows US senator Bernie Sanders, Ms Clinton's main opponent in the Democratic primary this year, calling that a racist term.
HIllary Clinton eviscerates Donald Trump in latest speech
Republican National Committee spokesman Sean Spicer said that Ms Clinton was trying to deflect attention from controversy around her family's charitable foundation and her use of private email address and server rather than a government one while she was secretary of state from 2009-2013.
Ms Clinton is hoping to remind voters of a number of controversial statements he has made over the course of the campaign. Those include describing some Mexican immigrants as criminals and rapists, suggesting a judge could not be fair because of his Mexican-American heritage, and proposing a temporary ban on Muslim immigrants to combat terrorism.
Mr Trump also has been criticised for vowing to deport millions of people living in the United States illegally. In recent days, he had appeared to hold out the possibility of toning down his hardline stance, but on Thursday, he denied he would loosen his proposed immigration restrictions.
"I don't think it's a softening," Mr Trump told CNN. "I've had many people say it's a hardening, actually." He said he was still weighing what would become of the 11 million people already in the country illegally.
Join our new commenting forum
Join thought-provoking conversations, follow other Independent readers and see their replies