Donald Trump's attorney general blamed disabled children for 'decline in civility' in schools
Senator Jeff Sessions' appointment seen as controversial due to string of inflammatory comments, including allegations he referred to a black official as 'n****r'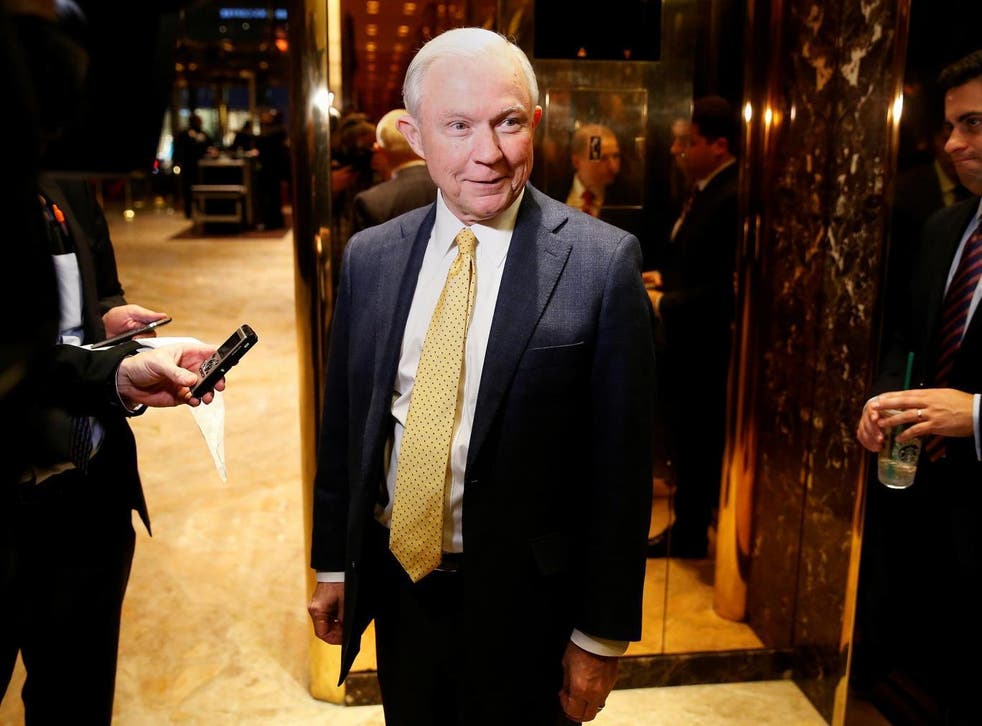 Donald Trump's newly appointed attorney general said laws designed to help disabled children were to blame for a "decline in civility and discipline" in classrooms.
In May 2000, Senator Jeff Sessions argued against federal protections for students with disabilities as part of the Individuals with Disabilities Education Act - citing efforts to place disabled pupils in mainstream classrooms as the reason for bad behaviour in the US public school system.
"We have created a complex system of federal regulations and laws that have created lawsuit after lawsuit, special treatment for certain children, and that are a big factor in accelerating the decline in civility and discipline in classrooms all over America. I say that very sincerely," Mr Sessions argued to the Senate floor.
The 1975 law was designed to offer disabled children protections from school administrators, requiring schools to grant students with disabilities access to education in a general classroom where possible.
The legislation, which has since been reformed numerous times, has been credited with helping millions of children receive mainstream access to public schooling.
Education advocates and disability rights campaigners strongly condemned Mr Sessions' comments, which have added to growing fears that disability rights will not be a top priority for the President-elect - fears that increased after he mocked a reporter with physical disabilities during his campaign for office.
Candace Aylor, Texas health commission's Behavioral Health Advisory Committee appointee, called the remarks "heartless and misguided."
"If he doesn't recognise the need for schools to be required to provide a free and appropriate public education to all students regardless of disability what kind of society does he intend for us to live in?" she told the Huffington Post.
"What should we do? Should we put them in asylums again? How far back in history should we go? Are they not worthy? Are they defective in his mind?"
Mr Sessions became one of the first members of Congress to endorse Mr Trump in February, and became an adviser on almost every major decision and policy proposal made during his election campaign.
The Republican's nomination of the senator as the country's top law officer earlier in December was met with concern over a string of controversial comments and inflammatory takes on social policy linked to the senator since the 1970's.
In 1981, he was reportedly rejected as a federal judge for allegedly calling an Alabama official a "n****r".
The senator was said to have used the term to refer to the first black man to be elected as a county commissioner in Mobile, where Mr Sessions was a Republican official and federal prosecutor.
He is also said to have claimed that virtually no one immigrating to the US from the Dominican Republic added value to American society, and referred to the National Association for the Advancement of Coloured People (NAACP), the Southern Christian Leadership Conference and other civil rights groups as un-American and "Communist-inspired".
Joe Biden challenged the senator on his alleged use of the word 'n*****r' in 1986, during Senate hearings on his judgeship nomination.
"It is suggested that you stated to Mr Wiley at the conclusion of a particularly contentious hearing back in 1981, 'Do not worry,' or 'do not be too happy' – he could not remember the precise phrase – 'Jon,' meaning Archer, 'will be watching you and the n****r,'" said Mr Biden.
Mr Sessions denied this, saying: "Senator, I did not. That is an absolute false statement."
He has also denied that he was racist and appears to have the support of many current officials for his attorney general nomination.
Mr Trump's spokesperson has been contacted for comment.
Join our new commenting forum
Join thought-provoking conversations, follow other Independent readers and see their replies