Donald Trump considering Breitbart supremo Steve Bannon for White House chief of staff, say reports
The right-wing media boss, who took over Trump's presidential campaign in its final stretch, is reportedly up against RNC chairman Reince Priebus for the role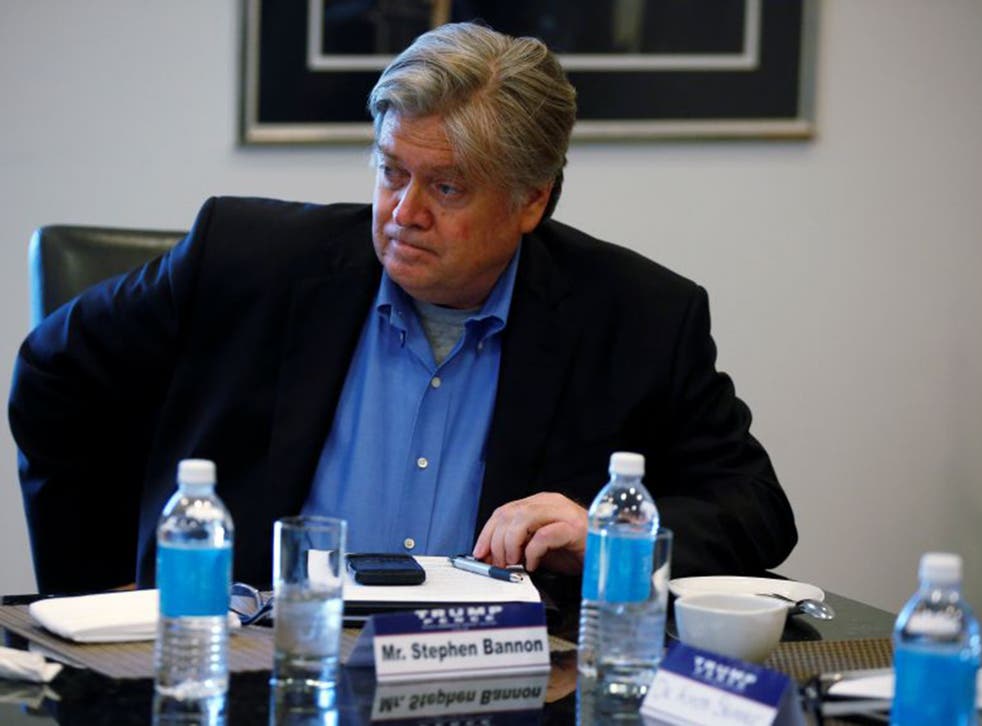 Steve Bannon, the controversial Breitbart supremo who took charge of Donald Trump's presidential campaign in its final stretch, is reportedly being considered for the role of chief of staff in the Trump White House. According to the New York Times, Mr Trump's inner circle is said to have narrowed the shortlist for the crucial post to two: the president-elect's 62-year-old campaign CEO and Reince Priebus, the chairman of the Republican National Committee.
Mr Bannon, an antagonist to both the liberal left and the Republican establishment, is a former US Navy officer and graduate of Georgetown University and Harvard law school. After a stint as a Goldman Sachs investment banker, he went into film production, making a handful of Hollywood movies before seguing into right-wing documentary polemics.
He took a leave of absence from his job as executive chairman of the right-wing media group Breitbart News to run Mr Trump's campaign, and is reportedly well-liked by others in the president-elect's core group of advisers, which includes former New York Mayor Rudy Giuliani and New Jersey Governor Chris Christie, who are also thought to be in the running for roles in the administration.
Mr Priebus is said to be favoured by Mr Trump's daughter Ivanka and her husband, Jared Kushner, the owner of the New York Observer, who also took a central role in overseeing his father-in-law's campaign. The RNC chairman, a Wisconsin native, has close personal relationships with fellow Midwesterners Mike Pence and Paul Ryan, the vice president-elect and House Speaker respectively.
Speaking to Bloomberg on Thursday, Mr Bannon resisted a comparison of Mr Trump's shock election triumph to the French Revolution. "This is not the French Revolution," he said. "They destroyed the basic institutions of society and changed their form of government. What Trump represents is a restoration – a restoration of true American capitalism." The president-elect, he added, is "the leader of a populist uprising."
Join our new commenting forum
Join thought-provoking conversations, follow other Independent readers and see their replies