Donald Trump says companies leaving US will face 'consequences' – despite Carrier still outsourcing more than he 'saved'
The President-elect brokered a deal that would keep 800 jobs in the US, while 1,300 will still move to Mexico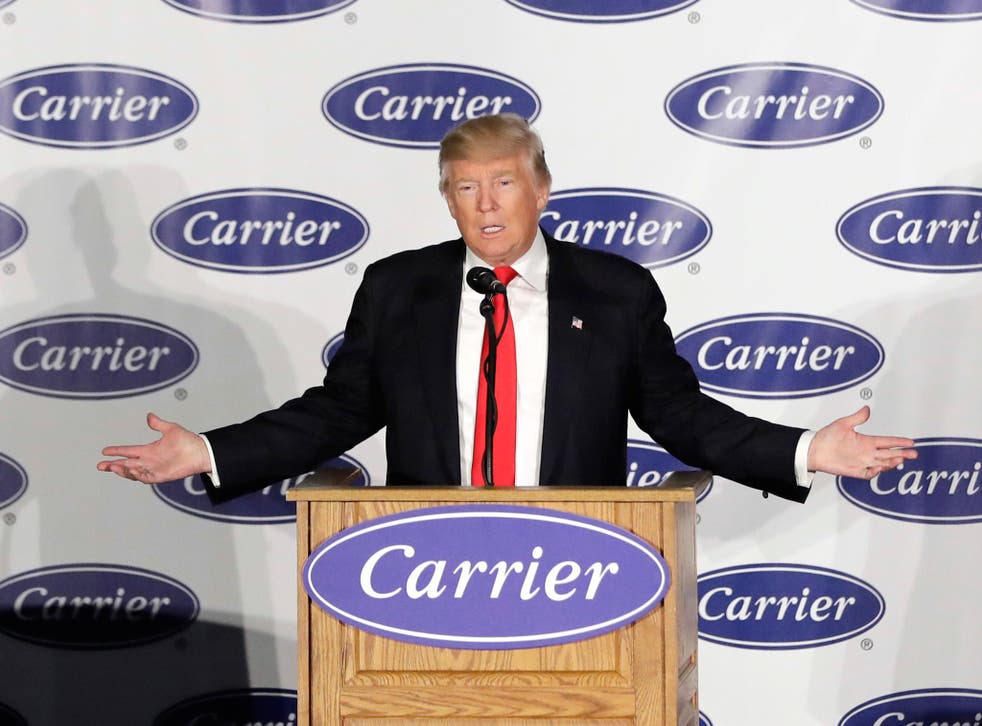 President-elect Donald Trump has warned companies they will face "consequences" if they ship jobs overseas during a visit to an industrial plant in Indiana.
The comments were made as Mr Trump kicked-off his victory tour and celebrated the deal reached with Carrier – the largest air-conditioning manufacturer in the US – that will save 800 jobs. Although 1,300 jobs will still be outsourced.
The deal will give Carrier a $7m tax-break package over 10 years – negotiated by Governor and Vice President-elect Mike Pence.
"Companies are not going to leave the United States anymore without consequences," he said to a small room of workers at the Carrier plant. "These companies aren't going to be leaving anymore, they aren't going to be taking people's hearts out."
The Trump-Pence deal with the company will include about 800 workers at the Indianapolis plant, including 300 research and headquarter positions which were not originally intended to go to Mexico, according to the Wall Street Journal. The Huntington, Indiana, electronics facility is still slated to close – with some 700 jobs going to a plant in Mexico.
President Donald Trump life in pictures

Show all 16
Vermont Senator Bernie Sanders offered a scathing critique of Mr Trump's deal with the company in a comment piece published in the Washington Post on Thursday.
"Let's be clear: It is not good enough to save some of these jobs," Mr Sanders wrote.
"Trump made a promise that he would save all of these jobs, and we cannot rest until an ironclad contract is signed to ensure that all of these workers are able to continue working in Indiana without having their pay or benefits slashed."
Mr Sanders added that United Technologies "took Trump hostage and won. And that should send a shockwave of fear through all workers across the country".
Bernie Sanders calls Trump's tweets 'delusional' and 'insane'
White House press secretary Josh Earnest said that the deal was welcome "good news", but added that "if he is successful in doing that 804 more times then he will meet the record of manufacturing jobs", created during President Barack Obama's two terms.
Mr Trump launched his "USA Thank You Tour 2016" on Thursday beginning in Cincinnati, and continuing in states instrumental in his surprising victory against former Secretary of State Hillary Clinton.
He will visit key battleground states like Pennsylvania, North Carolina, Florida, and Iowa over the next few weeks, as his transition team continues to assemble his Cabinet.
Meanwhile, as Mr Trump takes his self-celebratory victory lap, the efforts to contest his election – led by Green Party nominee Dr Jill Stein – are losing momentum ahead of the 19 December electoral college vote.
CNN vs Donald Trump round 3: Anderson Cooper asks 'doesn't he have an Isis briefing to be reading?'
Dr Stein filed for statewide recounts in Michigan, Wisconsin, as well as a partial recount in Pennsylvania, citing irregularities in voting.
"After a presidential election tarnished by the use of outdated and unreliable machines and accusations of irregularities, people of all political persuasions are asking if our election results are reliable," Dr Stein said on Wednesday regarding Michigan.
"We must recount the votes so we can build trust in our election system. We need to verify the vote in this and every election so that Americans can be sure we have a fair, secure and accurate voting system."
But the Trump campaign scoffed at the notion of Dr Stein's efforts.
"Many of these costs would be acceptable if Michigan law really did entitle Stein to a recount," the Trump team wrote. "But it does not. And there is no reason to rewrite Michigan election law to accommodate the conspiracy-minded requests of an acknowledged loser."
The statement clashes with Mr Trump's continued false claims of at least three million instances of voter fraud that resulted in Ms Clinton's commanding lead in the popular vote – a claim that recalls his complaints of a rigged system, despite his ultimate electoral win.