White supremacists clash with anti-fascist campaigners ahead of Virginia rally
Republicans slam Trump for failing to condemn 'Nazi ideas' after white supremacists clash with anti-fascists in Virginia
'Mr President - we must call evil by its name. These were white supremacists and this was domestic terrorism,' says Republican senator
Donald Trump has condemned the "egregious display of hatred, bigotry and violence on many sides" during clashes between white supremacists and anti-fascist protesters in Virginia.
In a speech, the US President did not specifically condemn the far-right groups who gathered in Charlottesville — including some carrying assault rifles and wearing paramilitary-style clothing — to protest about plans to remove a statue to Confederate General Robert E Lee.
Instead he appeared to apportion blame to all those involved in the fighting.
This sparked outrage among some leading Republicans with Senator Orrin Hatch writing that his brother "didn't give his life fighting Hitler for Nazi ideas to go unchallenged here at home".
Violence on the streets of Charlottesville

Show all 9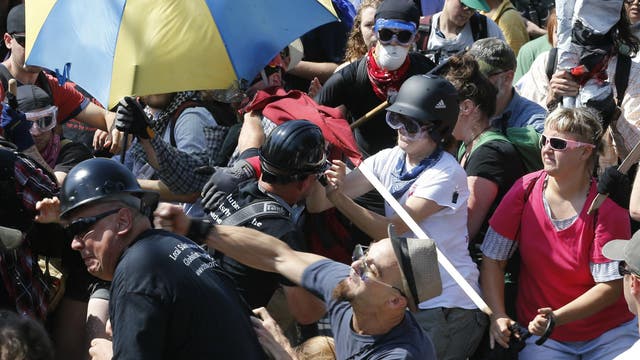 One person was killed when a car drove into a crowd of anti-fascists and more than 40 people were hurt as a result of that incident and fighting elsewhere in the town.
"We're closely following the terrible events unfolding in Charlottesville, Virginia. We condemn in the strongest possible terms this egregious display of hatred, bigotry and violence, on many sides. On many sides," Mr Trump said.
"It's been going on for a long time in our country. Not Donald Trump, not Barack Obama. This has been going on for a long, long time.
"It has no place in America. What is vital now is a swift restoration of law and order and the protection of innocent lives.
"No citizen should ever fear for their safety and security in our society, and no child should ever be afraid to go outside and play, or be with their parents, and have a good time."
However his comments provoked a backlash from several members of his own party.
A Republican senator from Colorado, Cory Gardner, tweeted "Mr President - we must call evil by its name. These were white supremacists and this was domestic terrorism."
Another Republican, Florida Senator Marco Rubio, wrote: "Nothing patriotic about Nazis, the KKK or White Supremacists. It's the direct opposite of what America seeks to be."
And Mr Hatch, a Utah Republican, wrote: "We should call evil by its name. My brother didn't give his life fighting Hitler for Nazi ideas to go unchallenged here at home."
In his speech, Mr Trump said he had spoken to the Governor of Virginia, Terry McAuliffe, about the situation.
"We agreed that the hate and the division must stop, and must stop right now," he said.
"We have to come together as Americans with love for our nation and true affection — really — and I say this so strongly — true affection for each other.
"Above all else, we must remember this truth: No matter our colour, creed, religion or political party, we are all Americans first. We love our country. We love our God. We love our flag. We're proud of our country. We're proud of who we are.
"So we want to get the situation straightened out in Charlottesville, and we want to study it. And we want to see what we're doing wrong as a country, where things like this can happen."
He said his administration was "restoring the sacred bonds of loyalty between this nation and its citizens".
But he added: "Our citizens must also restore the bonds of trust and loyalty between one another. We must love each other, respect each other, and cherish our history and our future together. So important. We have to respect each other. Ideally, we have to love each other."
Join our new commenting forum
Join thought-provoking conversations, follow other Independent readers and see their replies