Donald Trump fails to raise human rights with Turkey's President Erdogan despite intensifying crackdown
Turkish security guards 'attack protesters' in Washington shortly after talks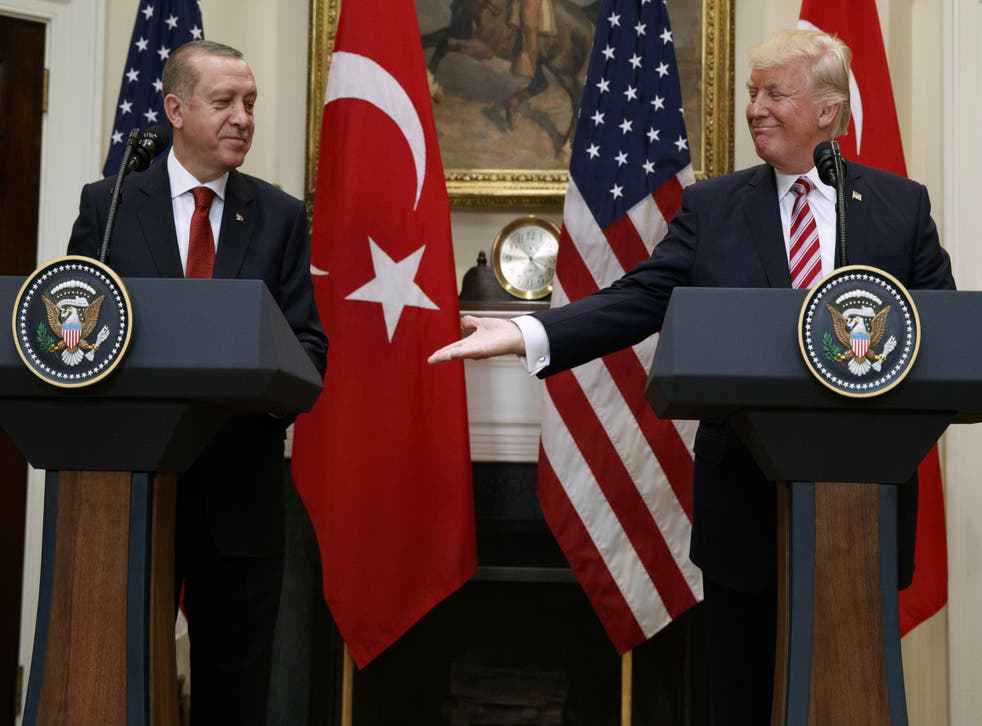 Donald Trump has praised Turkey's "leadership" and partnership with the US amid international alarm over an intensifying crackdown on dissent in the country.
The President made no mention of human rights concerns during a friendly press conference with Recep Tayyip Erdogan, saying: "We've had a great relationship and we will make it even better."
Mr Trump described Turkey as "friends and allies" in the fight against terror and said he discussed reinvigorating trade ties with his counterpart, as well as military sales.
Mr Erdogan said the US-Turkey relationship was based on "common democratic values", shortly before his security guards attacked a peaceful protest in Washington.
"Keeping our outstanding relations stronger than ever will be very important not only for our common interests, but also stability of the globe and peace around the world," he added.
"We are determined to expand our relations, and I believe my current official visit to the United States will mark a historical turn of tide."
Cops struggle to break up stunning brawl between Erdogan supporters and protesters in D.C.
Critics compared the warm meeting with awkward encounters between Mr Trump and allies Justin Trudeau, Malcolm Turnbull and Angela Merkel.
Mr Erdogan described himself as "disillusioned" by Barack Obama's administration after it raised human rights concerns and refused to extradite Fethullah Gulen, the Pennsylvania-based cleric Ankara blames for the coup.
The UK and Germany are among countries dismissing Turkey's claims, while the Gulen movement has rejected allegations opponents argue are being used to crack down on legitimate opposition.
"Turkey has become the dominion of a President who is doing everything he can to amass power and subjugate dissent," Mr Gulen wrote in a column for the Washington Post.
"I pray that the downward authoritarian drift can be stopped before it is too late."
Mr Erdogan's spokesman, Ibrahim Kalin, said he and Mr Trump discussed "possible steps against FETO," referring to what Ankara calls the "Gulenist Terror Organisation" but gave no details.
Hours after the pair held talks, chaos broke out at the Turkish embassy in Washington as Mr Erdogan's security staff violently broke up an anti-government protest.
Footage showed men in suits beating and kicking unarmed protesters holding pro-Kurdish and anti-Erdogan signs, leaving some lying on the ground and covered in blood.
Emergency officials said nine people were injured, while two men are facing charges over the incident, which provoked dramatically different responses in Turkey and the US.
Turkey's official Anadolu news agency labelled the protesters "supporters of terror", saying they chanted anti-Erdogan slogans as the President entered the embassy after meeting Mr Trump.
The report claimed his security team moved in to disperse the protesters because "police did not heed to Turkish demands to intervene", although footage showed American police officers attempting to drag them off demonstrators.
Muriel Bowser, the mayor of Washington DC, said the "violent attack on a peaceful demonstration" is an affront to "our rights as Americans".
The White House has made no comment on the protest following a marked lack of criticism from Mr Trump on increasingly authoritarian moves in Turkey.
The President was criticised for congratulating Mr Erdogan as he won a controversial referendum to dramatically expand his powers last month, sparking alarm among European leaders and human rights groups.
The biggest dispute between the two Nato allies in recent days has been American plans to arm Kurdish against Isis, despite Turkish pressure to drop support for separatist groups it regards as PKK-linked terrorists.
In pictures: Turkey coup attempt

Show all 17
Last month, the Turkish military bombed Kurdish forces in Syria and Iraq, in one case with American forces only about six miles away – and claims it would do the same again.
Mr Trump and Mr Erdogan met the day after dozens of Turkish civil servants joined more than 150,000 security personnel, judges, prosecutors, journalists and academics detained, dismissed or suspended in the wake of July's attempted coup.
Arrest warrants were issued for 60 energy ministry-linked workers and 25 education ministry staff, state media reported, saying they were believed to have used an encrypted messaging app linked to the Gulen movement.
On Monday, a court jailed an opposition news editor's online editor pending trial on a charge of spreading terrorist propaganda.
Editor Oguz Guven joined a dozen journalists from Cumhuriyet, a pillar of the secularist establishment, who are already in jail facing sentences of up to 43 years in prison for allegedly supporting Gulenists.
The German government is campaigning for the release of another journalist, Die Welt correspondent Deniz Yucel, after dismissing terror charges as absurd.
As well as thousands of arrests in Turkey, the crackdown has spread around the world with the deportation of alleged Gulen supporters from countries including Malaysia.
Mr Erdogan's hold on the Turkish judiciary has also been strengthened with the election of seven members of his AK Party and ally the MHP to the Council of Judges and Prosecutors.
Additional reporting by agencies
Join our new commenting forum
Join thought-provoking conversations, follow other Independent readers and see their replies