Donald Trump has reportedly settled on Governor Mike Pence of Indiana as his running mate
The safe choice suggests Mr Trump has heeded the advice of party veterans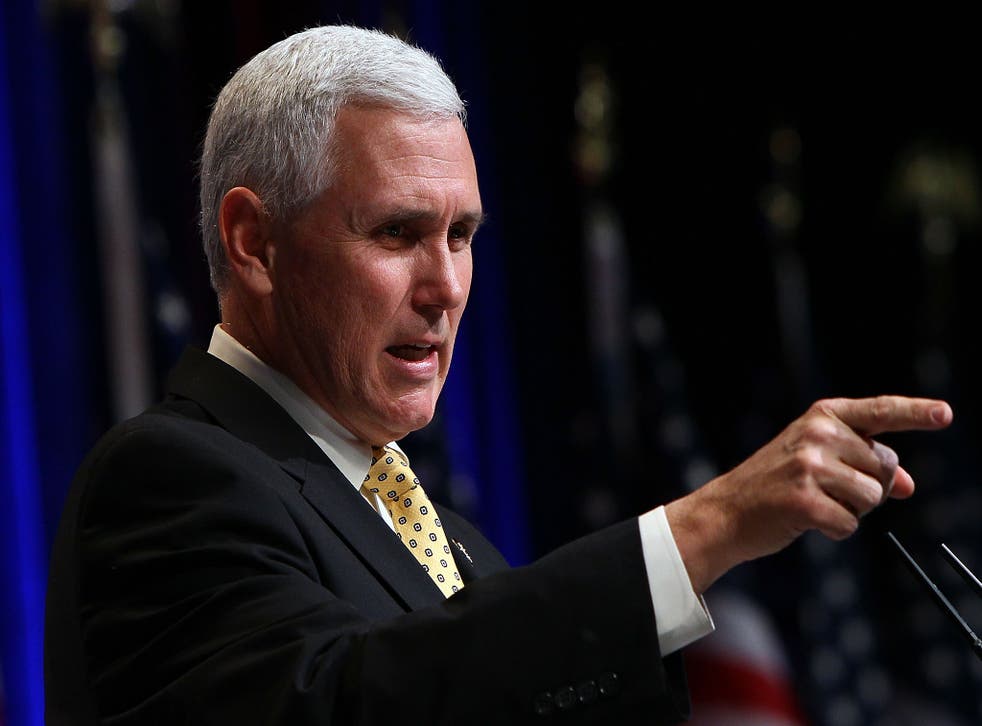 Donald Trump is expected to name Mike Pence, the Governor of Indiana and a social conservative, as his running mate at a press conference in New York on Friday morning, several media outlets have reported.
If confirmed - and Mr Trump is fully capable of pulling a last-minute surprise - the choice of Governor Pence will signal the continuing shift towards a more conformist campaign for president by the New York billionaire, who might have been tempted to pick an outsider like himself or a retired member of the military to help him take on Ms Clinton in November.
There was no confirmation of the choice of Governor Pence by the campaign on Thursday, which referred reporters instead to the plans for Friday morning's official roll-out. "A decision has not been made," insisted campaign spokesperson Hope Hicks. "We are not confirming anything," campaign manager Paul Manafort said meanwhile.
It appears to signal disappointment for supporters of the two other figures believed to have made Mr Trump's final shortlist. They were Newt Gingrich, the former speaker of the House, and Chris Christie, the Governor of New Jersey. In the event Mr Trump wins the presidential race, both men would be assured senior positions in his administration as rewards of their support, however.
Secrecy has shrouded the process of choosing the right person to take the number two slot on the Republican ticket. Some of the more likely Republican names declared themselves uninterested in competing for the job because of their distaste for Mr Trump.
A former member of the US Congress and radio talk show host who backed Texas Senator Ted Cruz before Indiana's crucial primary vote last Spring, Mr Pence, 57, apparently won the approval of Mr Trump's family, notably Ivanka, Donald Jr and Eric Trump. The Governor met with Mr Trump and his children earlier this week.
Mr Pence had been bracing for what was promising to be a bruising re-election campaign for a second term as Governor of his state. If he is indeed tapped for the vice-presidential run he will be required to register his decision not to compete to retain the Governor's mansion by noon on Friday.
Married to a former school teacher and the father of three children including one son who is a US Marine Corps officer, Mr Pence has solid credentials as a conservative - he signed into law one of the largest tax cuts in the history of his state - a critical consideration for Mr Trump whose own standing with the conservative wing of the party has been shaky at best.
A man who wears his devout evangelical Christianity on his sleeve - he once called himself "a Christian, a conservative and a Republican, in that order" - Mr Pence has a reputation as a hardliner on social issues like gay rights and abortion. As governor he signed into law one of the most restrictive laws on women's rights to access abortion in the country.
He is seen as similarly unyielding on immigration, a key area of concern for Mr Trump also. He has been opposed for instance to any laws that would give those in the country illegally a pathway to legal residence or citizenship.
All these positions have earned him the deep scorn of liberals in his state and he is known to have clashed even in his own home with his youngest daughter, Audrey Pence, who has advertised her own more progressive views on life. The downside of the choice of the Governor may be that his presence on the ticket will make it harder for Mr Trump to attract more progress independent voters who will be looking for more flexible stands and issues like abortion.
It doubtless also mattered to the campaign that Mr Pence comes from one of the traditional, rust-belt states of the Midwest, a region that will be crucial to both party's candidates for president. Indiana, known as the Hoosier State, will be an important swing state in November and the choice of Mr Pence could help Mr Trump seize it.
It could be that Mr Pence, meanwhile, has calculated he has little to loose by joining Mr Trump because of the adversity he would have faced running for re-election for Governor. Last year he infuriated some on the right of the state party by first signing a strict freedom of religion bill that would have adversely affected gay and lesbian rights and then backing away from it after it triggered a storm of protest mostly from the business world.
It was his radio programme, 'The Mike Pence Show', that first launched in the early 1990s that first brought him statewide recognition and eventually propelled him to the US Congress in Washington and thereafter the governorship.
Join our new commenting forum
Join thought-provoking conversations, follow other Independent readers and see their replies