Trump administration lifts hiring freeze but asks agencies to make deep personnel cuts to 'drain the swamp'
Government agencies will not be free to hire 'willy nilly', says budget director Mick Mulvaney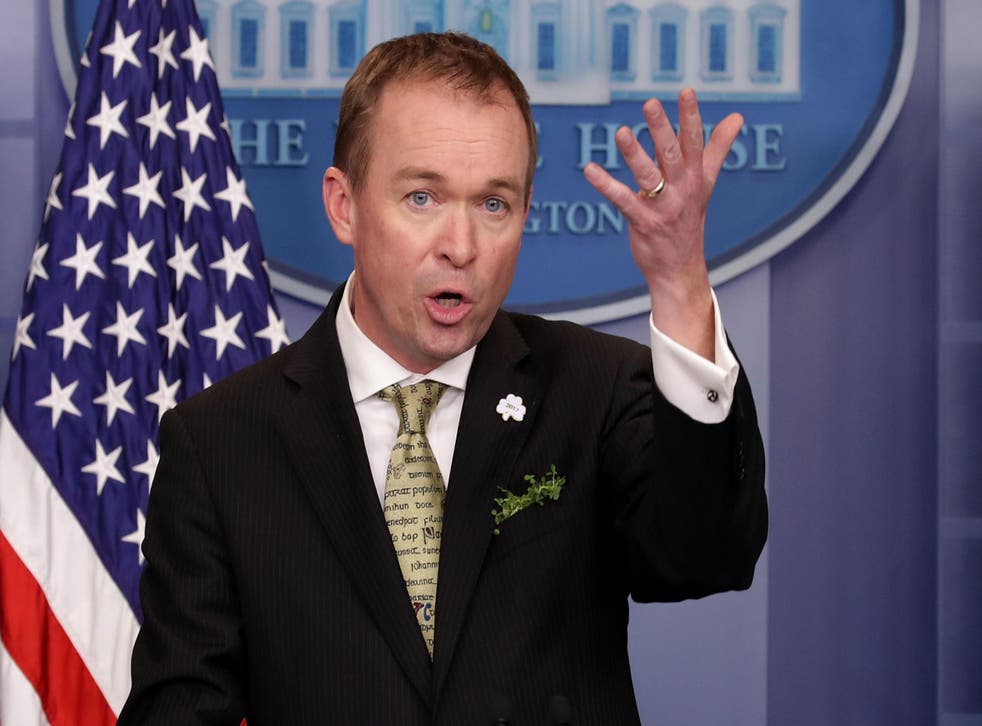 Donald Trump's campaign pledge to "drain the swamp" in Washington and save taxpayers money will see many federal government jobs left unfilled, according to US budget director Mick Mulvaney.
But a hiring freeze implemented by the US president as one of his first acts in office will be lifted, he said.
"This is a big part of draining the swamp," he added, echoing a repeated Trump campaign promise to rid Washington of wasteful spending and entrenched politicians.
He added that although the hiring freeze had been lifted it did not mean that government agencies "will be free to hire willy-nilly."
He said. "What we're doing tomorrow is replacing the across-the-board hiring freeze that we put into place on Day One in office and replacing it with a smarter plan, a more strategic plan, a more surgical plan."
Shortly after taking office in January, Mr Trump signed a memorandum freezing large portions of federal government hiring, while exempting the military and positions deemed necessary for national security and public safety.
As part of the memorandum, he gave Mr Mulvaney's Office of Management and Budget. 90 days to come up with a long-term plan to reduce the federal government's size.
Agency directors have received their workforce reduction instructions based on Mr Trump's proposed federal budget which makes cuts to several domestic departments and includes a $54bn (£43bn) increase to military and national security spending.
The controversial orders Donald Trump has already issued

Show all 9
Their departments will be be required to come up with a plan by 30 June that will "maximize employee performance" and a longer-term plan by September.
Ed Lorenzen, Senior Advisor at the Washington DC non-profit Committee for a Responsible Federal Budget, told The Independent that he think Mr Mulvaney made the announcement about the hiring freeze being lifted because it has caused problems in programs and activities the administration considers important "such as processing Veterans Administration disability claims."
The seemingly conflicting announcement possibly "provid[es] flexibility" to the administration to replace departing workers in programmes they want to continue while reducing overall workforce because agencies have also been asked to identify programs that can be completely eliminated, he said.
He estimated the proposed budget and workforce reduction would save the federal government approximately $1.2 billion (£960m) in the first year and $50bn (£40bn) over ten years, based on data from the independent Congressional Budget Office and "attrition, which we assumed would entail replacing federal employees at a rate of 1 for every 3 workers that retire."
A former defence department employee however told The Independent, that the announcement is a blow to employee morale, especially to those "the lowest on the totem pole."
He said "even rumours cause people to produce less because they think they are about to be cut."
Less productivity gives agency directors, who are political appointees, more justification to eliminate or drastically cut programs, he added.
"Just let attrition occur naturally," he said, adding that they think the administration's proposed slashing of budgets in certain agencies and retirement rates will be enough to get people to leave federal employment.
Mr Trump's proposed budget, to be announced in full next month, will still have to be approved by Congress later in the year.
Join our new commenting forum
Join thought-provoking conversations, follow other Independent readers and see their replies