Donald Trump reportedly 'berated' Hope Hicks for saying she told 'white lies'
Long time aide resigns after nine hour testimony before investigators probing Russian interference in the 2016 presidential election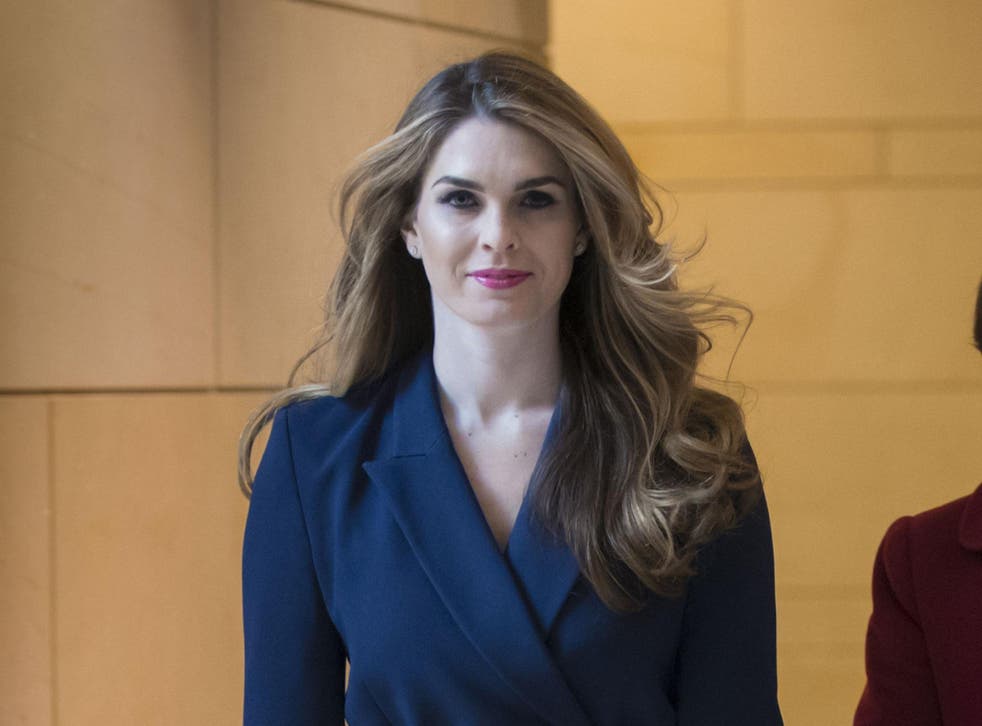 Donald Trump reportedly berated his former White House communications director after she admitted to telling "white lies" on his behalf.
Hope Hicks resigned after testifying for nine hours before the House intelligence committee as part of the investigation into Russian interference in the 2016 presidential election.
She told investigators that she occasionally had to tell white lies to appease the president, but insisted she told the truth about relevant Russian matters.
A long time aide to the US leader, who worked at the Trump Organization before going to serve as press secretary for his presidential campaign, she was nonetheless scolded by Mr Trump for her admission.
The President is said to have asked Ms Hicks "how she could be so stupid," CNN's Erin Burnett reported. The news anchor suggested that "was the final straw for Hope Hicks."
White House spokesman Hogan Gidley later called the allegation "false."
In a statement, Mr Trump called Ms Hicks a "truly great person" and said he would miss having her at his side.
The 29-year-old joins an ever growing list of people who have either resigned or been fired since he entered the White House just over a year ago.
His first chief of staff, Reince Priebus, stepped down last summer, and his chief strategist, Steve Bannon was fired. Former press secretary Sean Spicer, also resigned.
Ms Hicks acted as President Trump's gatekeeper to the press, sitting in on interviews with reporters and quietly steering his public relations policies from behind the scenes.
She was one of the first people hired by the then-New York businessman when he began his campaign for the presidency. She is expected to leave the White House at some point over the next few weeks.
Donald Trump's first year: in pictures

Show all 29
"Hope is outstanding and has done great work for the last three years. She is as smart and thoughtful as they come, a truly great person," President Trump said in a statement released by the White House.
"I will miss having her by my side but when she approached me about pursuing other opportunities, I totally understood. I am sure we will work together again in the future."
In her own statement, Ms Hicks said: "There are no words to adequately express my gratitude to President Trump. I wish the president and his administration the very best as he continues to lead our country.
Join our new commenting forum
Join thought-provoking conversations, follow other Independent readers and see their replies