Donald Trump launches major attack on 'very weak' Attorney General Jeff Sessions, amid rumours he is set to fire him
President's comments follow reports he has spoken with advisers about firing the Department of Justice chief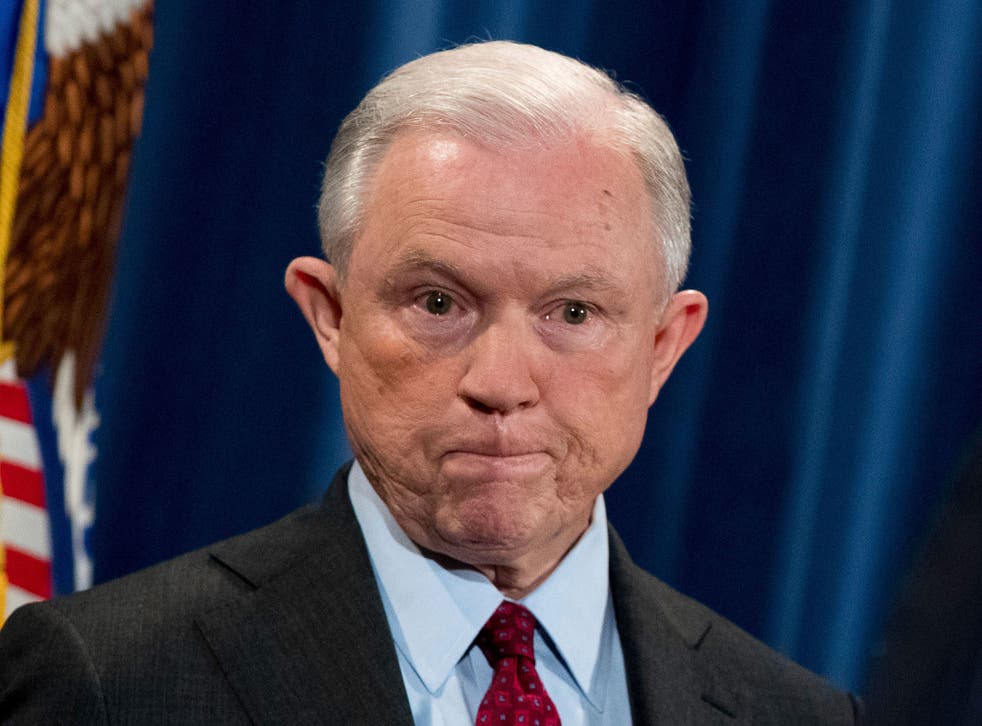 Donald Trump has launched his strongest attack yet on his "very weak" Attorney General Jeff Sessions, fuelling speculation he is preparing to fire him.
The US President took issue with Mr Sessions apparent reluctance to investigate presidential rival Hillary Clinton's alleged "crimes".
His early morning tweet followed a similar barb on Monday when he branded Mr Sessions "beleaguered".
Mr Trump's anger at Mr Sessions stems from the Attorney General's decision to recuse himself from all matters related to the investigation into alleged links between Russia and the Trump campaign.
The fate of Mr Sessions, the country's top law enforcement official, has been uncertain since Mr Trump claimed in a recent interview that he had been "unfair" to him by recusing himself from the ongoing probe into last November's election.
Reports of Mr Sessions' imminent departure from the Trump administration emerged early on Tuesday when three sources told Associated Press the President was considering new options for the justice role.
Among the possible replacements is former New York City Mayor Rudy Giuliani.
In a string of tweets on Tuesday morning, Mr Trump also raised the issue of "Ukrainian efforts to sabotage" his election campaign, saying unnamed actors in the eastern European country had been "quietly working to boost [Hillary] Clinton".
"So where is the investigation A.G.," he added.
And he attacked Mr Sessions for not probing intelligence "leakers" at the FBI.
Mr Trump simply rolled his eyes when asked by a reporter on Monday about the future of Mr Sessions.
However, the Attorney General insisted last week he intended to stay in his post.
"I plan to continue to do so as long as that is appropriate," he said.
Mr Trump said in a recent interview with The New York Times that he would not have hired Mr Sessions, once one of his closest political allies, had he known how the Attorney General would go on to handle the Russia investigation.
"Jeff Sessions takes the job, gets into the job, recuses himself, which frankly I think is very unfair to the President," Mr Trump told the newspaper.
"How do you take a job and then recuse yourself? If he would have recused himself before the job, I would have said, 'Thanks, Jeff, but I'm not going to take you'.
"It's extremely unfair – and that's a mild word – to the President."
The biggest names involved in the Trump-Russia investigation

Show all 17
But Mr Trump often talks about making staff changes without following through, so those who had spoken to the President cautioned that a change may not be imminent or happen at all.
Mr Trump's latest Twitter commentary came hours after Jared Kushner, the President's son-in-law, said he played no part in any Kremlin attempt to meddle in the US election, despite having met Russians four times last year.
Jared Kushner says he had no improper conduct with Russian officials after appearing before Senate
"All of my actions were proper and occurred in the normal course of events of a very unique campaign," the 36-year-old White House adviser said.
"I did not collude with Russia, nor do I know of anyone else in the campaign who did."
Reacting to that denial, Mr Trump tweeted: "Jared Kushner did very well yesterday in proving he did not collude with the Russians. Witch Hunt. Next up, 11 year old Barron Trump!"
Join our new commenting forum
Join thought-provoking conversations, follow other Independent readers and see their replies