Donald Trump Jr says he has had 'zero contact' with his father since he became president
Mr Trump's eldest son was speaking at a Republican fundraiser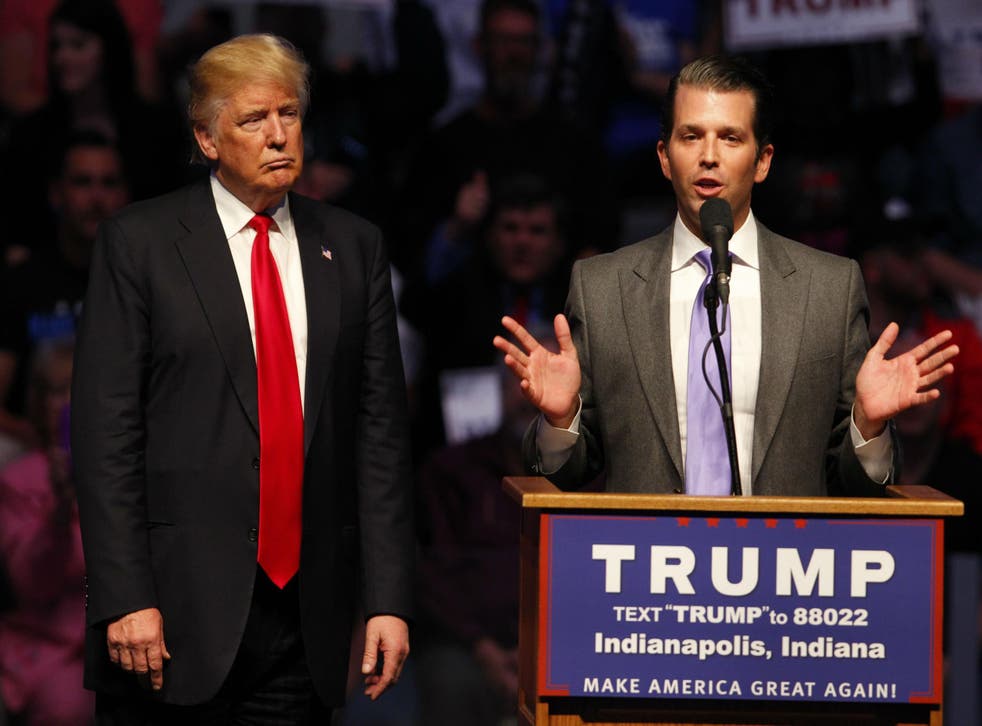 Donald Trump's eldest child has claimed he has had almost not contact with his father since the New York tycoon entered the White House and ceded control of his expansive business empire to his sons.
Donald Trump Jr, 39, told those gathered at a Republican fundraiser in Dallas, Texas, that he missed the intensity of the election campaign, though he claimed he did not miss politics itself.
"Deals are still exciting. But when you're the sort of guy out there every day, 24-7 fighting in this thing - it's like a great fight," he said.
As to his dealings with his father, he added: "I basically have zero contact with him at this point."
In January, Mr Trump said he was giving "complete and total control" of his businesses to his sons Donald Trump Jr and Eric Trump.
Donald Trump Jr: If women can't handle basic workplace harassment teach kindergarten
He did so amid concerns that the New York tycoon did not appear concerned about creating a firewall to prevent a conflict of interests, or the appearance of such.
Despite the establishment of what Mr Trump claimed would be an independent trust from which he would be completely isolated, many felt it did not go far enough. They questioned whether, Mr Trump's position as president would still influence fortunes of his assets.
Also speaking at Saturday's event was Texas senator Ted Cruz, sharing a stage with a member of Mr Trump family for the first time since they clashed bitterly during the Republican primaries.
"I saw on TV that [Cruz] had had dinner with my father earlier this week," Mr Trump Jr told the crowd, according to NBC. "Now I don't even know if I have to deliver a punch line to that. But it's sort of ironic."
He said he was impressed by the speed with which his father was working.
"I'm watching more take place in two months than I saw in two terms before," he said.
Join our new commenting forum
Join thought-provoking conversations, follow other Independent readers and see their replies