Donald Trump has no Plan B if he loses election, says it would be biggest waste of money of his life
He also suggests collusion in Washington spared Clinton prosecution in email affair
David Usborne
New York
Wednesday 12 October 2016 20:01 Comments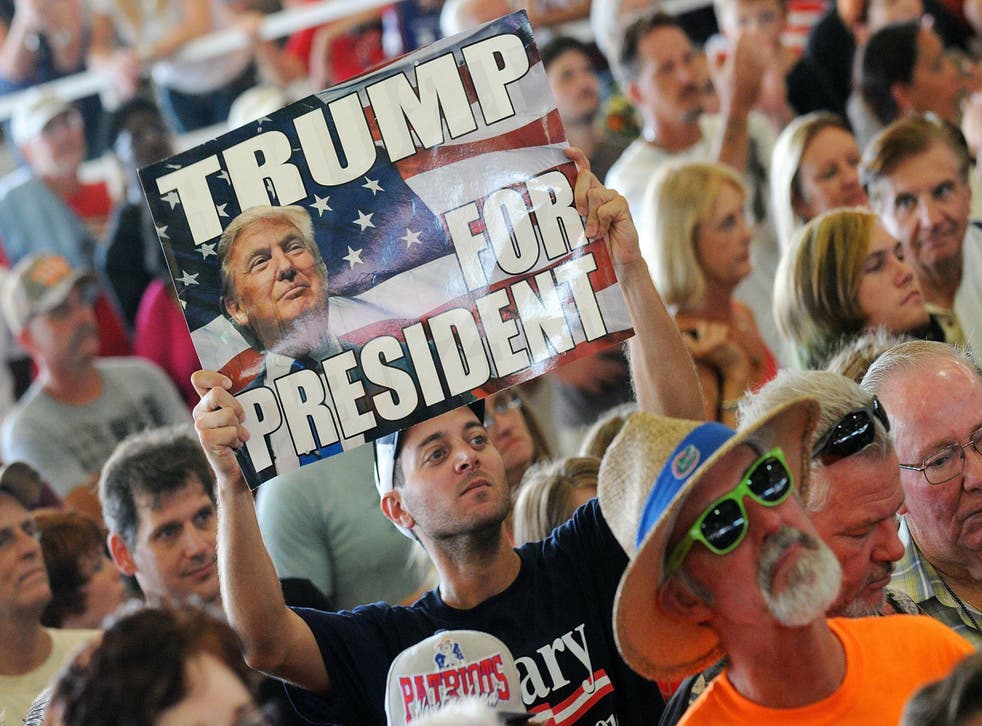 Donald Trump is musing on the possibility of losing the US election in November, an outcome that would render his campaign the biggest waste of time and money in his life.
But if the Republican nominee is candidly admitting losing on 8 November is not out of the question, he apparently has not made plans for it. "If we don't win this election, I don't know what I'm going to do," Mr Trump told supporters at a rally in Ocala, in central Florida on Wednesday.
He meanwhile called the decision by the US Justice Department not to press criminal charges against Hillary Clinton for her use of a private email server while Secretary of State "one of the great miscarriages of justice" in United States history and suggested that the Justice Department had colluded with Ms Clinton to spare her any formal legal fall-out. He meanwhile added that politicians in Washington from both parties knew about it.
Mr Trump's comments about Ms Clinton's email travails further highlighted the angry mood that has taken hold of him since the leaking last weekend of a video of him speaking in offensive terms about sexual advances on women in 2005 and a rush among many Republican leaders to disown him.
"Did they make a deal where everybody protects each other in Washington?" Mr Trump asked the crowd in Ocala. "Do they make deals like this? This is the most heinous thing I have ever seen involving justice in the history of the United States."
There has been speculation that were he to lose the presidency Mr Trump would leverage the support he has won from a significant swathe of Americans angry at the establishment and disenchanted with their own situations to launch a new conservative media empire, possibly with Stephen Bannon, his campaign CEO who has taken leave from running the rightwing website Breitbart.
In Florida, Mr Trump again intensified his attacks on Ms Clinton, suggesting for instance that Isis fighters in the Middle East hope she will win because then "they'll not only take over that part of the world, they'll take over this country, they'll take over this part of the world".
At last Sunday's debate, Mr Trump suggested that as president he would appoint a special prosecutor to look into Ms Clinton private server use and have her imprisoned. He again hammered the issue home and made the same promise in Ocala. "This is crime at the highest level," he told the packed shed of supporters. "She shouldn't be allowed to run for president."
At her own campaign appearances later on Wednesday, Ms Clinton was expected to challenge Republican politicians to say clearly whether or not they will vote for their own nominee on election day. The strategy was disclosed by John Podesta, her campaign chairman.
"Are they with him or are they against him?" Mr Podesta asked.
Register for free to continue reading
Registration is a free and easy way to support our truly independent journalism
By registering, you will also enjoy limited access to Premium articles, exclusive newsletters, commenting, and virtual events with our leading journalists
Already have an account? sign in
Join our new commenting forum
Join thought-provoking conversations, follow other Independent readers and see their replies