Donald Trump refuses to condemn KKK endorsement
Donald Trump refuses to condemn the KKK and David Duke because he does not know enough about them
A number of white supremacist groups have declared their support for Mr Trump's nomination
Donald Trump sparked fresh controversy on Sunday when he declined to condemn a white supremacist and former leader of the Ku Klux Klan who has urged people to vote for the billionaire.
Earlier this week, David Duke, a white nationalist and former Ku Klux Klan grand wizard, told listeners to his radio show that voting against Mr Trump would be "treason to your heritage".
"Voting for these people, voting against Donald Trump at this point is really treason to your heritage," Mr Duke said, referring to Mr Trump's rivals.
"I'm not saying I endorse everything about Trump, in fact I haven't formally endorsed him. But I do support his candidacy, and I support voting for him as a strategic action. I hope he does everything we hope he will do."
Donald Trump's most controversial quotes

Show all 14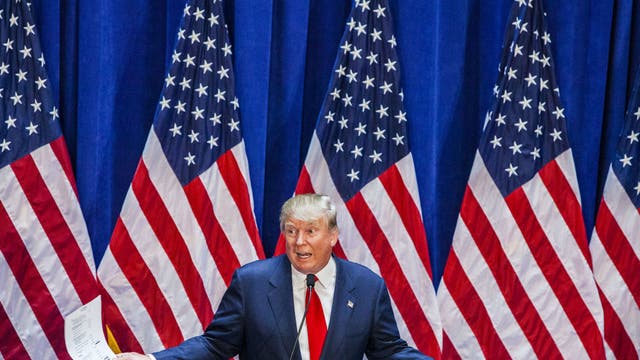 The declaration by Mr Duke, 65, first reported by BuzzFeed, triggered The Anti-Defamation League, an international Jewish civil rights group headquartered in New York, to call on Mr Trump to distance himself from the endorsement and condemn him.
"Mr Trump may have distanced himself from white supremacists, but he must do so unequivocally," the ADL said in a statement.
"It is time for him to come out firmly against these bigoted views and the people that espouse them."
Reports have revealed how a number of white nationalist organisations, many of which are described as "hate groups" by activists, have supported Mr Trump's candidacy. Last week, it was revealed that two KKK members appeared at the recent Nevada caucus to declare their support for him.
Mr Trump was questioned about the endorsement earlier this week and said he did not know Mr Duke had announced his support. On Sunday morning, Mr Trump was again asked about Mr Duke's comments when he appeared on CNN.
"I don't know anything about David Duke. I don't know anything about what you're even talking about with white supremacy or white supremacists," he said. "You're asking me about something I know nothing about."
He added: "I have to look at the group, I don't know what group you're talking about. You wouldn't want me to condemn a group that I know nothing about."
The journalist then stressed to Mr Trump that he was talking about Mr Duke and the KKK.
Mr Trump responded: "I don't know David Duke, I don't think I've ever met him. I don't know anything about him."
Later, amid a flurry of controversy, Mr Trump tweeted a remark he had made earlier in the week when asked about Mr Duke and he said: "I disavow."
Mr Trump was also asked on Sunday why he had retweeted a quote from the Italian fascist leader Benito Mussolini. The tweet, initially posted by another user, read: "It is better to live one day as a lion than 100 years as a sheep."
Asked about whether he had known the quote belonged to Mussolini and whether he wanted to be associated with fascism, Mr Trump told NBC's Meet the Press: "Mussolini was Mussolini. It's a very good quote, it's a very interesting quote. I know who said it, but what difference does it make whether it's Mussolini or somebody else?"
He was then asked if he wanted to be associated with a notorious fascist. Mr Trump responded: "No, I want to be associated with interesting quotes."
Join our new commenting forum
Join thought-provoking conversations, follow other Independent readers and see their replies