Donald Trump: Republican frontrunner blames 'thugs' for cancelling Chicago campaign rally
'The organized group of people, many of them thugs, who shut down our First Amendment rights in Chicago, have totally energized America!'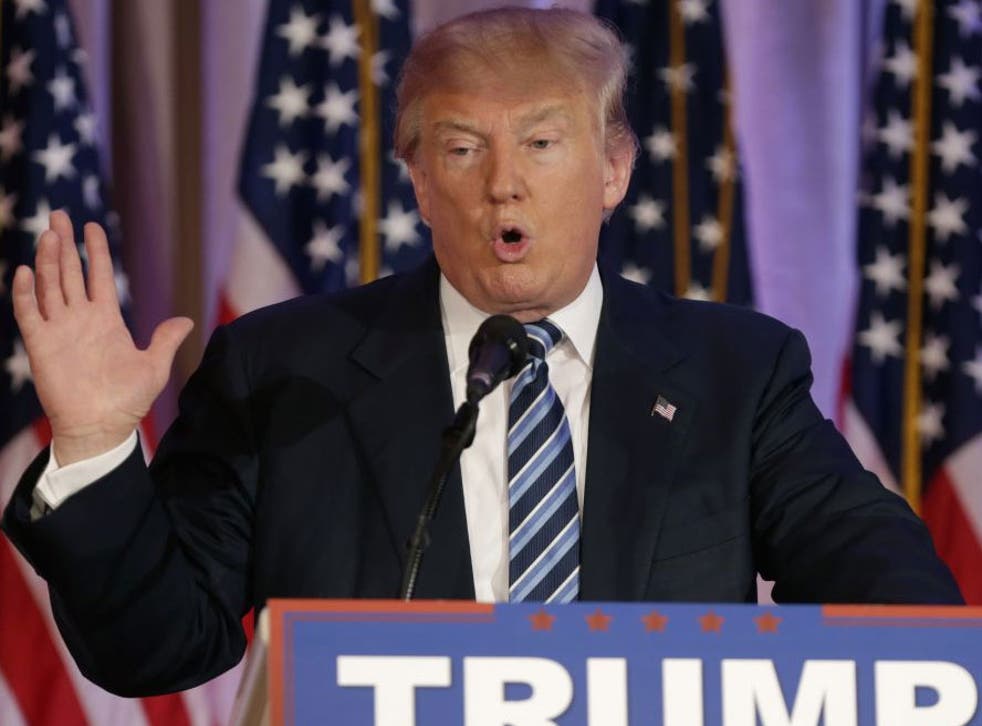 Donald Trump defiantly blamed "thugs" and "professionally staged wiseguys" for the violence that led the Republican presidential contender's campaign to announce the last-minute cancellation of a planned rally in Chicago on Friday night, while his rivals for the US presidency – from both parties – sought to hold him responsible.
Police in Chicago said the decision to call off the event 30 minutes before Mr Trump was due to take the stage at an arena at the University of Chicago had been the campaign's. Skirmishes between supporters of the billionaire and protesters inside the venue then quickly spilled on to the street. There were five arrests and two police officers were treated for injuries.
As a shocked nation absorbed what had taken place – it has been five decades since rioting disrupted the Democratic Party convention, also in Chicago, in 1968, and Governor George Wallace drew angry protests while running for president that same year – the political recriminations were already beginning. Even President Barack Obama sought yesterday to remind those who aspire to lead the country they should be looking to bring Americans together, not divide them.
Even before the events in Chicago, a series of violent incidents involving Trump supporters, and in one case a Trump campaign aide, was sounding alarm bells about the candidate himself and whether he was guilty of deliberately fomenting an ugly and confrontational atmosphere with rhetoric targeting Muslims and Mexicans, and his failure in a television interview to denounce the Ku Klux Klan.
What comes next is hard to say. Already highly flammable, the presidential race is at a critical juncture, with Mr Trump and the Democratic front-runner, Hillary Clinton, possibly poised to take nearly unassailable leads in their respective nomination bids on Tuesday, when several large states, including Illinois, Missouri, Ohio and Florida, vote.
In a Twitter message, Mr Trump intoned that by breaking up his campaign rally the protesters – who for the first time at a Trump rally were equal in number to his supporters – will have "totally energised America!". If not the country, they will have surely galvanised all of his core supporters.
Yet, if the scenes in Chicago are repeated anywhere else, the narrative being rehearsed by Mr Trump's rivals and critics – that he is dangerous and a demagogue – could take root. The Chicago disturbance could end up costing him the nomination that so nearly seems to be his, especially if undecided voters who were close to buying his message now decide, out of fear of more violence, to shy away.
Ms Clinton, who is the leading contender to be the Democrat nominee, called what happened "deeply disturbing" and told voters to resist the "tide of bullying and bigotry and blustering that is going on". She added at a rally in St Louis: "If you play with matches, you're going to start a fire you can't control."
Facing claims that his own supporters had stirred the Chicago mêlée, Ms Clinton's rival, Bernie Sanders, noted they were only "responding to a candidate who has in many ways encouraged violence". The "Trump campaign has been about insulting Mexicans in a very crude way" and "insulting African Americans".
Mr Trump resumed his planned schedule in Ohio, starting with an airfield rally outside Dayton yesterday, when he pressed his claim that his supporters had been "taunted and harassed" by people, some of whom were "represented by Bernie, our communist friend". He was briefly interrupted when a man from the crowd tried to breach the security buffer around Mr Trump and Secret Service agents rushed to protect him.
What happened had been a "disgrace" Mr Trump said to loud cheers from the thousands who had begun lining up to see him 10 hours earlier. "We have a right to speak, we are law-abiding people, we are people who work very hard. We are people who have built this country and made this country great," he said. "When they have organised professionally staged wiseguys, we have got to fight back."
Speaking before a rally in Florida, Senator Marco Rubio suggested that he was reconsidering a pledge he and all the other Republican candidates made last week to support Mr Trump if he becomes the nominee. "It's getting harder by the day", he said.
Join our new commenting forum
Join thought-provoking conversations, follow other Independent readers and see their replies