Donald Trump says Putin called Obama the 'N-Word'
Donald Trump implies Vladimir Putin uses the 'N-word' to describe Barack Obama
The Republican candidate was speaking at a resort in Florida
The US election campaign has plunged to new a level of accusation and toxicity after Donald Trump claimed Russian leader Vladimir Putin had no respect for Barack Obama and appeared to imply he used a racial epithet to describe the American president. He also encouraged Russia to hack the emails of his election rival Hillary Clinton.
In comments that were extreme even by the standards Mr Trump, the Republican candidate was asked by reporters in Florida about the controversy surrounding the alleged Russian hacking of Democratic National Committee (DNC) emails.
Mr Trump said Mr Putin had neither respect or affection for Mr Obama. He implied that he had heard the Russian leader use a racial slur to describe the US president.Trump talking Putin goes from "he called Obama the n-word" to "I hope he likes me" in 20 seconds.
"I was shocked to hear him mention the N-word," said Mr Trump, who has previously spoken of his admiration for the Russian leader. "You know what the N-word is."
He added: "Number one he doesn't like him and number two he doesn't respect him. I think he's going to respect your president if I'm elected and I hope he likes me."
In comments that were in sharp contrast to a statement issued by his Republican running mate, he also appeared to sanction cyber-spying of a foreign power when he suggested Russia should hack into Ms Clinton's computer system and locate the "missing" emails. Ms Clinton has been accused of destroying thousands of emails after she was investigated for using a private server while serving as Secretary of State.
"Russia, if you're listening, I hope you're able to find the 30,000 emails that are missing," Mr. Trump said "I think you will probably be rewarded mightily by our press."
Later, asked directly if he was actually asking a foreign nation to hack into Ms Clinton's emails, he dismissed the question.
"That's up to the president," Mr Trump said, telling the female questioner to "be quiet".
He also declined to unequivocally call on Mr Putin, the Russian president, not to meddle in the election. "I'm not going to tell Putin what to do," Mr Trump said. "Why should I tell Putin what to do?"
Mr Trump has been dragged into the controversy surrounding the hacking of DNC emails, around 20,000 of which were released by Wikileaks. At the weekend, Ms Clinton's spokesman claimed that Mr Trump was favoured by Mr Putin and that he was somehow behind the effort to to embarrass the Democratic Party. The emails revealed a plot to try and smear Ms Clinton's rival, Bernie Sanders, something that led to the resignation of the DNC chairperson.
Donald Trump's most controversial quotes

Show all 14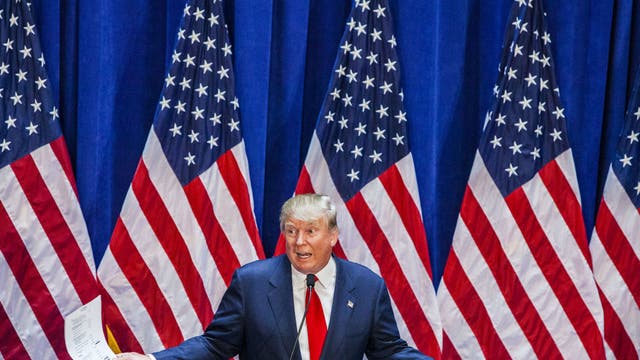 Ms Clinton's campaign spokesman, Robby Mook, told ABC that the emails were leaked "by the Russians for the purpose of helping Donald Trump".
Mr Trump has denied that he was in any way involved in the hacking of the emails or that their release by Wikileaks on the eve of the Democratic convention in Philadelphia. US media has reported that US intelligence believes Russia is behind the hack of the emails, though Mr Trump has denied that the evidence is clear.
The Associated Press said that Mr Trump has said that he has "zero investments" in Russia and has insisted that his company had not received any significant investments from the country.
He also has downplayed his affection for Mr Putin and said he would treat the Russian leader "firmly", though he said he wanted to improve relations with Russia. Some Democrats and security experts have said that Mr Trump's proposal to set conditions on NATO allies could risk Russian expansion in Eastern Europe.
Mr Trump's vice presidential running mate, Mike Pence, on Wednesday vowed there would be serious consequences if the FBI determined that Russia was behind the recent hacking, or was trying to meddle in the election.
"If it is Russia and they are interfering in our elections, I can assure you both parties and the United States government will ensure there are serious consequences," said the Indiana governor.
Join our new commenting forum
Join thought-provoking conversations, follow other Independent readers and see their replies