Republican intelligence chief seeks to kill Russia-Trump links investigation, saying 'there's nothing there'
Chair of House of Representatives Intelligence Committee says accusations against President are like 'McCarthyism revisited'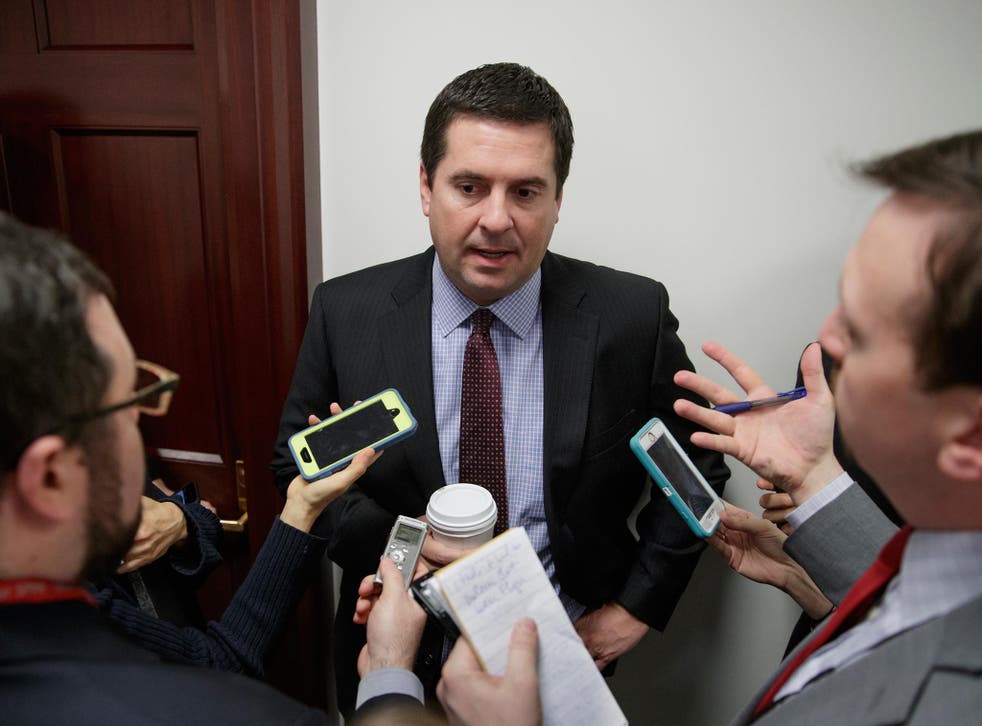 The chair of the House of Representatives Intelligence Committee has dismissed calls for an investigation into Donald Trump's alleged links with Russian security services, claiming there is "nothing there".
Devin Nunes, a Republican congressmen from California, said such an inquiry would be "a witch hunt against innocent Americans".
Congress has come under pressure to investigate allegations that Mr Trump's top team had frequent contact during the presidential campaign with representatives of the Russian state.
A number of congressional committees, including the Senate's Intelligence Committee and Judiciary Committee, along with the House of Representatives Judiciary Committee, are already conducting inquiries.
But Mr Nunes vowed his committee would not be following suit, according to Politico.
"This is almost like McCarthyism revisited," he told reporters at the California Republican Party's spring convention in Sacramento. "We're going to go on a witch hunt against innocent Americans…?
"At this point, there's nothing there. Once we begin to look at all the evidence, and if we find any American that had any contact with Russian agents or anybody affiliated with the Russian government, then we'll be glad to, at that point, you know, subpoena those people before the House and let the legislative branch do its oversight and then we would recommend it over to, you know, the appropriate people."
"But at this point … we can't go on a witch hunt against the American people, any American people who have not had any contact, just because they appeared in a news story."
The controversial orders Donald Trump has already issued

Show all 9
Mr Trump has repeatedly denied his team had contact with the Russian state during a presidential campaign in which Moscow is accused of hacking Democrat's computers in an attempt to influence the election outcome.
"I have nothing to do with Russia", Mr Trump said during a White House press conference earlier this month. "To the best of my knowledge, no person that I deal with does."
"How many times do I have to answer this question? Russia is a ruse. I have nothing to do with Russia."
However, senior Russian officials, including the ambassador to the US and the deputy foreign minister, have said Kremlin representatives were in contact with Mr Trump's advisers in the months leading up to the November 8 election.
Trump denies team had contact with Russia during election campaign
Earlier this month, Michael Flynn, the President's national security adviser, was forced to resign after admitting he had make false statements about the nature of his conversations with Russian representatives.
Mr Flynn had denied discussing the issue of US sanctions against Russia with Sergey Kislyak, Moscow's ambassador to the US, but leaked intelligence intercepts showed the topic had indeed been raised.
Further reports in the New York Times suggest intelligence agencies also have evidence of other contact between Russian representatives and Mr Trump's close aides.
Communication between foreign governments and US presidential candidates is not unusual, but is particularly controversial in this case because of allegations Moscow was behind the hacking of Democratic National committee computers and the subsequent leaking of their contents, via Wikileaks, in an apparent attempt to help Mr Trump.
Join our new commenting forum
Join thought-provoking conversations, follow other Independent readers and see their replies